SodaStream Boycott
When Did SodaStream and Scarlett Johansson Become So Controversial?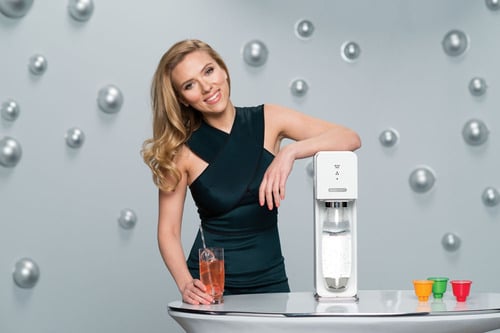 Scarlett Johansson had to step down as the public face of Oxfam, thanks to her affiliation with SodaStream. That amazing bubble-making appliance you might have sitting in your kitchen is actually involved in a geopolitical controversy. And it all started during last year's Super Bowl.
In 2013, SodaStream became the first Israeli company to advertise during the Super Bowl. The attention triggered a boycott call from Palestinian groups that opposed the company's factory in a Israeli Jewish West Bank settlement. According to one pro-Palestine group: "We Palestinian workers in this factory always feel like we are enslaved." As a group working against injustice and poverty, Oxfam says it opposes the factory, too. In a statement released after Scarlett resigned, the organization said: "Oxfam believes that businesses, such as SodaStream, that operate in settlements further the ongoing poverty and denial of rights of the Palestinian communities that we work to support. Oxfam is opposed to all trade from Israeli settlements, which are illegal under international law."
Opinions on the factory differ, however. According to other reports, Palestinian workers oppose the SodaStream boycott because the factory provides jobs for Palestinians who would otherwise not be able to work in Israel. Either way, you probably won't have to debate the issue at your Super Bowl party this weekend. Fox decided to scrap Scarlett's SodaStream ad, which you can watch below, because it was too critical of fellow sponsors Coke and Pepsi.