Unarmed Teen Mike Brown Shot by Police
Update: 4 Things You Need to Know About Mike Brown's Tragic Death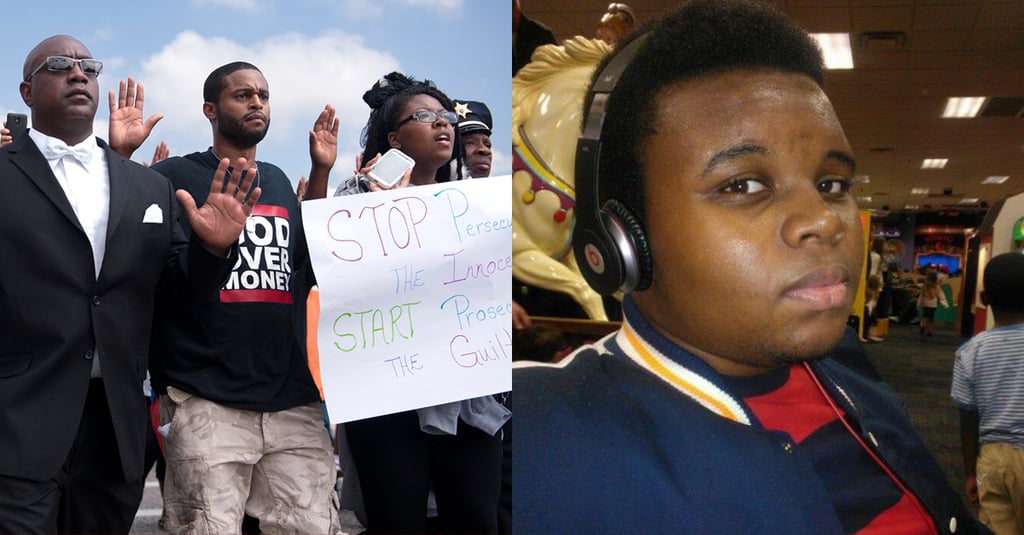 Source: AP, Facebook
Michael Brown, an 18-year-old man from Ferguson, MO, was shot and killed by local police in front of his grandmother's house on Aug. 9. The unarmed teen — a recent high school graduate who was reported to be starting college that week — was taken down by a series of bullets from one officer's gun, with witnesses telling KMOV that his hands were in the air while he was struck. Photos of his lifeless body went viral on Twitter late Saturday night, with many people comparing his tragic death to those of other African American teenagers Trayvon Martin and Jordan Davis. Though there are conflicting details surrounding what caused the incident (police reported that Mike "physically assaulted" the officer and tried to steal his gun, though Ferguson Police Chief Thomas Jackson declined to comment on what led to the shooting), there has already been lots of backlash and protests in the small St. Louis suburb as well as on the Internet. Here are four things you should know about the Mike Brown shooting:
The Ferguson police are investigating the shooting. Chief Thomas Jackson said that his department immediately turned the matter over to the St. Louis County police but did not reveal any details on what led to Mike's shooting, saying, "We are hoping for calm and for people to give us a chance to conduct a thorough investigation." County police spokesman Brian Schellman promised a "lengthy investigation," adding, "We're still trying to piece together what happened and why." The Ferguson Police Department previously said it would not release the name of the officer who shot Mike out of "concern for the safety" of the officer, who was placed on administrative leave after the incident. Update: CNN reported on Friday, Aug. 15 that the officer who shot Mike Brown is six-year veteran Darren Wilson. Ferguson PD also released documents claiming 18-year-old Mike was the "primary suspect" in the robbery of a convenience store shortly before he was killed.
Anger and frustration have taken over the community. Mike's shooting sent hundreds of angry residents into the streets, taunting officers with shouts of "kill the police" and even firing shots. Later that night, a candlelit vigil and protest began with crowds chanting "We are Michael Brown" as police officers with dogs tried to keep things in order. Mike's mother, Lesley McSpadden, was understandably emotional while shouting at law enforcement: "You took my son away from me! You know how hard it was for me to get him to stay in school and graduate? You know how many black men graduate? Not many, because you bring them down to this type of level where they feel they don't got nothing to live for anyway!" Things hit a fever pitch when residents filled the streets and began looting a nearby QuikTrip gas station, stealing money from an ATM and fueling up their cars. Ferguson Mayor James Knowles spoke on CNN on Monday morning to say that Sunday night's chaos was "not constructive" and was only "bringing down the community." Update: During the week, Ferguson was overtaken by authorities in combat gear, with gas masks and rifles armed with rubber bullets. By Thursday, though, the hostile atmosphere had changed dramatically; Governor Jay Nixon dismissed the St. Louis police and called in the State Highway Patrol led by Captain Ronald Johnson, St. Louis native who took time to speak and walk with protesters through the evening.
The Internet is reacting in a big way. Along with celebrities like Questlove, John Legend, Outkast's Big Boi, and Reagan Gomez sharing their outrage, thousands of people across the globe are taking Twitter by storm with their harsh criticisms of Mike Brown's shooting. President Obama offered his condolences in a statement on Tuesday, saying that the teen's death has "prompted strong passions" but urged people to remember him through "reflection and understanding." He added: "We should comfort each other and talk with one another in a way that heals, not in a way that wounds." One of the more thought-provoking Twitter trending topics to come out of the Mike Brown tragedy has been #IfTheyGunnedMeDown, which aims to shed light on the portrayal of black teens in the media; the accompanying tweets feature two different photos of the same person along with the question "#IfTheyGunnedMeDown, which picture would they use?"
If you died, which picture would the media use? #IfTheyGunnedMeDown #MikeBrown http://t.co/lJMM9a0owk pic.twitter.com/YYxIbPB0xA

— The Root (@TheRoot) August 11, 2014
#IfTheyGunnedMeDown they'd say i was a thug pic.twitter.com/JsLxga0uwv

— Devin Griffin (@RealDevinDinero) August 11, 2014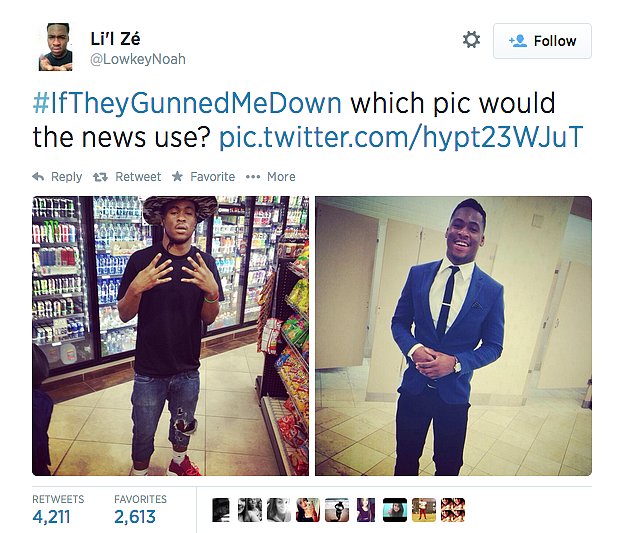 #IfTheyGunnedMeDown which photo would they use? pic.twitter.com/y3y8tFHtPN

— Mamba Mentality 🔁 (@WhoISdeante) August 11, 2014
#IfTheyGunnedMeDown Which picture of me would be on the news? pic.twitter.com/84OF8e7eDI

— Ms. Combahee (@unicornyemi) August 10, 2014
Mike Brown is being remembered as "a gentle giant." The day he died, Mike Brown was just 48 hours from beginning school at Vatterott College in St. Louis. Teachers at the predominately African American Normandy High School, where Mike graduated in May, described him as a "gentle giant" and a student who didn't cause trouble. A childhood friend of Mike said that he "wasn't going to end up like some people on the streets," adding, "He was going to get an education. He was going to make his life a whole a lot better."