What Is Happening in Ferguson, MO?
More Unrest in the Midwest: What's Happening in Ferguson, MO
Further fury and unrest continued in Ferguson, MO, Monday night surrounding the death of unarmed teen Mike Brown, who was shot and killed by police on Saturday, Aug. 9. Yesterday, an autopsy reveals that there was no sign of struggle in his death, and that the teen died with six gunshot wounds in his body. On Aug. 18, two men were shot and 31 were arrested as clashes between protestors and police continued.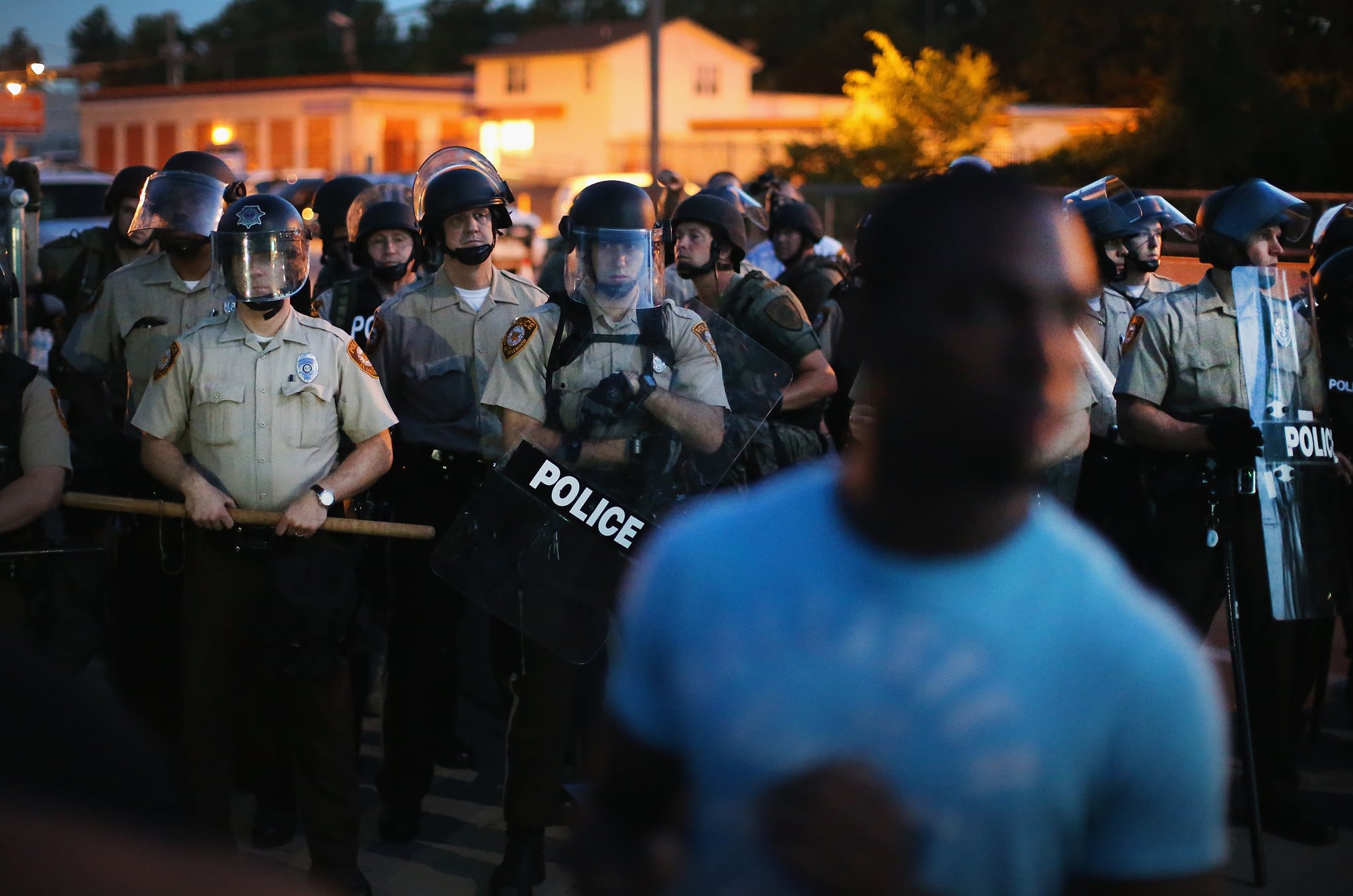 Source: Getty / Scott Olson
This past week the city has seemingly been overtaken by authorities in combat gear, with gas masks and rifles armed with rubber bullets. Governor Jay Nixon declared a State of Emergency for Ferguson, bringing in the Missouri National Guard, and temporarily instituting a midnight to 5AM curfew that was lifted on Monday. Social media was an important outlet for protesters and reporters on the ground to document the violent and deeply disturbing situation in Ferguson, a St. Louis suburb.
Twitter and Vine have served as real-time transmissions for the clashes not only between police and protesters over the last week, but also journalists who were there to cover the developing story. On Reddit, police officers and St. Louis residents noted their observations and voiced their opinions. Two journalists live-tweeted their infuriating run-in with a SWAT team in McDonald's, which led to their arrest. With the web as its platform, the Ferguson story grew and grew and now has the entire nation at attention. What the heck is really happening in Ferguson? In what follows, the Internet explains.
A 90-year-old Woman Was Arrested
Hedy Epstein, a 90 y.o. Holocaust survivor, was among the those arrested for blocking Nixon office bldg. #Ferguson pic.twitter.com/s4y68zFFrF

— Steven Hsieh 謝章仁 (@stevenjhsieh) August 18, 2014
The President and Missouri Governor Call For Peace
Missouri Governor Jay Nixon and President Barack Obama spoke on the shooting of Michael Brown and the ongoing protests. And Attorney General Eric Holder opened a civil rights investigation.
"We've got to use this moment to seek out our shared humanity." —Obama on #Ferguson: http://t.co/9VQX2AiE5G pic.twitter.com/YfyzWAf0sz

— The White House (@WhiteHouse) August 19, 2014
President Obama spoke about the crisis on Aug. 18.
. . . And the governor's remarks.
Twitter Became the Frontlines For Americans in Dismay
This is probably the greatest thing I've seen so far #Ferguson #MikeBrown pic.twitter.com/pvhEvqMQ9i

— Matt Kick (@MatthewKick) August 15, 2014
The Civil Rights Act is 50 years old. These two pictures were taken 50 years apart. Behold our progress. #Ferguson pic.twitter.com/8PNn8eteO2

— Jackie Summers (@jackfrombkln) August 13, 2014
This. Breaks. My. Heart. pic.twitter.com/YNJTtCXhfJ

— hystericalblackness (@hystericalblkns) August 13, 2014
Kinda makes you wonder what else the Ferguson police think they can do with impunity so long as no one is watching?

— Laura Hudson (@laura_hudson) August 14, 2014
So the police have: 1) Killed an unarmed teen 2) Fired tear gas & rubber bullets at mostly peaceful protesters 3) Arrested & blocked media

— Matt O'Brien (@ObsoleteDogma) August 14, 2014
Recall the local cop telling those "animals" to "bring it" on CNN... He wants a fight.

— John Legend (@johnlegend) August 14, 2014
Calling us "animals" has been the language to justify slavery, Jim Crow and all manner of injustice. Dehumanization and racism go together

— John Legend (@johnlegend) August 14, 2014
Sending love and support to the citizens of Ferguson, who are in pain and asking for change.

— Lena Dunham (@lenadunham) August 14, 2014
What's happening in #Ferguson is devastating. Wow.

— kerry washington (@kerrywashington) August 14, 2014
Vines and Tweeted Photos Showed Evidence of Violence
Protesters and news crews were teargassed on the ground.
.@AntonioFrench @JScrogginsECN EXCEPT THAT THEY WERE GASSING PEOPLE IN THEIR OWN FRONT YARDS. https://t.co/4s3P9dxXGr

— Nichole Bryant (@ndilettante) August 19, 2014
Happening now in #Ferguson https://t.co/qg6vDs916H

— Antonio French (@AntonioFrench) August 14, 2014
The man who took this video footage, St. Louis alderman Antonio French, was soon jailed on Aug. 14.
I spent 4 hours in #Ferguson jail. @AntonioFrench may spend 24. We were charged w/ same offense. Why are they holding him? Bc they can.

— Michael Powers (@mpowerstlouis) August 14, 2014
Journalists Have Been Unjustly Arrested
Poynter has a full list of arrested reporters. So far, 12 journalists have been detained.
Images of Getty photographer Scott Olson being arrested in Ferguson, taken by fellow Getty photographer Joe Raedle pic.twitter.com/NEul6TnsKG

— Matt Novak (@paleofuture) August 18, 2014
Out of jail. Too many still in there. Phone is dying, be back soon.

— Ryan Devereaux (@rdevro) August 19, 2014
Wesley Lowery of Washington Post and Ryan J. Reilly of Huffington Post were at a McDonald's as customers, working on covering the Ferguson protests, when police stormed the establishment and arrested them without charge, then released them without paperwork.
Police come into McD where me and @ryanjreilly working. Try to kick everyone out.

— Wesley Lowery (@WesleyLowery) August 13, 2014
Photo of reporter I believe to be @ryanjreilly being cuffed and put in a police van minutes ago in #Ferguson pic.twitter.com/l6olRUPk13

— Jon Swaine (@jonswaine) August 14, 2014
Also Ryan Reilly of Huff Po. Assaulted and arrested

— Wesley Lowery (@WesleyLowery) August 14, 2014
Officers decided we weren't leaving McDonalds quickly enough, shouldn't have been taping them.

— Wesley Lowery (@WesleyLowery) August 14, 2014
Got no explaination at any point why in custody other than "trespassing" - at a mcdonalds where we were customers

— Wesley Lowery (@WesleyLowery) August 14, 2014
This Image Quickly Bubbled to the Top of Reddit
"This needs attention. Police in Ferguson tear gas the press, dismantle their gear after they flee," reads the caption. One Reddit thread spells out the entire timeline of the situation and is being updated live.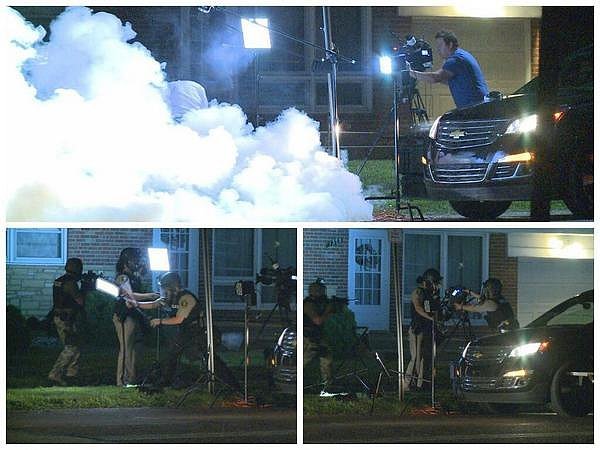 Source: Reddit user kevan
As Well as This Image
"Top picture was in Iraq; bottom picture is in Ferguson."
Source: Reddit
Facebook vs. Twitter Coverage
In case you were wondering, pretty much the entire country is tweeting about #Ferguson pic.twitter.com/i8m4Df5fDU

— Satchel Price (@SatchelPrice) August 14, 2014
While Twitter was creating a storm over the riots, this was happening on Facebook:
On Twitter, @zeynep's feed had much #Ferguson news; Facebook's didn't. "Algorithms have consequences." *Great* piece https://t.co/JLm4f1d962

— Clive Thompson (@pomeranian99) August 14, 2014
What Now?
Democratic congressman Hank Johnson of Georgia is putting a new bill, the "Stop Militarizing Law Enforcement Act," in motion next month. Republican Kentucky Senator Rand Paul penned an op-ed for Time calling for the demilitarization of the police as well.