Watch Jimmy Fallon Take the Polar Plunge in Chicago
Jimmy Fallon Suits Up For the Polar Plunge — in 8 Degree Temps!
Start Slideshow
ADVERTISEMENT ()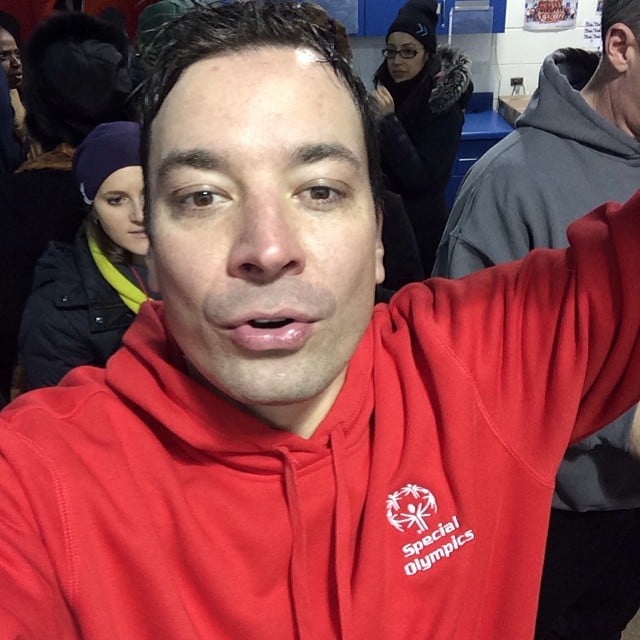 0
Jimmy Fallon Suits Up For the Polar Plunge — in 8 Degree Temps!
Forget about the polar vortex — it was all about the Polar Plunge today as Tonight Show host Jimmy Fallon took a dip in the icy waters of Lake Michigan. Following a challenge from Chicago Mayor Rahm Emanuel, the two were led out by a parade of bagpipe players before running into the slushy, frozen lake this morning. While Jimmy — or as he's known on Twitter now, #SwimmyFallon — wore a suit when he took the plunge, many others went shirtless in bathing suits or shorts as they sped in and out of the water. More than 3,000 people participated in the annual fundraiser for the Chicago Special Olympics this year, and in case you were wondering, it was a chilly eight degrees in the Windy City during the event, with water temperatures 30 or below. Jimmy survived, though, captioning his triumphant Instagram photo, "Officially PLUNGED!!!!! Thank you Chicago!!! Thank you Mayor. #polarplunge #coldneverbotheredmeanyway #frozen." His hilarious reaction is just one of his many viral moments — check out some of his others from The Tonight Show here.
Source: Instagram user jimmyfallon