Alex Aiono Talks About Netflix's Finding 'Ohana Movie
Alex Aiono on the "Surreal and Bittersweet" Final Day on Set of Netflix's Finding 'Ohana
In our Q&A series Last Call, we get down to the bottom of every last thing with some of our favorite celebs — from the last thing they texted to the last thing they binge-watched. This week, singer and actor Alex Aiono takes our call.
You probably know Alex Aiono for his YouTube videos and music career, but now the 24-year-old is taking on the acting world with his first feature film role in Netflix's Finding 'Ohana. The family film, which premiered on Jan. 29, centers on two siblings from Brooklyn, NY, who embark on a trip to Oahu where they learn more about their Hawaiian heritage. In honor of the film's release, we chatted with Aiono, where he revealed everything from what the last day on set was like to the last person he got starstruck over. Hint: it was one of his costars. Read ahead to see what he had to say.
Last day filming Finding 'Ohana?
It was so bittersweet. Here we are at the end of an incredible journey full of first times with a group of people that I had made so many memories with, and it was just so surreal. With the sad emotions of leaving everything behind the next day, we also got to celebrate all of the hard work that we had just put in. The good news is, this industry is so small and I know I'll get to see all of my Finding 'Ohana family again soon.
Last song you sang?
"White Roses" by me! I recently did an Instagram live where I sang some of my favorites, and this is at the top of the list!
Last album you listened to?
I have been obsessed with Jazmine Sullivan's new album called Heaux Tales. Talk about an amazing album!
Last piece of advice you received that changed your life?
Last night I was doing a Peloton exercise and my instructor Jess Sims said, "How you do anything is how you do everything." It reminded me to put my whole heart into everything I do so that I can continue creating that habit.
Last thing you texted?
I texted my roommates and asked them if they wanted any bagels.
Last thing you watched on Netflix?
I finished watching Night Stalker a couple nights ago . . . WTF? If you're looking for something new to watch, you can watch my film, Finding 'Ohana, exclusively on Netflix!
Last thing you ordered online?
I ordered new coffee pods for my Nespresso . . . I think I have a caffeine problem!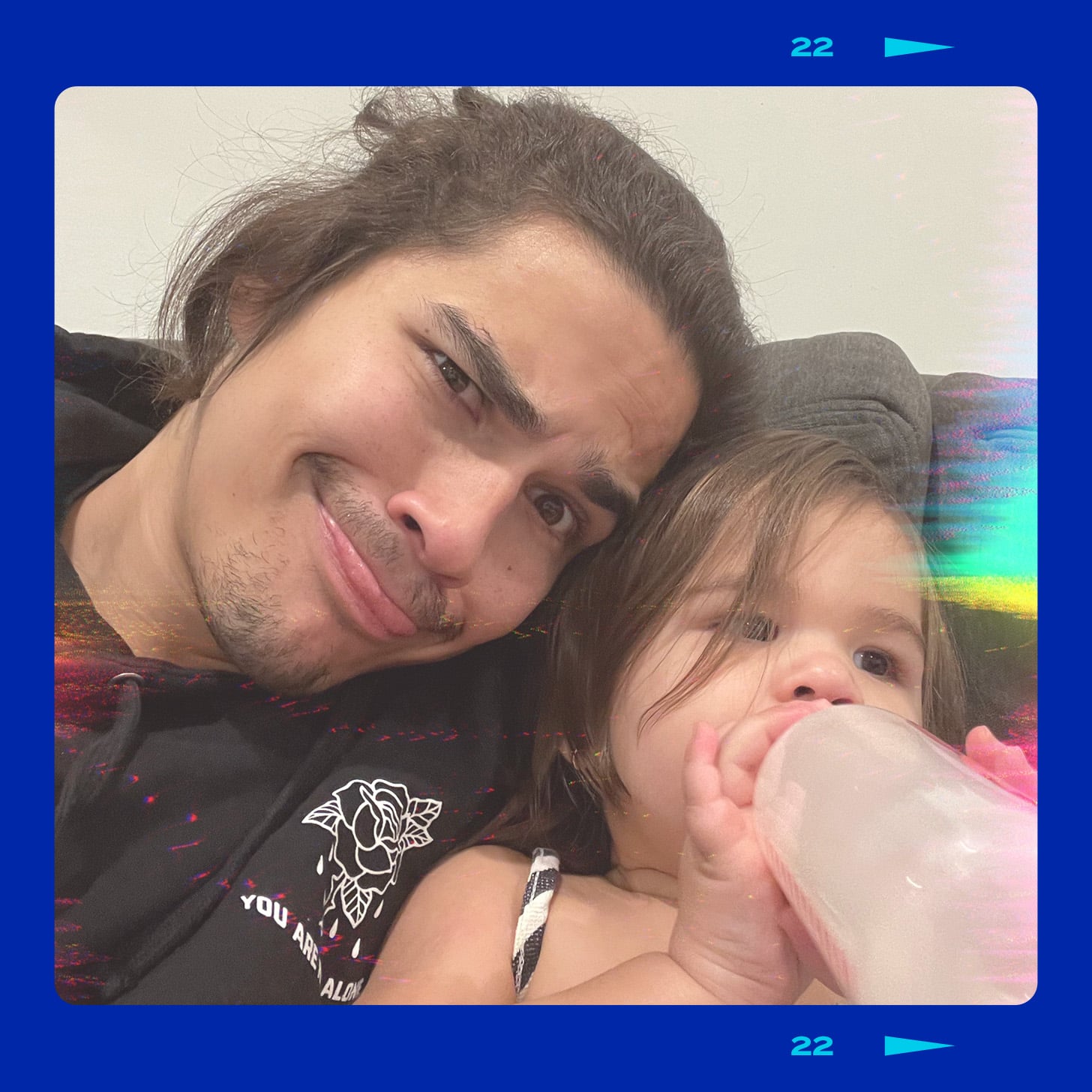 Last photo on your camera roll?
Me and my niece, Mila! (pictured above)
Last thing you do before going to bed?
I read or meditate to help me fall asleep. No screen time 30 minutes before bed!
Last workout?
I took a bootcamp class by Jess Sims on the Peloton!
Last time you were starstruck?
When I got to meet Ke Huy Quan! Getting to meet someone that was an original member of The Goonies and Indiana Jones cast was amazing!
Last book you read?
The Ride of a Lifetime by Bob Iger, the chairman of Disney!
Last thing you did for self-care?
My two biggest New Year's resolutions were flossing twice a day and not procrastinating. I can proudly say that they're both going strong!
Image Source: Alex Aiono