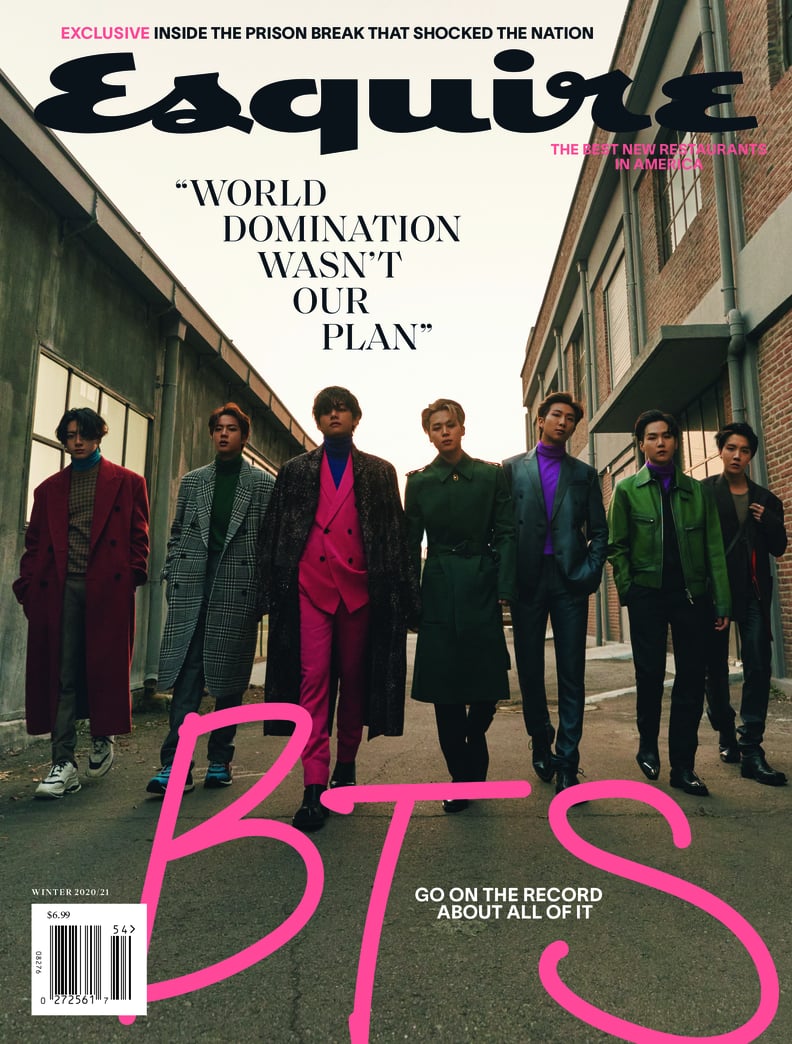 Hong Jang Hyun | Esquire
BTS may not have world domination on their minds, but 2020 has been their year. Between the success of their single "Dynamite," their multiple awards, and their highly anticipated album Be, Jin, Suga, J-Hope, RM, Jimin, V, and Jungkook are redefining what it means to be a pop star. For Esquire's Winter issue, BTS spoke about their relationship with their fans, what it's been like trying to earn respect in America, and how they've been dealing with imposter syndrome. That's right, even one of the biggest group's in the world has to deal with feeling like they don't belong. Luckily, the group has the full support of their fans, lovingly called Army, when they're feeling down. Ahead you can read some of their best quotes from the issue, including info on the status of their dating lives.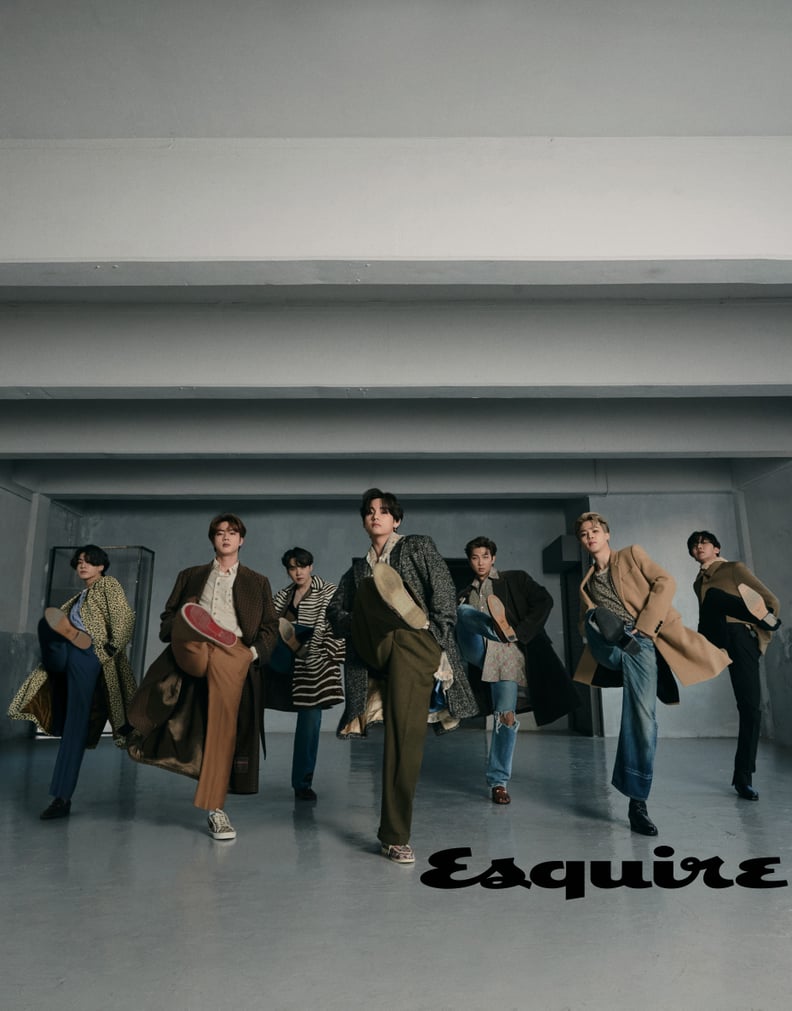 On their development as a group:
J-Hope: "Season two is when we officially underwent hard training. We started dancing, and that's how I would say our team building started."
V: "We slept during classes."
J-Hope: "I slept in the practice studio."
On their dating lives:
Jungkook: "The most important thing for us now is to sleep."
RM: "Our love life — 24 hours, seven days a week — is with all the ARMYs all over the world."
On the group's relationship with their fans:
RM: "We and our ARMY are always charging each other's batteries. When we feel exhausted, when we hear the news all over the world, the tutoring programs, and donations, and every good thing, we feel responsible for all of this. We've got to be greater; we've got to be better. All those behaviors always influence us to be better people, before all this music and artist stuff."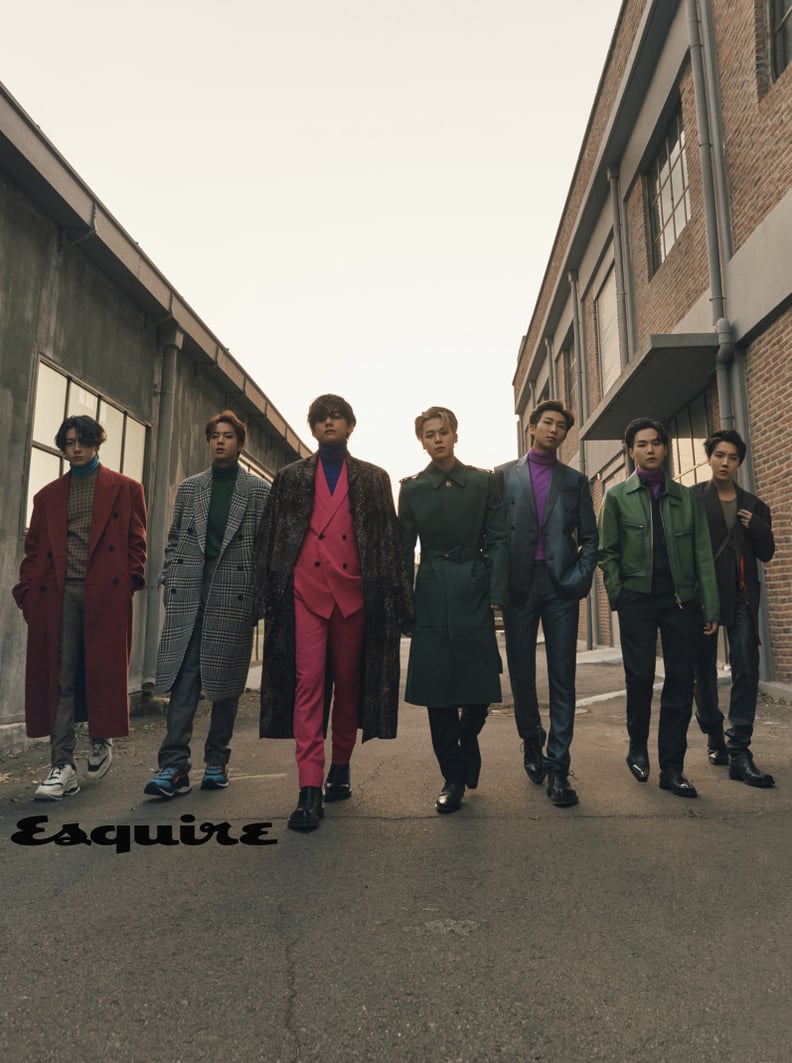 On their new album, Be:
RM: "I don't think this album will have any songs that criticize social issues. Everybody is going through very trying times right now. So I don't think there will be any songs that will be that aggressive."
On the success of "Dynamite":
RM: "'Dynamite' wouldn't be here if there was no COVID-19. For this song, we wanted to go easy and simple and positive. Not some, like, deep vibes or shadows. We just wanted to go easy."
Jin: "We were trying to convey the message of healing and comfort to our fans. World domination wasn't actually our plan when we were releasing 'Dynamite.'"
On earning respect in America:
Jin: "How can we win everyone's respect? I think it's enough to get respect from people who support us. It's similar everywhere else in the world. You can't like everyone, and I think it's enough to be respected by people who really love you."
Suga: "You can't always be comfortable, and I think it's all part of life. Honestly, we are not used to getting a ton of respect from when we first started out. But I think that gradually changes, whether it be in the States or other parts of the world, as we do more and more."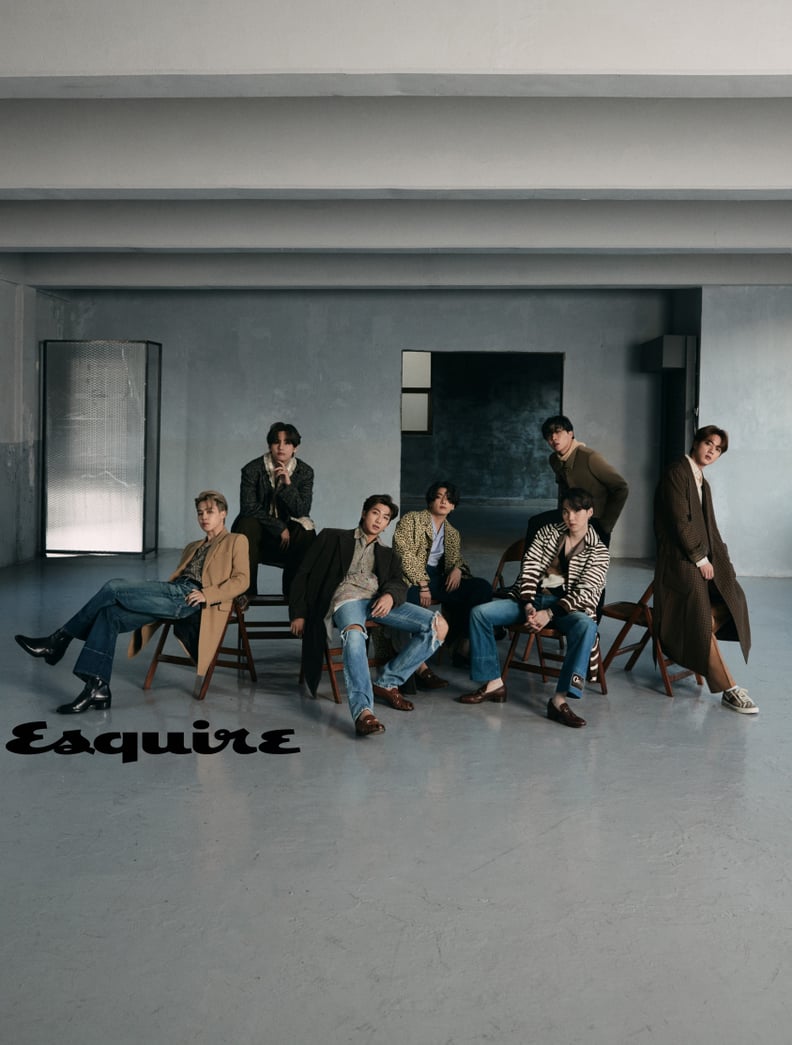 On the idea of masculinity and mental health:
Suga: "There is this culture where masculinity is defined by certain emotions, characteristics. I'm not fond of these expressions. What does being masculine mean? People's conditions vary day by day. Sometimes you're in a good condition; sometimes you aren't. Based on that, you get an idea of your physical health. And that same thing applies mentally. Some days you're in a good state; sometimes you're not. Many pretend to be okay, saying that they're not 'weak,' as if that would make you a weak person. I don't think that's right. People won't say you're a weak person if your physical condition is not that good. It should be the same for the mental condition as well. Society should be more understanding."
On imposter syndrome:
RM: "I've heard that there's this mask complex. It's basically this: There's this mask on my face. And these people are afraid that someone is going to take off this mask. We have those fears as well. But I said 70%, so I think it's very natural. Sometimes it's a condition to be successful. Humans are imperfect, and we have these flaws and defects. And one way to deal with all this pressure and weight is to admit the shadows."
J-Hope: "When we write the songs and lyrics, we study these emotions, we are aware of that situation, and we relate to that emotionally. And that's why when the song is released, we listen to it and get consolation from those songs as well. I think our fans also feel those emotions, maybe even more than us. And I think we are a positive influence on each other."