Cardi B and Offset Discuss Blended Family For Essence Cover
Why Cardi B and Offset Waited to Show Their Son to the World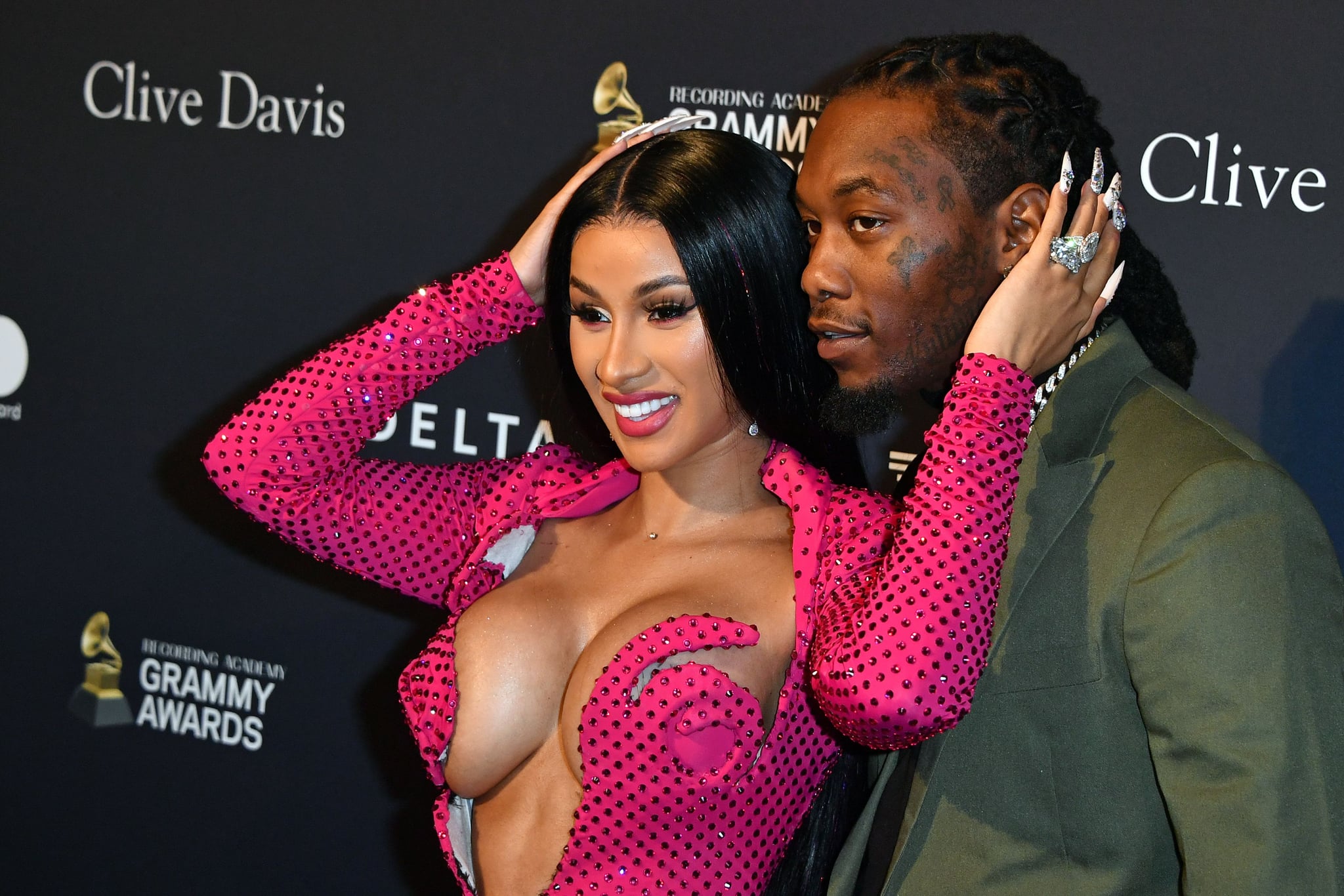 Image Source: Getty / Mark Ralston
Cardi B and Offset are offering a glimpse into their private family life. For Essence's May/June 2022 cover, the couple gave a revealing interview about their blended family, the early days of their romance, and dealing with internet bullies. They also finally introduced their baby boy, Wave Set Cephus, to the world. The cover and subsequent spread includes photos of Cardi and Offset with their kids — Kulture, 3, and 7-month-old Wave — as well as Offset's children from his previous relationships, 7-year-old Kalea, 7-year-old Kody, and 12-year-old Jordan.
"I love our family, and I wouldn't want it any other way."
According to Essence, Cardi initially brought up the idea of including her stepchildren in the photo shoot so Offset's kids wouldn't feel left out. "I feel like sometimes people go into a relationship with a man or a woman who has kids with negativity — and I feel like people should embrace it, and love it," she says. "I love our family, and I wouldn't want it any other way." She shared that she first met Offset's kids after the couple got married in September 2017. "I always wanted them to love me, and they really do. They tell me that. I feel it, and I hope that we always have a great relationship."
Offset added that Cardi treats his kids as if they're her own. "It's a blessing to be able to have them all together, and to have a wife who's open and treats them as if they're her kids," he said. "It could be an issue, but I don't have to go through that, and that's beautiful." Because the two both came from nontraditional family dynamics — Offset and his two brothers all have different fathers, while Cardi has six siblings from her dad's previous relationship — they understand the beauty of a blended family.
The pair also explained their decision to fiercely protect their family's privacy following baby Wave's birth last September, due in part to internet trolls who've targeted their daughter, Kulture. "We went through a lot of sad things when it comes to Kulture — terrible behavior that not even the older kids have ever been through. So many people will post mean, disgusting things, just to get a reaction from us," Cardi told Essence, adding: "We want to protect our feelings, because we get very, very angry and upset."
She further opened up about the pressure she faced from the industry throughout both the early days of her relationship with Offset and her pregnancies, which she overcame thanks to the couple's love and family bond. Now, they describe their home as a "safe house." Read more in their interview with Essence.