7 Famous Women Who Flawlessly Bounced Back After Bad Breakups
01
Kourtney Kardashian
Kourtney Kardashian and Scott Disick's rocky romance has been featured on Keeping Up With the Kardashians for years, but it wasn't until July 2015 that the reality TV star finally called off their 10-year relationship. Kourtney reportedly reached the end of her rope after Scott was photographed spending time in the South of France with his ex-girlfriend, Chloe Bartoli.
Since their split, Kourtney seems to be doing better than ever. Not only has she been spending lots of cute quality time with her and Scott's kids, Mason, Penelope, and Reign, but she's also soaking up the support of her famous sisters, sharing loads of sexy snaps on social media, and being photographed out and about looking really, really hot. Her mom, Kris Jenner, recently threw her support behind Kourtney's "good decision", saying, "She's kind of my hero right now."
02 Jennifer Aniston
You may recall that Jennifer Aniston used to be married to an up-and-coming actor by the name of Brad Pitt. From 2000 to 2005, they were Hollywood's golden couple, but they ended their union after Brad fell for his now-wife Angelina Jolie on the set of Mr. and Mrs. Smith. Much was made about the breakup, and many of us were forced to choose sides — who didn't have a "Team Jolie" or "Team Aniston" shirt?
That same year, Jennifer went nearly nude for the September cover of Vanity Fair. In the accompanying interview, which was titled "The Unsinkable Jennifer Aniston," she opened up about the end of her marriage and gave us that now infamous quote about Brad's missing "sensitivity chip." The following month, a tan and topless Jen graced the cover of GQ as the first-ever woman to be featured in their annual "Man of the Year" issue.
Over the next decade, Jen would go on to become one of the most famous, loved, and worried-about female celebrities of our time. Seriously, have we ever been more concerned for a stranger's love life, ever? We all wanted Jennifer Aniston to win, and she'll forever be one of the shining examples of resiliency after a bad breakup.
03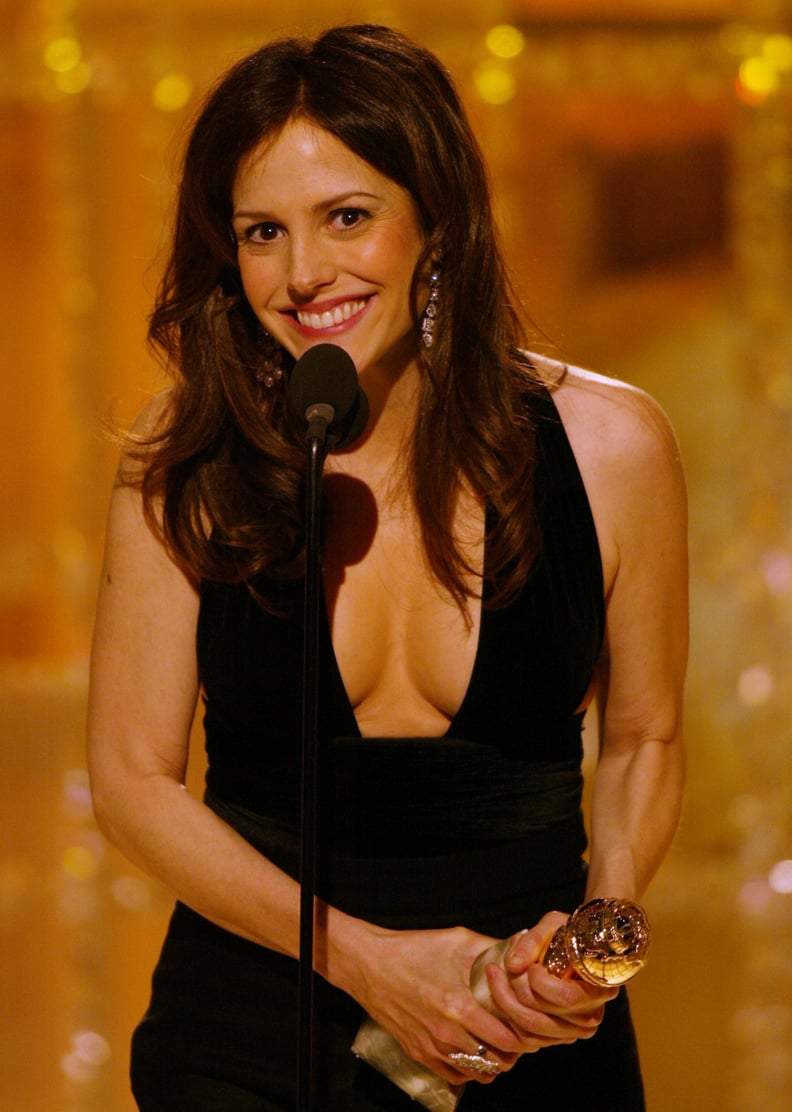 Mary-Louise Parker
Mary-Louise Parker was dumped by her longtime boyfriend, actor Billy Crudup, in 2003. Two important factors made this split hard to swallow: not only did Billy leave the actress for Claire Danes (whom he met on the set of Stage Beauty that year), but Mary-Louise was also seven months pregnant with the couple's child at the time. Rude.
Despite the sketchiness surrounding her breakup, Mary-Louise recovered in a big way; she gave birth to her son William, and starred in HBO's adaptation of the Tony-winning play Angels in America. In 2004, she took home the best supporting actress awards at both the Emmys and the Golden Globes for her role, and gave a funny, heartfelt acceptance speech at the ceremony, saying, "[Actress] Janel Moloney just told me she would pay me $1,000 if I thanked my newborn son for my boobs looking so good in this dress. So, get out your checkbook. William Atticus Parker, thank you so much from your mother.''
If her superhot postbaby moment wasn't enough, Mary-Louise then went on to become one of the most famous MILFs in history on Showtime's Weeds.
04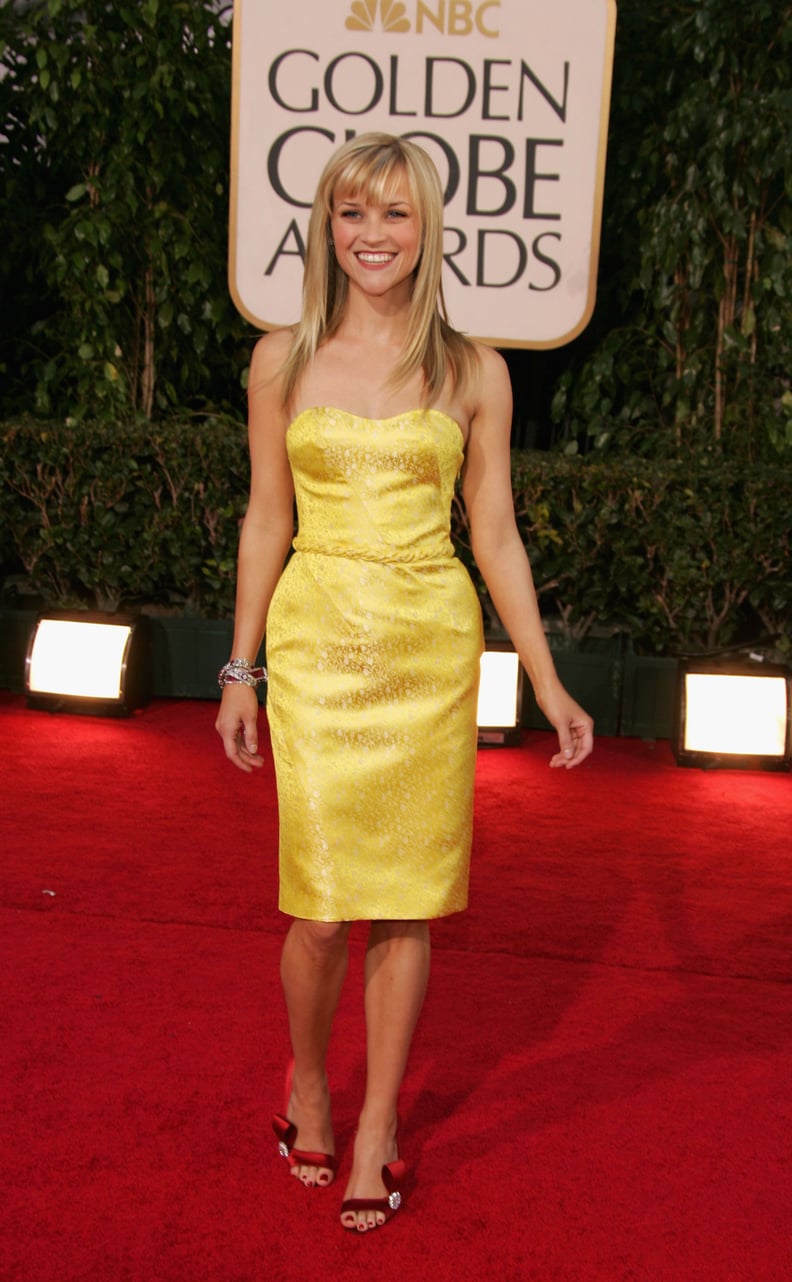 Reese Witherspoon
2006 was arguably Reese Witherspoon's biggest year; she starred as June Carter Cash in Walk the Line and earned a Golden Globe, SAG Award, and Oscar for her incredible portrayal. That year's Academy Awards marked one of the last public appearances she made with then-husband Ryan Phillippe, who later admitted to having an affair with his Stop-Loss costar Abbie Cornish. The reports of infidelity led to the end of their seven-year marriage.
Cut to 2007, and Reese was back on the red carpet at the Golden Globes looking smiley and sexy. She sported brand new bangs and a mustard yellow Nina Ricci cocktail dress that still makes fashion lovers shiver when they think about it. She landed on nearly every best dressed list that year, and gave proof to the old adage "looking good can be the best revenge."
05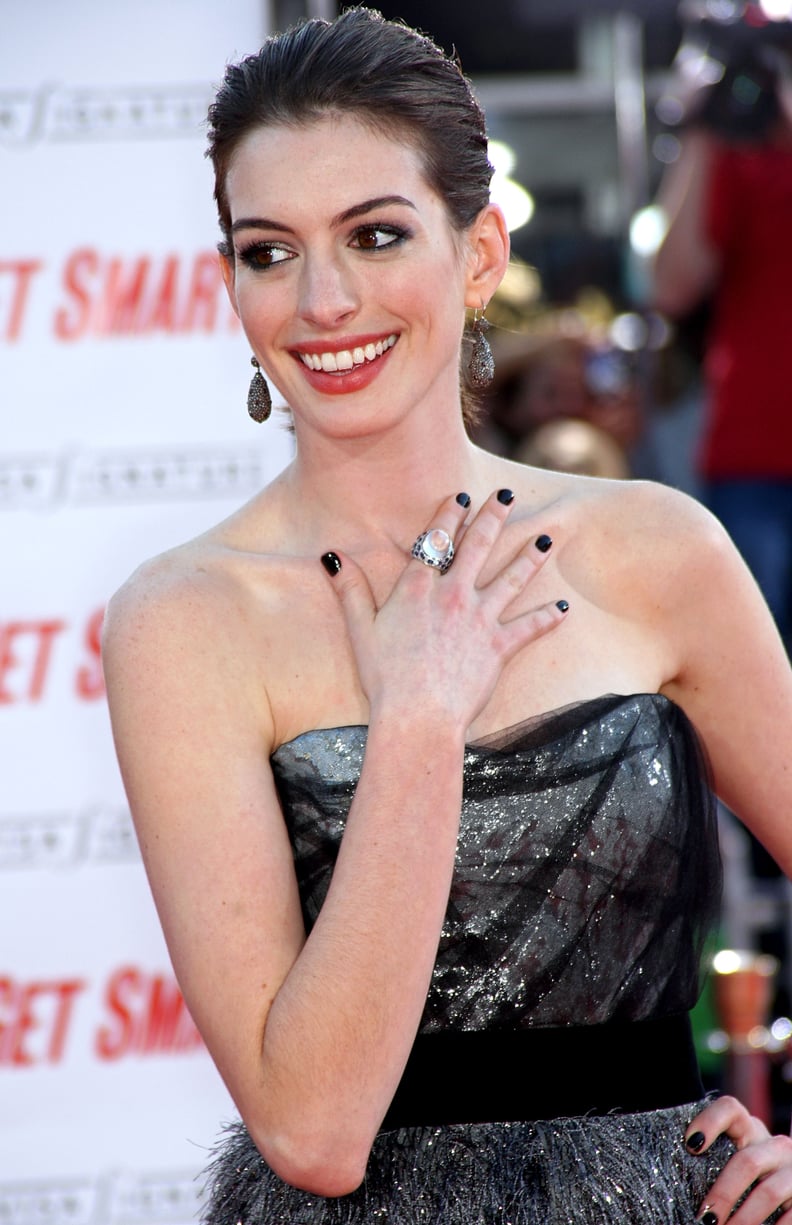 Anne Hathaway
Anne Hathaway broke up with her boyfriend, Raffaello Follieri, after he was investigated by the IRS for fraud and money laundering in June 2008. At the time of his arrest, Anne was busy doing press for the movie Get Smart, and had to find a new place to live in between interviews and red carpets (the NYC apartment she shared with the Italian conman was being searched by authorities). She spoke to W magazine that year, saying, "It's a situation where the rug was pulled out from under me all of a sudden. But just as suddenly, my friends threw another rug back under me. One said, 'Go stay at my house.' And Steve Carell [her Get Smart costar] stepped up for me during an interview when someone asked a question [about it]." She added, "I've been shown such kindness. Not everyone gets that. A lot of people go through tough times alone."
Anne showed a self-awareness and sense of humor about the unfortunate situation a few years later. When asked about her "relationship deal-breakers" during a 2012 Vogue interview, the Oscar winner quipped, "Uh. . . fraud?"
06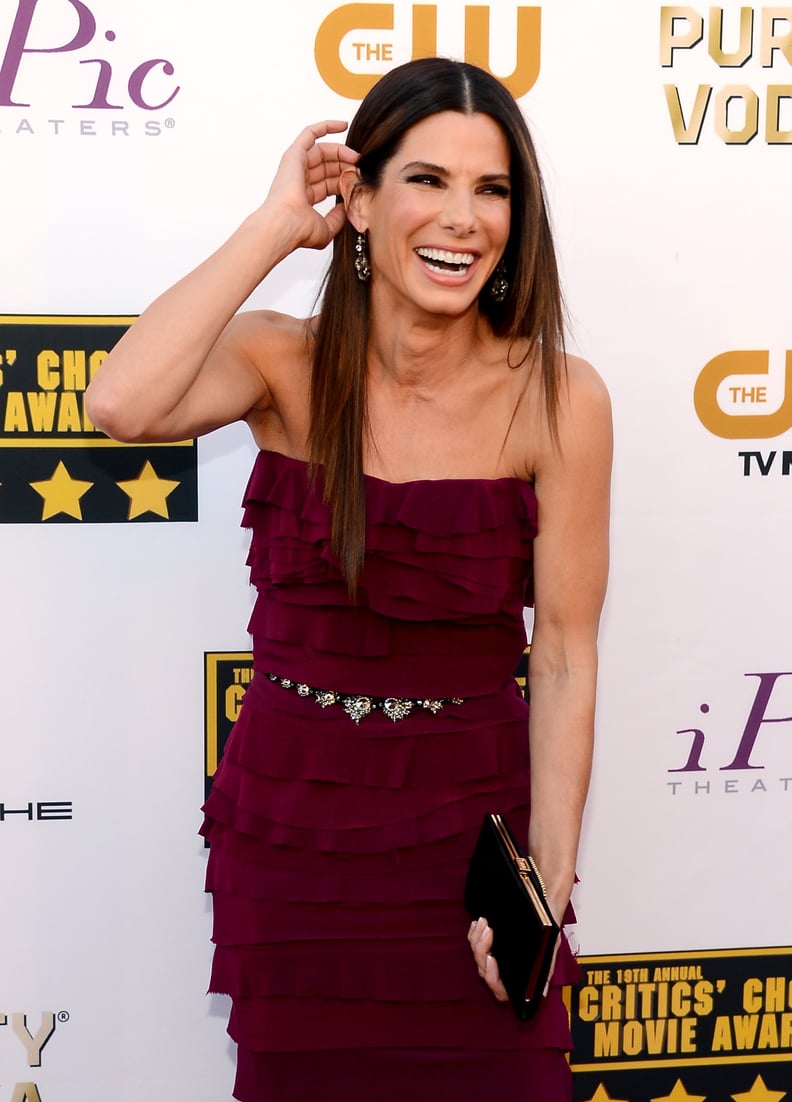 Sandra Bullock
Sandra Bullock's personal life pretty much fell apart in 2010, just days after she took home the Oscar for best actress thanks to her role in The Blind Side. In early March, several women claimed to have had affairs with Sandra's then-husband, motorcycle builder and reality TV star Jesse James. He later responded to the rumors with a public apology to Sandra, saying, "There is only one person to blame for this whole situation, and that is me," and asking for forgiveness for the "pain and embarrassment" that he caused. He subsequently checked into rehab to "save his marriage," but Sandra filed for divorce weeks later.
Sandra and Jesse had begun the process of adopting a child while they were married and brought their son, Louis Bardo Bullock, home from New Orleans in January of that year. After their split, Sandra announced that she would be raising the baby as a single parent.
In 2013, Sandra opened up about the devastating breakup, saying that she felt "permanently broken," adding, "You don't think it will pass when you're in the middle of it, but it does. I'm so lucky to have what I have. I have a beautiful child and friends and family I adore. I've got everything I want, and it couldn't be sweeter, better, or more fulfilling."
07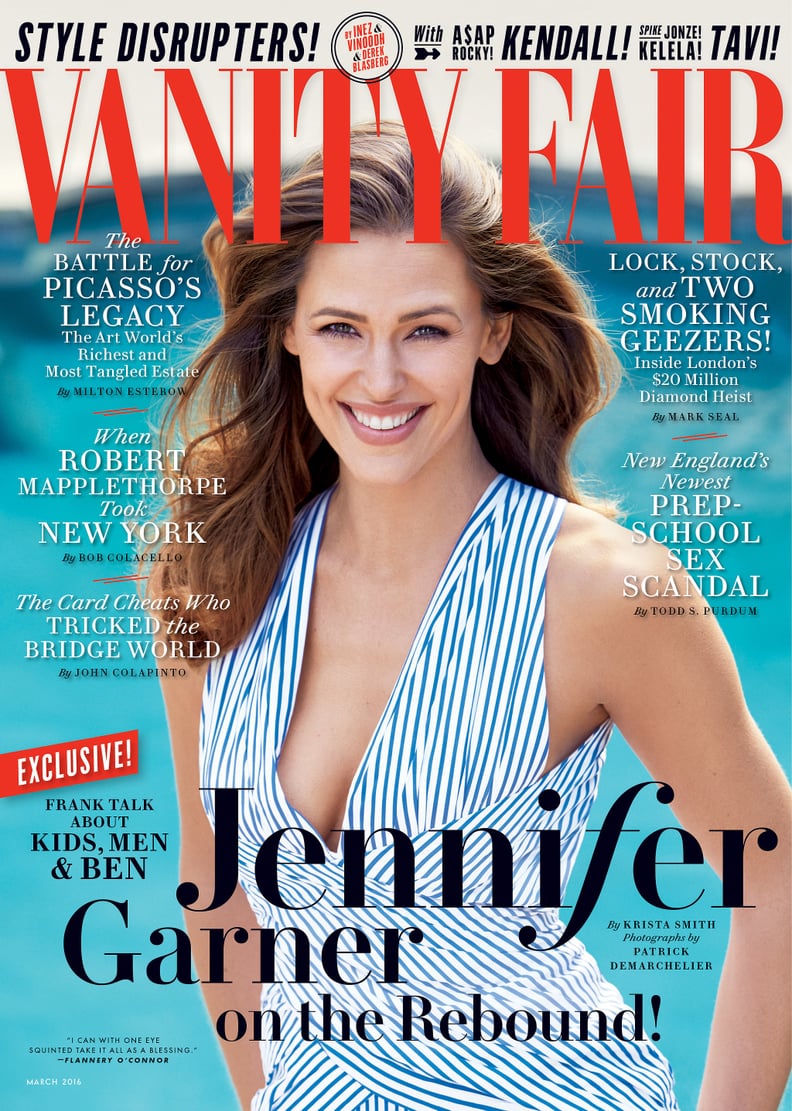 Jennifer Garner
Jennifer Garner took a similar route as Jennifer Aniston when it came to breaking her silence about her split from Ben Affleck in 2016; the actress chose a candid Vanity Fair interview as her way of speaking out about their divorce, which was announced in June 2015 amid rumors of infidelity.
In her heartbreaking profile, Jennifer called the past 12 months her "year of wine," and admitted that she had been reflecting on her part in their breakup, saying, "There's no way I get off in this." She went on to drop some major truth bombs about their relationship, called Ben "complicated" and "cold" and revealed that their nanny, Christine Ouzounian, had "nothing to do" with their decision to split.
Jennifer's statements made it clear that while she may be shaky on her feet, there's no doubt that she'll come out on top. "I'm taking good care of myself," she said, adding, "I look forward to getting past the pity stage. I look forward to just having a sense of humor."