Get Over a Breakup
Going Through a Breakup? Take Our 30-Day Challenge!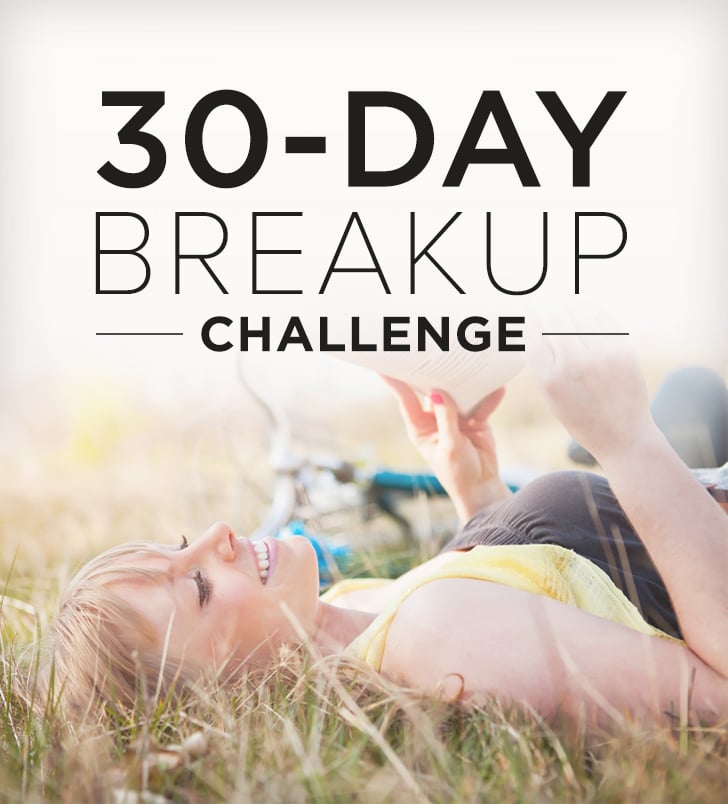 One thing to keep in mind if you've recently gotten out of an expired relationship, is that no matter how bad your breakup is, someone else has an even worse story. Sure, it feels awful, but you aren't the first person to get dumped or to dump someone. Being on either side of a breakup is hard, but it's important to maintain some perspective through all your moping and self-pitying. For instance, though I split up with my husband, I often remind myself that I'm glad we didn't buy a house or give birth to any kids during our years together.

While the circumstances of every breakup are different, many of us exhibit the same symptoms: not knowing how to cheer ourselves up, worrying that we'll burden friends with breakup talk, and suddenly finding ourselves with a lot of free time but zero attention span.

So based on extensive research — that is, getting dumped and talking to friends who have been dumped — I've compiled a list of things to do in the weeks and months after a breakup. If you're in the same boat, turn this list into a day-by-day challenge, and we guarantee you'll feel a little better by the 30th day. Of course you won't entirely feel put back together — these things take time — but they are steps in the right direction!


— Additional reporting by Sierra Horton

Day 1: Make a list of things you'll miss about your ex and things you won't miss one bit.

Day 2: Make a mopey/angry breakup playlist.

Day 3: Make a feel-good playlist that has nothing to do with romance whatsoever.

Day 4: Post a fresh, new profile picture.

Day 5: Look up an old flame or crush and get in touch!

Day 6: Hide the photo evidence of your relationship, even on social media.

Day 7: Be a little cliché and eat some ice cream out of the tub.

Day 8: Write an angry letter to your ex, and then rip it up.

Day 9: Have a lunch date with your best friend at your favorite spot.

Day 10: Go out tonight and flirt shamelessly. Hook up with someone, if you're into that sort of thing.

Day 11: Spend time with someone — friend or love interest — who's outside your circle of usual friends.

Day 12: Have a cozy coffee date with yourself.

Day 13: Do something you've never done before — this could be as simple as eating at a new restaurant or trying out a new hiking trail.

Day 14: Get rid of your ex's things that you're still holding on to.

Day 15: Get out a journal and start planning (really planning) your next vacation.

Day 16: Buy a new wardrobe item that makes you feel super hot.

Day 17: Try something adventurous with your beauty routine today.

Day 18: Buy some sexy undies.

Day 19: Rearrange some of your furniture. Give yourself a little change!

Day 20: Work out today as intensely as possible.

Day 21: Block your ex on social media. It might sting at first, but you'll end up feeling much better.

Day 22: Do something for someone else today! Volunteer or buy a stranger their coffee.

Day 23: Start reading an empowering book!

Day 24: Watch totally mindless funny movies and take up the entire couch while doing it.

Day 25: Get a manicure! Nice nails are a cure-all.

Day 26: Write out where you'd like to be and what you'd like to have accomplished two years from now.

Day 27: Get a little crazy tonight with your friends and post a fun picture on Instagram.

Day 28: Do something fun that your ex never wanted to do.

Day 29: Spend today eating whatever you want without remorse.

Day 30: Make a list of everything you want to be different in your next relationship, and don't forget it!