Chloë Grace Moretz actually had to forget how to fight for her latest movie, The 5th Wave. The actor, who made her first big-screen splash in the hyperviolent, supercomedic Kick-Ass, said playing Cassie — a regular teen trying to survive an alien invasion — was a strange kind of challenge. "This movie was actually anti-training," she told us when she stopped by POPSUGAR's LA office to chat about the film. "A lot of the slow-motion shots of me running, we had to redo them because I looked too coordinated. They had to make me fall and stumble. It was funny."
Chloë, who's as beloved among her fans for her outspoken nature as her onscreen roles, also talked with us about the way violence is handled in the adaptation of the YA novel and why she tries to choose projects that "depict millennials in the right light." We also couldn't let her leave without asking her about the much-talked-about retelling of The Little Mermaid she's signed onto — and trying to get her to settle the matter of whether or not her version of Ariel will rock red hair.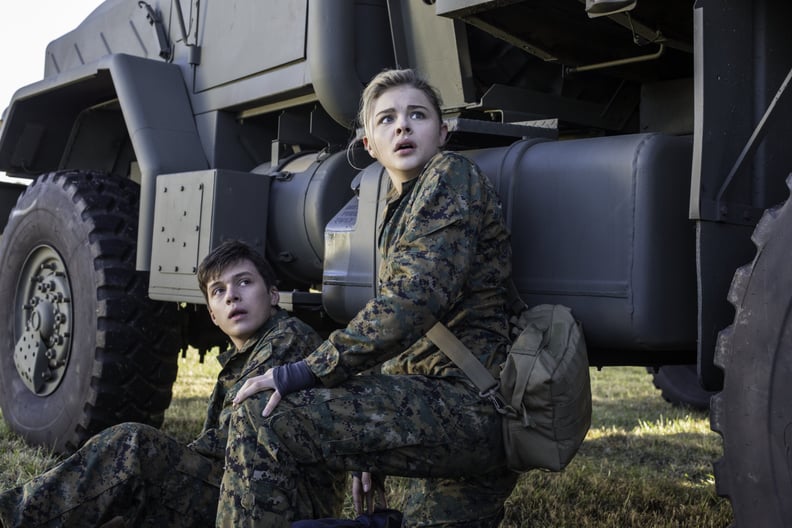 Chloë with costar Nick Robinson in a scene from The 5th Wave.

POPSUGAR: You've talked thoughtfully about the guns and violence in this movie. Why is it important to you to speak out about the nuance of how they're used in the film?
Chloë Grace Moretz: I think that these are depicted really realistically for the time period. It's not a fun action movie. It's not 007. Guns are depicted in their realistic light, in that they're used in life-or-death situations: times of war, times of need. I do think we live in a time where we need to be more cognizant of the way we depict weapons, and the way we use them. I think this movie does a good job with that. It doesn't make them fun or cute or pretty. It makes them very aggressive. It makes them real. They're used in true, life-or-death situations, when you have no other way out.
PS: Is the experience starring in a YA adaptation like The 5th Wave a little different, since there's already such a fan base?

CGM: Yeah. It's a really great, loyal, fun fan base. I really want to see great movies that depict millennials in the right light. It's nice to make a movie like this, because I, as a millennial, can say that I'm proud of it. I'm proud of the way it depicts women, I'm proud of the way it depicts familial relationships and relationships with boys. I think young audiences will see that. Adult audiences will see that.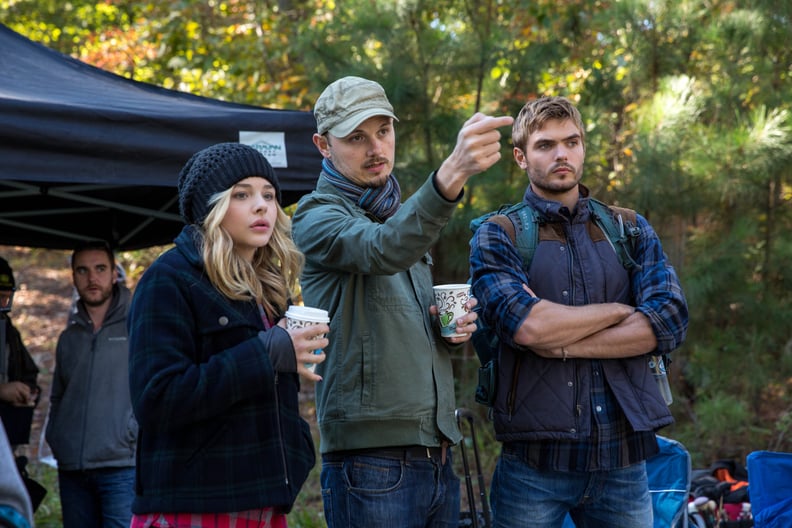 Chloë takes a coffee break on The 5th Wave set and powwows with director J Blakeson (center) and costar Alex Roe (right).

PS: You're an outspoken feminist. When you were younger, were you ever nervous about speaking out on these issues — or did anyone ever try to talk you out of it?

CGM: No. I was really lucky, because growing up I was actually told "Please speak out. Raise your voice. You have a voice." I was the only girl in a sea of brothers, but they always wanted me right there with them, doing things they were allowed to do. And my mom is a feminist, obviously; she grew up in a time where you had to be. To get anything done you had to be a real hard-ass. I think now, what's great about being a feminist in this day and age, is that you don't have to be a hard-ass. You don't have to be outward about [your] strength — you just get to have a voice. We can speak up, in the same way a man can, and we don't have to do it aggressively. You can if you want to, but you can be who you want to be, who you naturally are.
PS: You're 18 now. I feel like every milestone birthday forces you to reflect on your life and what you want to do. Did it for you?

CGM: It does, and it also makes me realize how short years are. I'm turning 19 in less than a month, which is crazy to me. It's just wild to think that it was just last year that I was turning 18. That just really blows my mind. It's nice to always look back on the year, and that's why I always say that I don't believe in New Year's resolutions: because I think that it sets you up to fail. I always try to look at, when one year passes, what have I done wrong and what have I done right? Then I try to err on the side of right.
PS: This is a big movie year for you. You've also got Neighbors 2. I know you've got to keep it close to the vest, but you have said people will be surprised to see you in this role. Can you tell me a little bit more about that?

CGM: I mean, no one's really ever seen me do this amount of comedy. They've seen me on 30 Rock, they've seen me in little Funny or Die skits. I've never been allowed, or booked, a movie with this amount of comedy. I think people are just going to be surprised to see that side of me, because I do a lot of serious or action-oriented roles. I can't even explain it . . . but what goes down in Neighbors 2 is going to blow people's minds.
PS: What did you pick up from that crew? Seth Rogen is kind of the master.
CGM: Yeah, he's a genius. I picked up a lot on just always thinking on your toes, and improv, and being there in the moment. And not being afraid to not get any laughs when you say something. It's just a lot of trial and error. It's a lot more meticulous than dramatic movies, actually. It's a lot more time consuming, actually, but it's fun and really wild.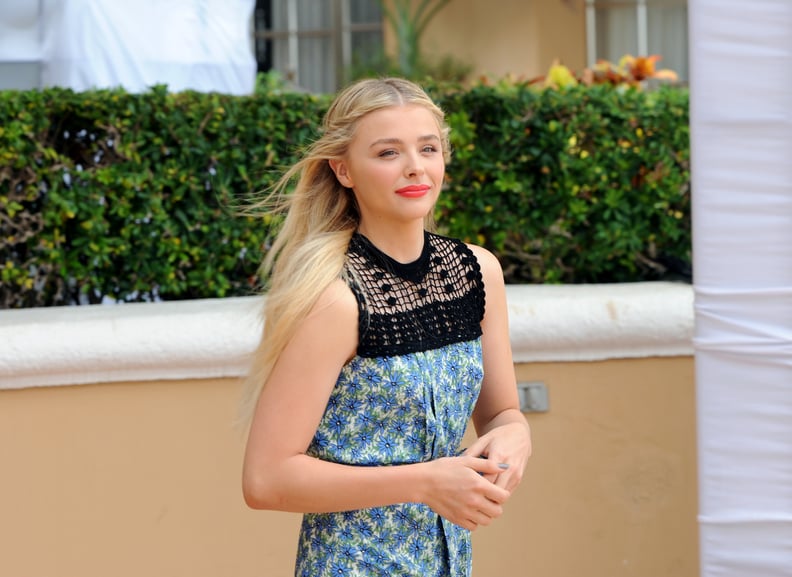 Chloë leaving a January press event for The 5th Wave.
PS: And of course, there's The Little Mermaid. How do you think this Ariel will be different from the one we grew up with?
CGM: I think she's going to be a lot more modern in the sense that she's not just going to be looking to go on land for a boy. She's going to really learn things. She's going to really experience different human emotions that she's never felt or seen or heard before. I think it's going to change people's idea of The Little Mermaid — in the right way. We have a director now, Rebecca Thomas. She's this amazing young director. She's really, really badass. I'm like, in love with her. She's just perfect for the movie, so I think it's going to be great to have a female director on board with this really female-oriented project. And a young one, too! We're leaving in about a month to go off to London to shoot it. It's going to be crazy.
PS: Is there something from the original — I imagine you were kind of obsessed with it growing up, like everyone— that you want to retain?
CGM: I just want to make the world under the water really special. I think that we always really felt that in the book and in the animation.
PS: There's already been such an uproar about the hair — whether you'll go red or not. Are you totally tired of that?
CGM: It's just . . . I don't even know what to say! Here's the thing: I'm just the actor and I shouldn't talk about character stuff until I know fully, and I'm not there yet. I'm sure when we get everything together we'll release a great photo for you all to see our mermaid. But remember: it's not Disney. It's our own version. So just take it in stride and be part of the fun.
PS: I think your fans will give you the freedom to make it what you want to make it.
CGM: I think they will. It just might take a minute.