Ciara and Russell Wilson Brought the Bathrobes to Their Backyard For the ESPYs "Red Carpet"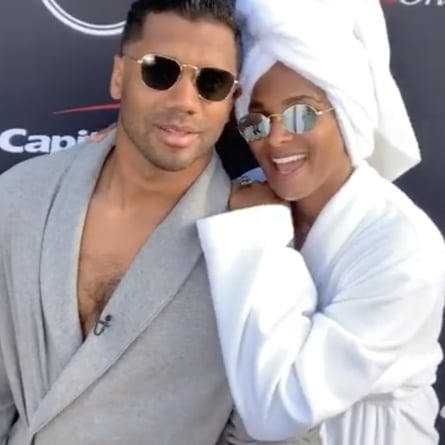 Just because there was technically no red carpet during Sunday night's virtual ESPY Awards, Russell Wilson and Ciara had no problem bringing the glam to their backyard . . . in bathrobes, of course! While hosting the show with Sue Bird and Megan Rapinoe, Russell and his beautiful wife had the selfie cameras flashing and even some hilarious cut-out superstars to join them for the evening. "I've been coming to this show for the last 7 years, and one of my favorite parts of the night has always been the red carpet," the NFL quarterback said in a clip on Instagram. "I figured, why should this year be any different? So I built one in my backyard."
It was a special day for Russell and Ciara, as they celebrated Father's Day with some beautiful presents and messages paired with the excitement of their baby boy on the way! The adorable couple is expecting their second child together and did not hold back from flaunting their love on the "red carpet." Check out the sweet videos of Russell and Ciara from the ESPYs ahead.