David Henrie and His Wife Welcomed Baby No. 3! See Their Sweet Family Photos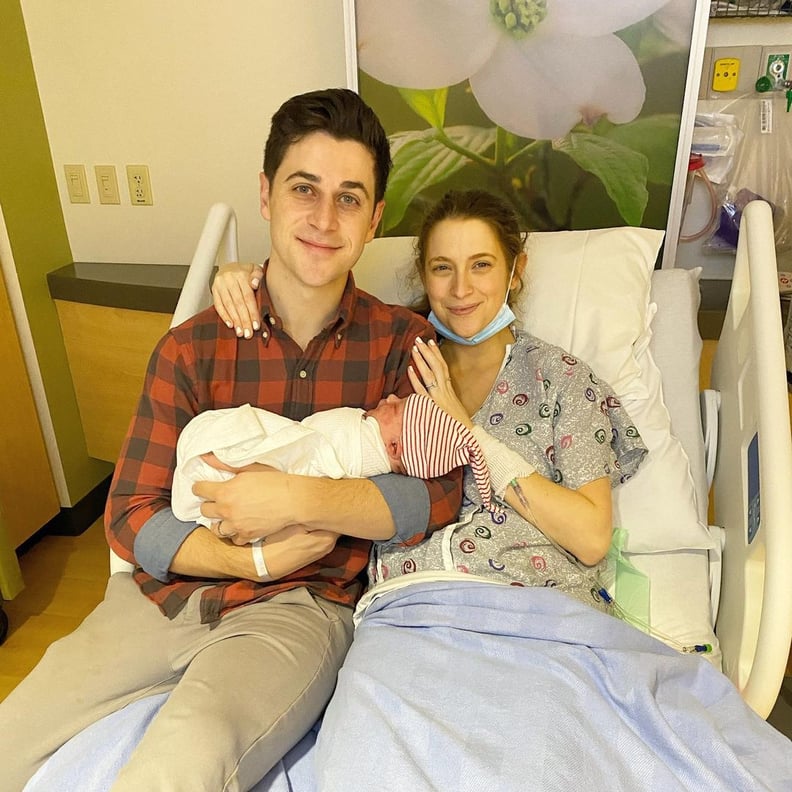 Actor David Henrie is best known for his roles as Luke, Ted Mosby's son, on "How I Met Your Mother," and Justin Russo on Disney's "Wizards of Waverly Place." But now, he's a dad to an adorable daughter named Pia, a son named James, and a new baby girl, Gemma Clare.
David and his wife, Maria Cahill — who tied the knot in April 2017 — have shared a handful of sweet moments involving their kids on Instagram, and now that their family has grown, we're looking forward to even more heartwarming posts. Keep reading to learn more about David and Maria's three children!
Pia Philomena Francesca Henrie
The Henries' first child, a daughter named Pia, was born on March 19, 2019. On the day of her birth, David posted a photo of his new family of three and shared that while Pia is their firstborn, she "has brothers and sisters."
"Maria and I suffered three miscarriages before finally being able to carry Pia to full term. While it was insanely difficult recovering from miscarriage after miscarriage, we knew if we were ever going to be able to hold a baby of our own in our arms that we must not let the tragedy affect our marriage, but rather grow closer together! We stayed faithful to that conviction and had a little help from [Pope Francis]," David wrote, adding a story about how Pia's second middle name was chosen.
"The reason Pia's middle name is Francesca is because I personally asked pope Francis to pray for Maria and I to have a baby. He took our hands, held them together, said a special blessing, then looked up and told me not to worry that a baby would be coming - that was pretty much exactly nine months ago."
On Pia's first birthday, which was celebrated during the coronavirus pandemic, David shared a sweet photo of himself planting a kiss on her adorable little cheek, writing, "Happy first birthday to my baby, Pia!" We can't wait to see this little one become a big sister!
James Thomas Augustine Henrie
The Henries welcomed their second child, a son named James, on Dec. 25, 2020. David shared the happy news in a sweet Instagram announcement featuring a gallery of snaps of their newborn, writing: "CHRISTMAS BABY!!! Y'all... WHAT A NIGHT! James Thomas Augustine Henrie was born at 9:33pm on December 25th 2020 weighing 8lbs 13oz. My wife is a superhero and was able to achieve her goal of having a drug free birth. I'm so proud of her! Aside from sharing the stage with none other than Jesus, He blessed us in a special way by giving us James on this date because it was December 25th 2019 that we had our fourth miscarriage. Thank you all for the prayers and well wishes, they paid off in a massive way. MERRY CHRISTMAS :) ps it started snowing as he was being pushed out. Crazy!!!"
The couple first revealed that baby number two was on the way with a gender reveal posted to Instagram on June 16. "While the joy in this photo was real, it was an especially meaningful moment to my wife and I cause we suffered another miscarriage last Christmas (that makes 4 for us now) so we are thankful that we are now out of the stage where miscarriage is likely...and I know this story is a bit of a downer, but I wanted to share it cause I know there are families out there who have experienced similar struggles and pain," David wrote in that post's caption. "My wife and I know what it feels like to find out you're pregnant and instantly be hit with fear thinking you're cursed to another miscarriage...we feel you. But don't give up! Don't lose hope! Depend on one another!"
Gemma Clare Henrie
The Henries welcomed their third child, Gemma Clare Henrie, on July 17, and celebrated her birth with an Instagram post that read, "IT'S A GIRL!!!! Gemma Clare Henrie was born 7lbs 15oz at 3:21 am. Maria is currently enjoying the most deserved nap ever, haha," he added. "She stuck to her plan and had a drug-free birth, and I couldn't be more in awe of her! Thanks be to God for the greatest gift on earth, and Maria and I thank you all for your prayers."
He continued on to offer thank yous for everyone who supported him and his wife along the way to Gemma's birth. "I received many messages and I really appreciate it. #vitabella #deogratias and a huge shout out to our nurses Morgan and Sofia and our midwife Katy!" he wrote. "Y'all are spectacular and thank you to all the nurses out there we appreciate you."