Kylie Jenner Singing "Rise and Shine" to Stormi Is Sending the Internet Into a Full Tailspin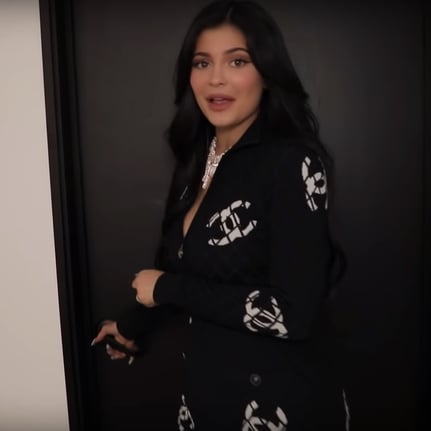 Kylie Jenner is a woman of many talents: she's a makeup mogul, a reality star, and an entrepreneur, and now, the 22-year-old billionaire can add vocalizing to her résumé. Last week, Kylie gave fans a tour of her insanely glamorous Kylie Cosmetics office, filled with a Champagne vending machine, pink M&M's with her face on them, and tons of personalized decor. She also has a fabulous playroom for 1-year-old daughter Stormi, and the theatrics to go with it. In the vlog, Kylie ever so gently opens Stormi's door to wake her up, and she unleashes a dramatic rendition of the words "rise and shine," aptly pronounced by Kylie as "riiiiiiiise and shiiiiineeee."
The moment occurs in the video around the 15:18 mark, when Kylie enters the room to rise her daughter (who is very much already awake in her crib), and we mean it when we say a vocalist was born. Not only has Kylie changed her Instagram bio to read "rise and shine," but hilarious tweets and memes of the moment have since flooded the internet. One person made it their alarm clock sound! Ariana Grande even sang the words on Instagram, asking if she could sample Kylie's iconic three-word performance. Stormi didn't seem to love her mom's vocals as much.
And just like that an incredible new meme entered our lives. Check out some hilarious reactions to Kylie's performance ahead, and good luck to my neighbors who will be hearing this every morning on full blast as my new alarm clock sound.
Kylie Jenner Singing to Baby Stormi (Around the 15:18 Mark)
Funny Tweets About Kylie Jenner Singing "Rise and Shine"
Ariana Grande Even Got in on the "Rise and Shine" Fun
Someone Made Kyle Jenner's "Rise and Shine" Their Alarm Clock Sound
And Another Person Made a Dubstep Remix to Kylie Jenner's "Rise and Shine"