Jamie Lee Curtis Reflects on Learning From Her Trans Daughter: "I'm a Student"
Jamie Lee Curtis, aka the queen of "Halloween," has a lifetime of amazing accolades under her belt. The 64-year-old is an acclaimed film and television actor, author, and activist, and has her latest part in Disney's "Haunted Mansion" remake. But perhaps her most beloved role is being a mom to her two daughters, Annie and Ruby Guest, whom she shares with husband Christopher Guest.
Curtis's journey into motherhood started when she experienced infertility problems shortly after she married Christopher in 1984. "Adoption was the only way for us to have a family. . . . It becomes the viable option for you. If you want to be a family, that's how you're going to be it," she previously told Pact's Point of View Newsletter. Together, Curtis and Christopher decided to go the route of adoption to start their family, welcoming their daughter Annie in 1986. Ten years after Annie's arrival, Curtis adopted her second child, Ruby, in 1996.
That same year, Curtis published a children's book called "Tell Me Again About the Night I Was Born," which she hoped would offer comfort to adopted children. "I wanted to write a book about real children and real families joined by adoption . . . Adopted children often don't have those kinds of details [about their birth]," she said of the book, per People. "'Tell Me Again About the Night I Was Born' was written to let children who joined their families through adoption know that their own birth stories were exciting, too."
Decades later, it seems like Curtis has maintained an incredible bond with her kids. Annie and Ruby accompanied their mother to the "Halloween Ends" Los Angeles premiere back in October 2022, and Curtis herself shared a touching post from the event on Instagram centered around her two children. "My family. Proudest mother. Loving support," the actor wrote. That month the family stepped out again for Curtis's hand and footprint ceremony at the TCL Chinese Theatre in Hollywood. She also thanked her daughters when she won the Oscar for best supporting actress on March 12.
Ahead, here's everything we know about Annie and Ruby!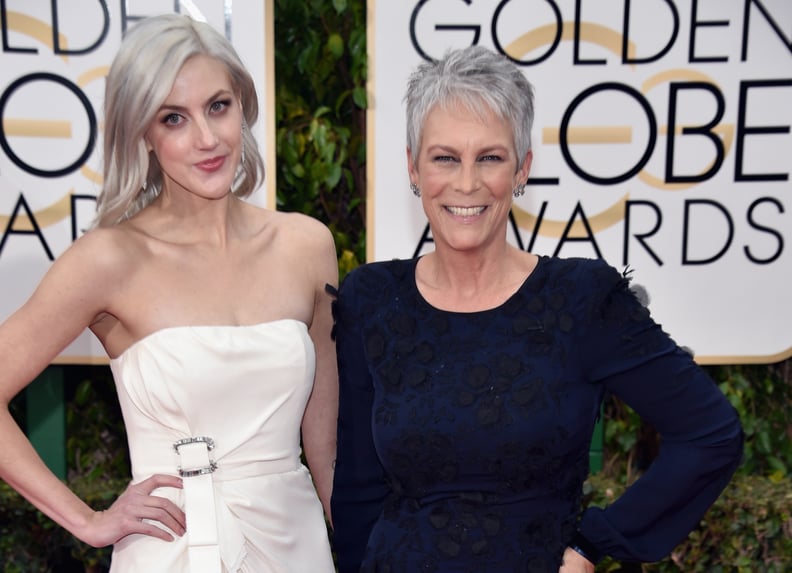 Annie Guest
Curtis's first daughter, Annie Guest, was born in December 1986. "We were awakened in the middle of the night with the phone call announcing that she was born," Curtis revealed to People in 1991.
Unlike her actor parents, Annie has a passion for dance and decided to follow a career in the performative art form as an adult. According to People, Annie discovered her love for dance when she was 8 years old and went on to compete in multiple competitions well into her teenage years. In 2009, Annie graduated from Ohio's Kenyon University with a BFA in dance, and she currently works as an instructor at the Los Angeles dance studio MNR Dance Factory.
Outside of her professional career, Annie maintains a private life on social media. She married Jason Wolf in a private ceremony at her parents' home in July 2019. Curtis shared the happy news on her Instagram, writing in part, "A loving, familial blending with laughs and tears and truth. Proudest MOB."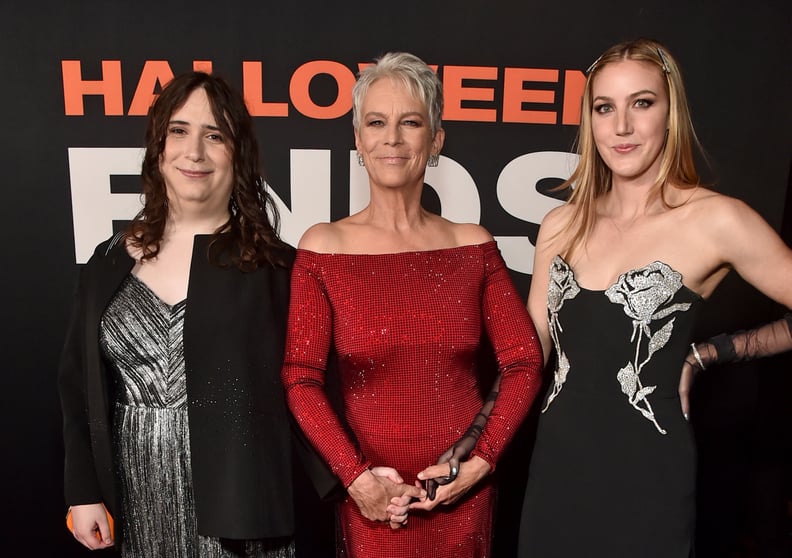 Ruby Guest
Ruby Guest was adopted shortly after her birth in 1996. Curtis was initially not looking to have more children, but she told Pact's Point of View in 1997 that Ruby's adoption process came together in a magical way. "I would have said no to any more children because Annie was 9. . . . But a set of circumstances occurred, all of which were celestial. It was serendipitous and involved a friend of mine who died last year. Five or six events came together, all of which resulted in our family growing within four days," she explained.
In 2020, Ruby came out as transgender to her parents. She opened about about the moment to People a year later in October 2021, saying, "It was intimidating — but I wasn't worried. They had been so accepting of me my entire life."
For Curtis, the process hasn't come without bumps, but she is dedicated nonetheless to loving her daughter. "You slow your speech down a little. You become a little more mindful about what you're saying. How you're saying it. You still mess up, I've messed up today twice. We're human," the actor told the outlet.
She opened up further about her relationship with Ruby at a San Diego Comic-Con panel on July 22, per People. "I have a trans daughter. I don't know many trans people, so I have sought to learn," she said. "I'm a student. I'm not going to pretend I know anything because I don't know anything. But you start to learn. I think that's the biggest message, that we're all learning. We're all learners, and we're all trying to figure it out."
Ruby, who works for a gaming channel on YouTube as a video editor, tied the knot with her partner Kynthia in a World of Warcraft-themed wedding on May 29. "Everybody at the wedding is going to be in costume and I will be in a costume to officiate the wedding," Curtis said prior to the nuptials on "Jimmy Kimmel Live!"