Kataluna Enriquez, Miss USA Contestant, on Trans Rights
Kataluna Enriquez, the First Out Trans Miss USA Contestant, Reflects on Her "Cinderella Story"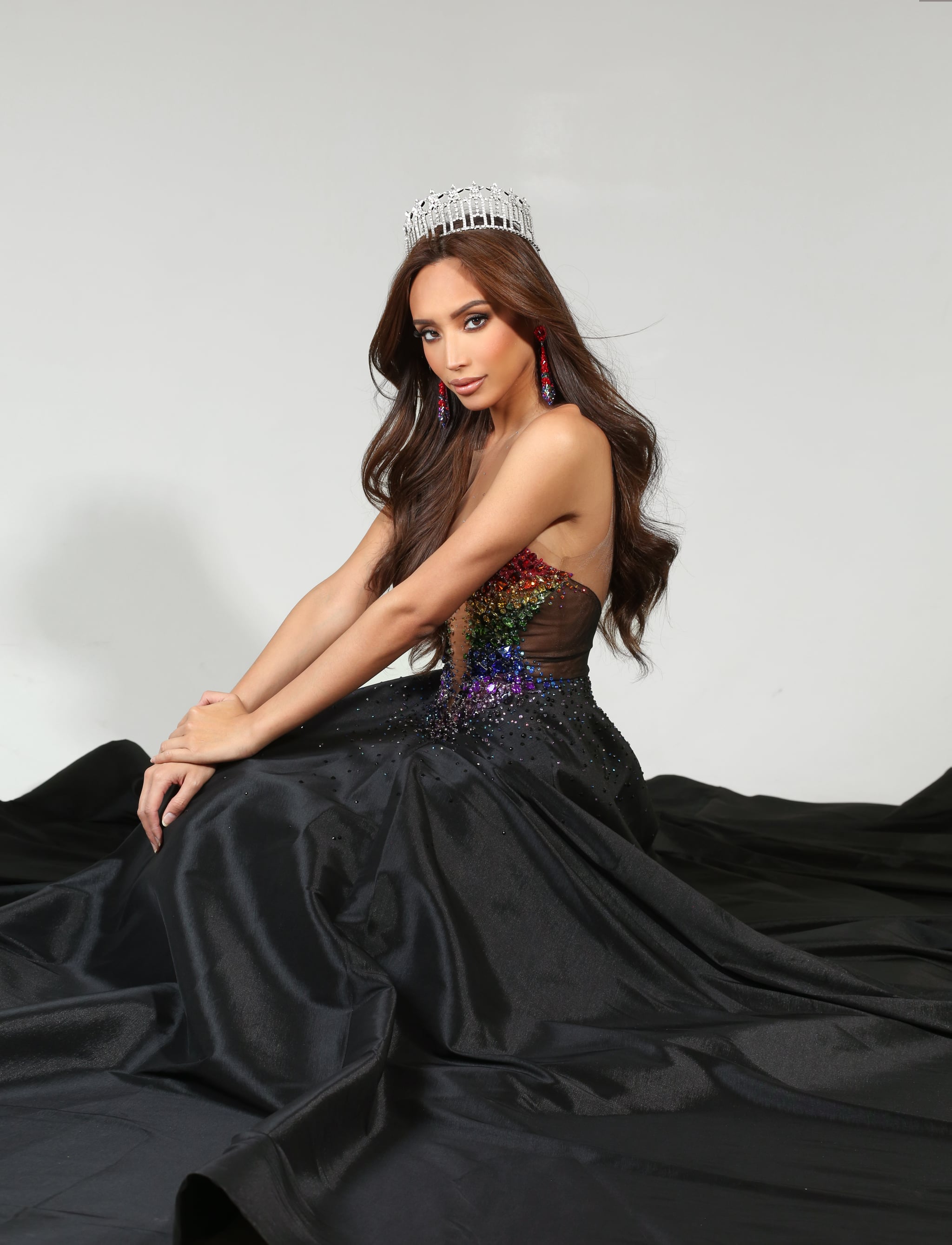 In 2021, Kataluna Enriquez made history. After being crowned Miss Nevada that year, she became the first out transgender contestant to compete in Miss USA. The 28-year-old currently lives in Las Vegas, where she's a fashion designer and a health-care administrator.
This Transgender Day of Visibility, we asked Enriquez to talk about her journey — both the challenges she's faced and her great triumphs. In a time when lawmakers are introducing unprecedented anti-trans legislation and the safety of trans Americans is under threat, Enriquez and others are loudly advocating for trans rights and deserve to be heard.
---
Everything I did as a child felt natural to me — wanting to wear my sisters' dresses instead of my clothes, wanting to play with their toys. I always wanted to hang out with the girls, not my guy cousins. But I never knew I was different until I was maybe 4 or so. As a child, you have so many people around you — especially parents — trying to lead you to understand what's best for you. So they would constantly tell me, "You can't do this, you can't do that this way."
So I learned to hide those things, to pretend I was happy, to act interested in the things they wanted me to be interested in — to make my parents proud. And I did that for a very long time, until I was in high school. I was just tired. I wanted to be myself.
Spirit Week in high school really changed everything. Opposite Day was my calling. I felt so comfortable, I felt so beautiful on Opposite Day, dressing how I wanted. And after that, it was like, this feels natural for me, this feels right. So throughout high school, I basically transitioned slowly, just listening to what was right for me. It started from wearing skinny jeans to eventually tighter and tighter pants to wearing shorter skirts and heels.
I was just listening to myself and what made me happy and what felt right and natural for me.
School was my freedom. I think it allowed me to have my own personality without my parents having such a close eye on me, having such strict attention. I'd go to school differently; I'd show up early in the morning in sweats, and then change into clothes I wanted to wear. And then when I'd go home, I'd change back into my sweats so my dad wouldn't know what I was wearing. I mean — I would get caught by him here and there. San Leandro, CA, was a small town, so after school sometimes he'd see me walking with friends.
I never really came out to my parents. They've always known I was very different, but back then I would get in trouble when I was caught wearing what I wanted. It was all a process. In the same way I had to transition, I think my dad had to transition as well and understand what I was going through and what made me happy. When he was able to let go and allow me to be myself, I was able to blossom, and I'm very thankful for that. And we have a great relationship now.
It was really a life-changing experience; it was honestly like a Cinderella story for me.
Back then, there weren't many people who stood out like I did. At that time, being trans wasn't talked about much, and I don't think I even knew the language at that time. I was just listening to myself and what made me happy and what felt right and natural for me, but also high school — you need to know your crowd and fit in. So I would get bullied; I'd sometimes have people throw things at me. I couldn't use the bathroom at one point. Many teachers didn't understand me, and if I tried using the boys' bathroom, they would be like, "What are you doing here?" And then as a teen, I didn't feel comfortable going to the women's restroom, because I didn't want to make other people uncomfortable. So I was always stuck and I would wait until after school to use the restroom, or I would cut school to run across the street to the Popeyes or Starbucks to use the restroom.
After high school, I went to fashion school, and then I fell into modeling. But at that time too, being trans wasn't the most popular thing, so I had designers say, "I don't really like your body, you don't fit the image I want." Or, "There's only a certain market for you." And I took that personally. I was tired of constantly having to limit myself, to push myself back.
Then, I found pageantry — where you could walk the runway, you could speak your mind, where you could have a purpose, where you could empower yourself through being there on stage and being there for yourself. I used to think pageants objectified women, but then I learned to actually listen to what they the contestants were saying. And I also think it taught me that just because someone is beautiful doesn't mean they're just limited to that. They're capable of so many more things, as long as you're fit to listen.
I still can't forget the moment I won Miss Nevada. It was really a life-changing experience; it was honestly like a Cinderella story for me. I once competed in a different state, where I was humiliated, where I was asked to provide a letter from the doctor that would prove I was "woman enough." And then I was excluded from the events and treated unfairly. So for a long time, I thought that would be my reality. But that changed when I moved to Las Vegas. When I competed in Nevada, for the most part, everyone was really great. When I won, you could tell how the girls supported me, and how the friends that I made there were genuinely happy for me. And I still talk to a lot of them to this day. I think everyone should be able to be celebrated in that way.
The way trans rights are being politicized today, it's sad — there are days when you feel personally attacked and you don't understand why. But what I do to find joy is surround myself with my community. And sometimes even talking to other people who don't have the same perspective — talking to them, trying to understand their side and having them understand your side, is helpful. Because you're really connecting as people, and I think at the end of the day, regardless of how different we are, we are all one race, and that's the human race.
And right now, I'm just searching and trying to dig up my childhood, because I lived a life for someone else. So now I'm trying to figure out: who is Kat? What makes Kat happy? It's a process, but I'm very thankful that I'm able to do the things I want to do with work, having space for fashion and to work on my business. I'm allowing myself to really be happy and figure out and discover who I really am.
— As told to Lena Felton
Image Source: Alex Matt Photography