Keke Palmer on "Nope," Directorial Future, and Faith
Keke Palmer on "Nope" and Her Directorial Future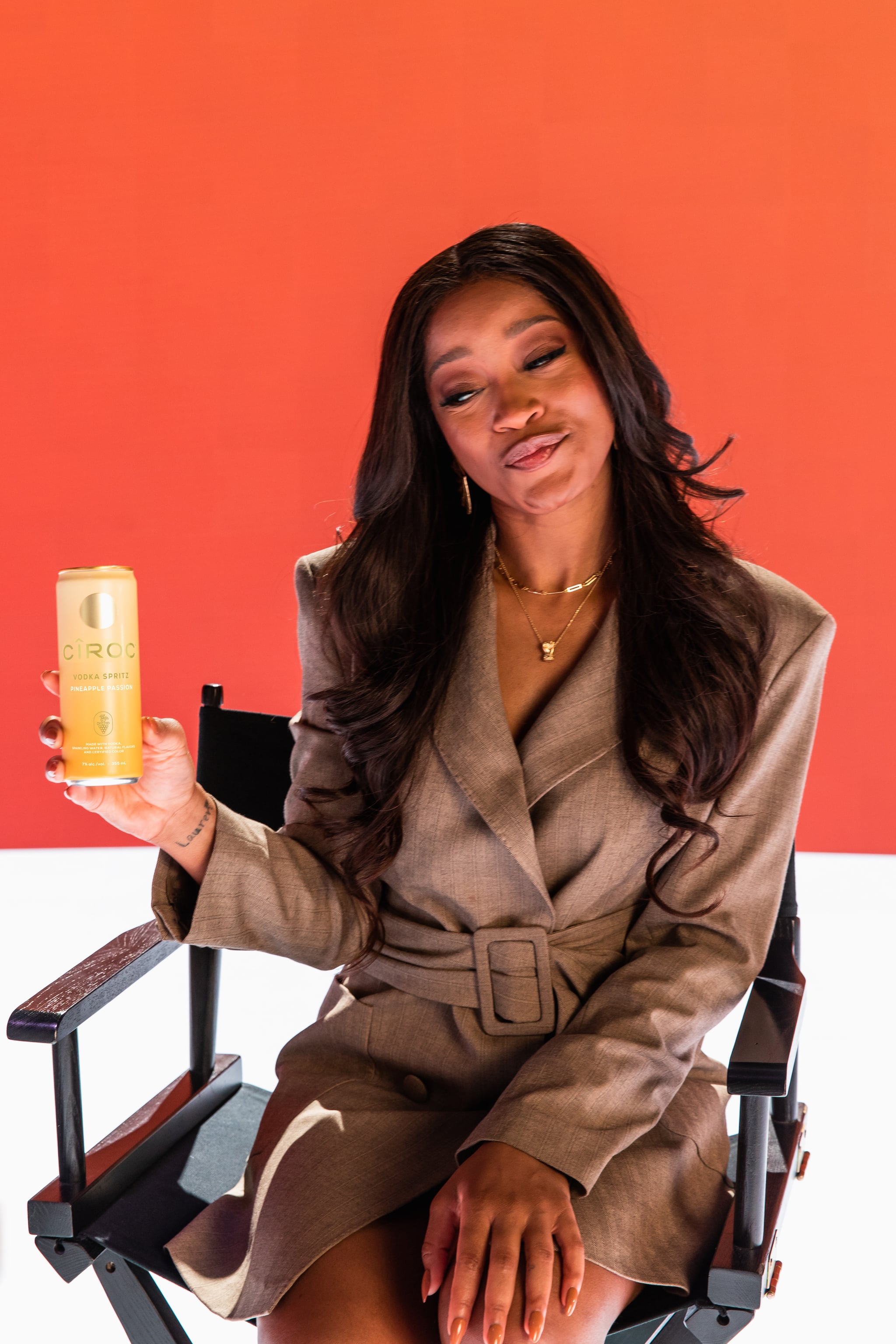 Image Source: Miranda McDonald
Keke Palmer is everywhere you turn, and she's not slowing down anytime soon. From starring on "The Proud Family: Louder and Prouder" to Jordan Peele's highly anticipated thriller "Nope," the 28-year-old has kept her foot on the gas. Palmer spoke to POPSUGAR about being a booked and busy actor, starring in Peele's upcoming film, being a fellow Virgo, and her partnership with CIROC Vodka Spritz and Sean "Diddy" Combs.
Trailers and posters for "Nope" have left us with more questions than answers. We know Palmer and Daniel Kaluuya star as siblings running a business at Haywood Ranch with a family history of working in Hollywood. The trailer also makes it clear that we should be scared, between the screaming, running, and teases of people who may not be human. Peele has kept it all very vague. When I ask Palmer if she can tell me about "Nope," she lightheartedly quips, "Nope!"
The actor quoted Peele from a recent interview with Empire in which he said the film would show an "otherworldly confrontation." Palmer gave POPSUGAR a taste of information, but it's all we need to mark our calendars for July 22. "I'm really excited for people to see it," she says, adding, "[Daniel and I] are very much like our characters, and you'll understand what I mean when you see the movie."
"I just love that [Jordan Peele] is normalizing Black people being leads and stars in films and it not having to be for particular reasons. It's just, they happen to be Black."
Speaking of Peele, she says, "I just love that he is normalizing Black people being leads and stars in films and it not having to be for particular reasons. It's just, they happen to be Black as opposed to the gag is . . . "
Peele's trajectory is something Palmer could see for herself in the future. The multihyphenate shared a photo on Instagram on March 10 of her wearing an oversize jean jacket that said "Nope," brown corduroy pants, and Nike sneakers. She captioned it: "This is me manifesting my Director life. The outfit screams I work in production." Palmer tells POPSUGAR she'd love to direct a musical and a coming-of-age film in the future. "I love music and putting music and narratives together." The "Virgo Tendencies" singer adds, "I also would love to direct coming-of-age stories. I love connecting to the younger generation and finding ways to tell them empowering messages to help them move forward in life."
Palmer is filled with knowledge in helping people become their best selves — regardless of age. She recently launched the series "Dear Keke" as a way for fans to ask her for advice. Some of the answers will be broadcasted. What inspired the project? "I just thought, why don't I ask these questions and also get back in touch with my YouTube family? Because it's been a while," she shares. Palmer notes that she runs all of her various social media platforms. "It can be difficult. So I just thought it was a great opportunity for me to get back in touch with my YouTube audience and then also get even more personal with my fans."
Virgo to Virgo, I shamelessly asked her for advice she thinks our zodiac sign needs to hear. Y'all might not like this one, but she's right. "Everybody can't take the criticism that we give ourselves. We have to remember that when we're speaking in our interpersonal relationships . . . Try to make sure that we just balance some of that constructive criticism with a little bit more warm," Palmer advises. As for Virgo strength, she embodies that with her constant work in entertainment. "We're such great multitaskers, and we really know how to finish what we get started — even if sometimes we procrastinate into getting into it," she says.
Palmer's plate is full: "Nope," "Human Resources," "Alice," "The Proud Family," "Lightyear," social media projects, and working on music (just to name a few). But she continues to make room for more. The actor's investment in herself is largely due to her faith, she shares. "I'm a pretty faithful person. Growing up with the foundation of spirituality and growing up in the church was something that always just gave me a great sense of self and belief in myself. It pushes me to go after anything I want [and] to trust my inner instincts and not be afraid to let my light shine," Palmer says.
In addition to prayer and meditation, the singer's self-care regimen is all about relaxation. "Sometimes it's pampering myself, like, get my nails done or getting a massage," Palmer says. "Another time just hanging out with my friends sitting by the pool or just hanging out in the house watching TV show." For her upcoming hangouts, Palmer is bringing along CIROC and Sean "Diddy" Combs's new vodka spritz line. "When it comes to the spritz, I really love pineapple passion and colada . . . When I want to drink out, I want to enjoy myself, but also want it to taste good." We can collectively raise a glass to all the upcoming projects Palmer has in store. She doesn't miss.