Laura Marano on Sweet Gifts From Fans, Being Starstruck Over Robert De Niro, and Planning Her Virtual Tour
In our Q&A series Last Call, we get down to the bottom of every last thing with some of our favorite celebs — from the last thing they texted to the last thing they binge-watched. This week, actress Laura Marano takes our call.
From her early days on Austin & Ally to her endless beautiful tracks — including her brand-new, just-released EP, You — fans can't get enough of Laura Marano. Now, she's starring opposite Robert De Niro in The War With Grandpa — a family comedy where she plays the sister of sixth-grader Peter who starts an all-out war with his grandpa when he takes over his bedroom. Ahead of the film's release on Oct. 9, we chatted with Laura all about the film, what she's been reading, the last time she was starstruck, and more!
What was the last day filming The War With Grandpa like?
My last day was on a soundstage because we had this big stunt/special effect we had to film. The whole shoot, I had been filming inside and outside an actual home, so the soundstage day felt kinda strange, but I also wasn't mad at the functioning air conditioning. We were filming in Atlanta during the summer, and let me tell you, there is a reason why the nickname "Hotlanta" came to be.
Last thing you texted?
I texted exactly "Thank youuuu" to my tour manager. I know what you're thinking, and yes, even though I'm just doing a virtual tour, I actually and completely need a tour manager for that! I'm putting together four different shows right now, and if I didn't have him and a few other people on my team, I think my head could have literally exploded. Emphasis on literally.
Last thing you watched on Netflix?
Technically, I just watched the season two finale of New Girl, but right before that, I watched the season three finale of Dexter. I'm at a really special place of life right now.
Last piece of advice you received that changed your life?
Well, I actually heard a bit of this advice in high school, but it has recently been brought to my attention again: your time and energy is currency, and you only have so much to give. I'm the kind of person that wants to do everything, both professionally and personally. And more and more, I'm coming to terms with the idea that, like everyone, I don't have an unlimited supply of time and energy. To be honest, I think this past year has helped me a lot in realizing that fact.
Last thing you ordered online?
Slippers. I'm not a barefoot kind of girl, you know? And don't get me wrong, I have slippers (I may have taken them from a movie I did a couple years ago), but it was time to get more.
Last photo on your camera roll?
Funny you should ask, because it happens to be a selfie for this interview!
Last thing you do before going to bed?
My routine has changed a bunch, but now I play this words game right before I go to bed because, believe it or not, it actually puts my brain to sleep.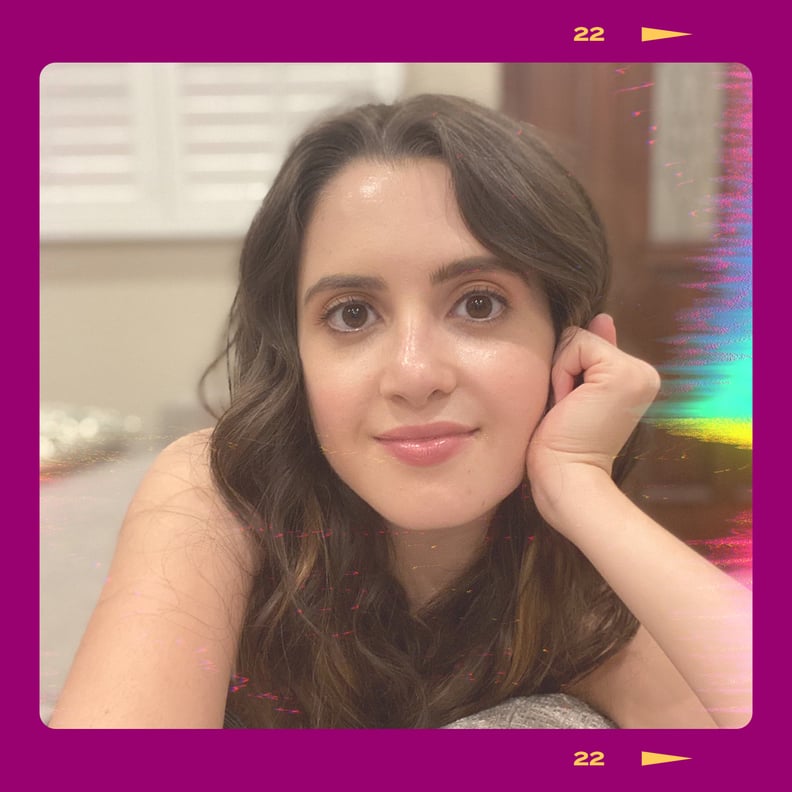 Last gift you received?
A few fans sent me gifts, and they actually sent it to me in April, but I just got them a couple weeks ago! They were so sweet! I got some clothes and an adorable chocolate-scented stuffed animal. What's not to love?
Last workout?
Yesterday morning! I wasn't amazing about working out in the beginning of quarantine, but now, I've definitely made more of a routine out of it. I try to work out at least four times every week, which is definitely sometimes a struggle, but I'm making it work!
Last book you read?
I reread Jane Austen's Emma a month ago — Pride and Prejudice was on Netflix, and I watched it, and before I knew it, I was in a major Jane Austen mood. Literally binged the BBC adaption of Pride and Prejudice, watched Sense and Sensibility, and finally watched the new Emma. I regret nothing!
Last song you listened to?
I'm obsessed with "Ok on Your Own" by Mxmtoon and Carly Rae Jepsen . . . I just keep playing it on repeat.
Last thing you took home from set?
Honestly, I think it was those slippers. What can I say, they were comfortable slippers!
Last time you were starstruck?
I know I really shouldn't be because I did a whole film with him, but when I just did press with Robert De Niro, it was just an unbelievably surreal moment. He's such a legend, and I don't think I'll ever get over doing a movie with him.
Last song you sang in the shower?
I will unashamedly say it was one of my songs, "Something to Believe In." Again, I'm doing this virtual tour, so I'm just trying to practice as much as I can, and that includes shower time.
Last great fashion purchase?
Hm, I'm not a big online shopper, so the last eight months haven't been filled with too much fashion purchasing. My last great fashion buy was probably when I bought these amazing Marc Jacobs shoes. I actually rarely wear them out, but they've made quite a few appearances during photo shoots.
Catch Laura in The War With Grandpa when it premieres in theaters Friday, Oct. 9!