Mindy Kaling on Never Have I Ever, Sex Lives, and Parenting
Mindy Kaling Is Busier Than Ever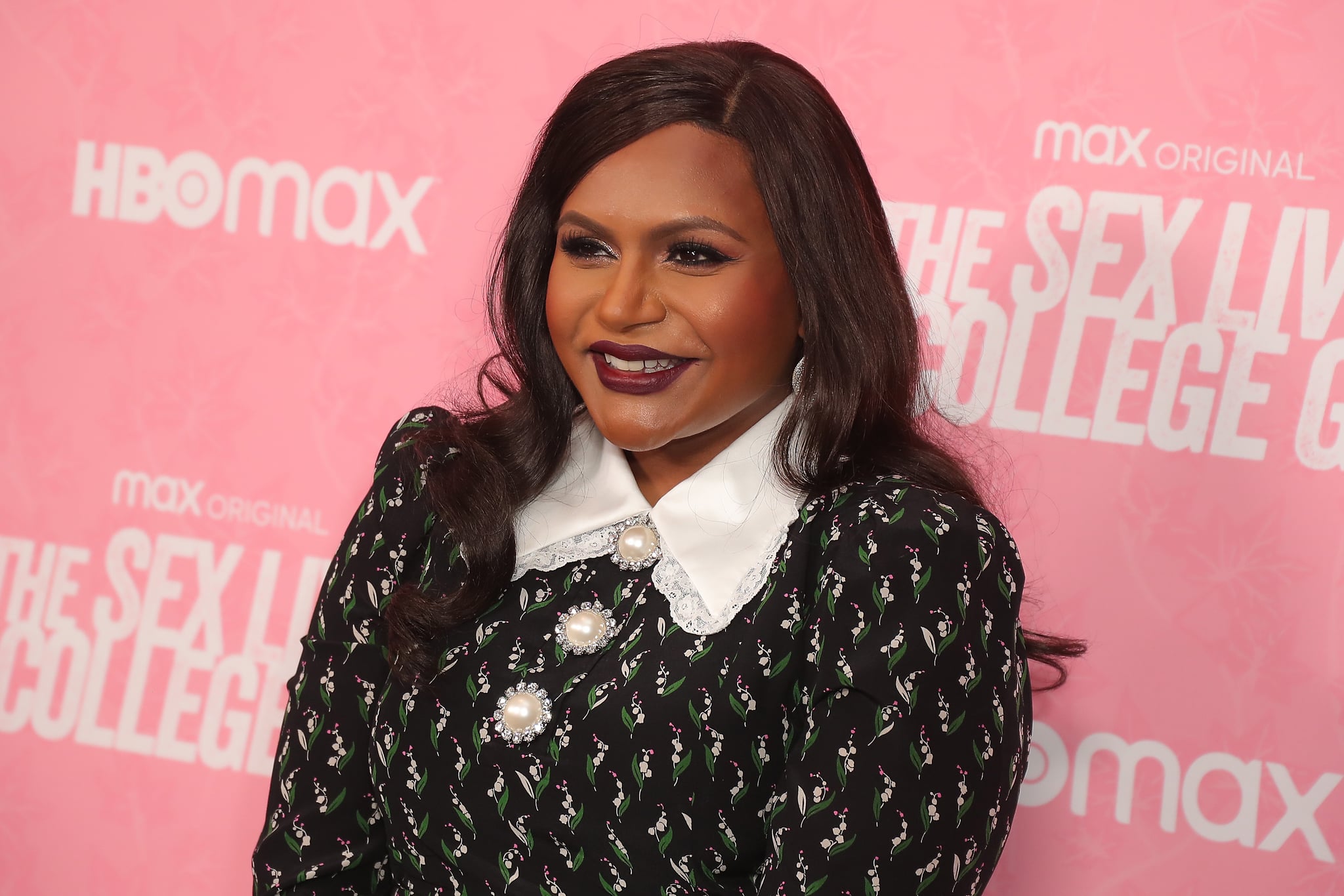 Image Source: Getty / Leon Bennett
When it comes to balancing work and home life, Mindy Kaling has got it down to a science . . . with the help of some strong WiFi. It's certainly made the showrunner and single mom "way more efficient" as she juggles taking care of two kids with Zoom auditions and virtual writers' rooms for her two shows on air, not to mention her four shows in development — and everything else it takes to grow Kaling International.
In honor of her partnership with AT&T Fiber — her WiFi connection of choice — Kaling spoke to POPSUGAR in December about adjusting to life after welcoming her son, Spencer, in 2020; turning to Google (and Reese Witherspoon) for parenting questions; and working on her ongoing projects: "The Sex Lives of College Girls," "Never Have I Ever," and "Legally Blonde 3."
On the Renewal of "The Sex Lives of College Girls"
It's no surprise the hilarious show was swiftly renewed for another season, and while the writers' room only just started up, Kaling shares that "it will definitely live up to the title." She's particularly looking forward to exploring more of the secondary characters' storylines in season two, including fan-favorites Lila and Canaan.
"One of the things I'm really proud of in the show is how we tackle the socioeconomic differences between people who go to these prestigious colleges, so finding out about their lives is fun," she says.
On the Newest Cast Member of "Never Have I Ever"
Netflix has yet to release a date for the show's third season, but we know filming is underway. Though Kaling remains tight-lipped on any specific storylines, she reveals that "we get to meet a really gorgeous and funny South Asian guy." Last week, Deadline reported Anirudh Pisharody is set to play Des, an Indian American teen "who's as smart as Devi," in the upcoming season.
"I've been so thrilled to be able to employ many south Asian actors on the show," she says. "And in a lot of my projects, what's exciting is we get to see the different ways that women are Asian and we don't fit this sort of stereotype I had while I was growing up."
On the Diversity in Her Writers' Rooms
With "The Sex Lives of College Girls," which represents a variety of perspectives and identities throughout the show, it was important for Kaling to ensure authentic storytelling.
"It's beyond useful to have that kind of representation in the writers' room. It's necessary," she says. "We can't be telling stories of young women from all these different walks of life without having their voices represented in the room. And frankly, it just makes my job easier to have authenticity to the storytelling when we present it to the actors because we have those voices helping us in the room."
On the Favorite Character She's Ever Written
"I love the characters in my two shows that are on right now, but just so I'm not playing favorites, I'll do something from 'The Office,'" Kaling says before admitting Dwight Schrute is one of her favorites. "Obviously I love romantic comedies, and Jim and Pam are really fun, but Dwight and Ryan to me are the two most absurd characters because they have so little self-awareness. And obviously I'm friends with Rainn [Wilson] and B.J. [Novak], so it was really fun to write for those two guys."
She adds, "I've been thinking about ['The Office'] more and more fondly since I feel like the resurgence of the show has just been so fun to watch."
On the Transition to 2 Kids
Kaling, who secretly welcomed her son, Spencer, in October 2020, admits the additional child is challenging, but there's "obviously so much more joy." "The little one who's 1 (Spencer) adores the one that's 3 (Katherine), but she barely tolerates him," she says. "It's getting better. It's just hard. I was the younger sibling, so I can't imagine. She had so much attention before, and he's so cute and so sweet, so I think that's probably a little annoying to her."
On Protecting Her Kids' Privacy
Ever since Kaling's 4-year-old daughter, Katherine, came along, the showrunner has been open about maintaining her children's privacy. While Kaling has shared glimpses of her nursery and rare snaps hanging out with her kids, she doesn't post any photos of their faces. "I don't really feel like I have their consent to put photos and videos of them online, so I think I just need to wait until they're old enough," she says.
"If we were at the airport, I would think it was so strange if someone was like, 'Katherine? Spencer?' and they looked over and were like, 'Oh, is that person a friend to me because they know who I am?' and you're like, 'No, it's just somebody who knows you from the internet.'" She adds, "It sort of feels confusing for a kid," though she admits it's quite challenging not to share more. "Obviously, I see people in the public eye who show pictures of their kids, and they look so cute. And of course, I think my kids are cuter than theirs and the best kids in the world and so brilliant and everything," she says.
On the Celebrity Parent She Admires Most
In between discussing all things "Legally Blonde 3" — which the two are taking the time to make sure they get it right — and talking crypto, Kaling shares that she turns to Reese Witherspoon for all kinds of parenting advice. "She had kids when she was young, and she's incredibly successful and wears so many different hats but managed to have this amazing relationship of all three of them," Kaling says. "So she's the one where, when the pandemic hit, I'd ask her advice about how she was doing homeschooling, schools in LA, and just anything that I'm having anxiety about."
But she doesn't only rely on Witherspoon for mom advice. "She's just a really good resource for almost every problem I have," Kaling says.
On the Last Parenting Question She Googled
"How tall do you have to be to go on the 'Cars' ride?" she shares with a laugh. "My daughter is turning 4, and she's obsessed with 'Cars.' It's going to be a catastrophe waiting to happen if she's not tall enough to go on the ride."