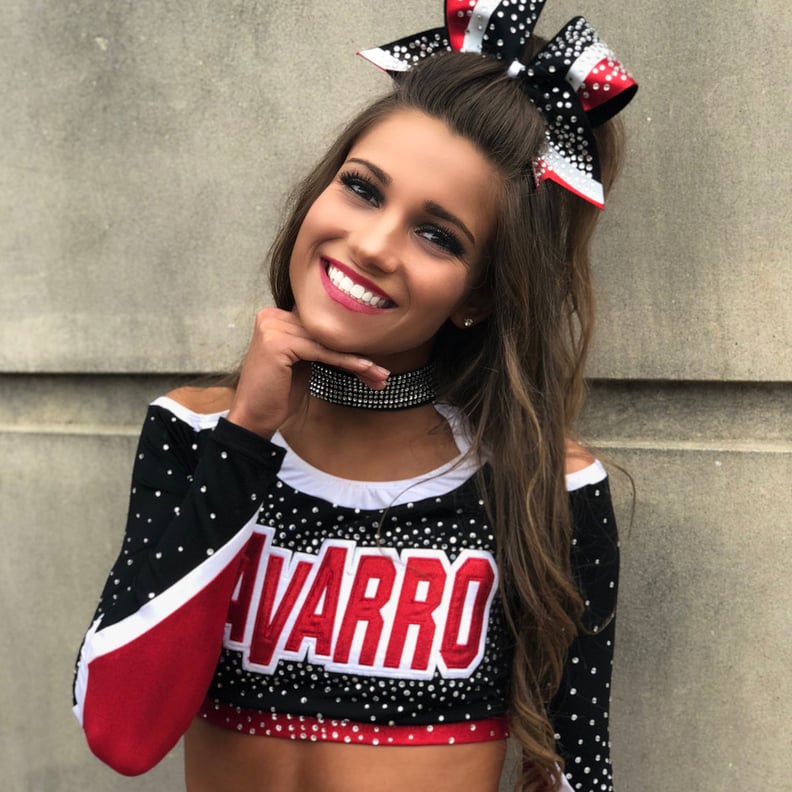 In just six episodes, Netflix's Cheer hooked viewers into the world of collegiate-level cheerleading and got us invested in the personal lives of the Navarro cheer squad. In a recent interview with Canadian publication Global News, Morgan Simianer, one of the team's top flyers, opened up about what it was like to have her story broadcast to the world and how her life has changed since the docuseries aired.
"I've grown a lot during my time at Navarro and I have more confidence in myself than when I first came here," she told the outlet, explaining that her life now includes countless interviews in between preparing for Daytona this year. "I'm crazy busy, all over the place. But I wouldn't change it for the world because this was a once-in-a-lifetime opportunity that has opened that up a lot of doors for me, and it's incredible that I get to experience that." Keep reading for the rest of Morgan's quotes.
Morgan on How the Show Portrayed Navarro as a Team
Morgan said there was added pressure on the team to perform well with so many cameras around, but that the way the show was edited was an accurate portrayal of being part of Navarro. "There was a little bit more pressure added because we felt like, since this was going to be documented, that we had to make sure that we're doing the best of our abilities because we wanted to portray cheerleading in a way that the world was going to be excited about it." Even after practices were over, Morgan admitted her heart rate was "through the roof" watching the Daytona scene.
After binge-watching the entire series, Morgan confirmed what we've been thinking all along: Jerry is the standout personality on Cheer. "I mean, obviously, he is basically America's sweetheart," she said. "Everyone loves him so much. He always has such high energy and he's such a positive person. His smile is literally so contagious. When he walks into a room, he lights it up. But he's just a very genuine person and the way that the show portrayed him, he is everything that was on this show, but so much more."
Morgan on Her Relationship With Coach Monica
In the series, Morgan referred to the Navarro cheer team as her family, but she says her first meeting with coach Monica Aldama was more intimidating than anything else. "I was very intimidated. I was so scared because I knew who she was and she had no idea who I was," Morgan said. "After I got to know her a little bit more and practicing with the team, our relationship started from there. I think we're basically inseparable now . . . She's my mentor and I look up to her a lot. I know she's my coach, but she's also one of my best friends. I can talk to her about anything and I just really look up to her as a person."
Morgan on the Effects of Sharing Her Troubled Past on Television
During the series, Morgan explained that when she was a sophomore in high school, she and her brother were forced to live in a trailer after their mother left them and their father went to live with his new wife and children. When he turned 18, Morgan's brother Wyatt went in search of their mother, and she lived alone in the trailer until her grandparents learned of the situation and invited her to live with them.
"At first it was very scary because I felt like people were just going to hear [my story] and think it was like a sob story," Morgan explained. "But now I'm very glad that I shared my story because I've been able to help impact the lives of other people. A lot of people have been able to relate to my life on so many different levels and it just means a lot. People out there know they're not alone and that other people are going through similar situations."
Morgan on Pushing Herself and Performing With an Injury
Shortly before the Daytona performance on the show, Morgan suffered a rib injury. Despite her doctor's orders, Morgan continued to practice and pushed herself through performances. "Everyone's body is different. Some people can handle pain and some people can't," she said. "But I know what my limitations are and what I physically can and cannot handle. So for me, it was a little bit different because I was like, OK, Daytona's here, I know I can get through this without further hurting myself. And I knew my teammates would be there for me to help me move and get me to where I needed to be. I trusted myself in the way that I knew I could continue to be cheering safely, even though it was against the doctor's orders."
Morgan on Life After Cheer
Since filming ended, Morgan has returned for her third year on the Navarro team and has big plans for the future. "At this point in time, I know that I want to finish school," she said. "That's my main priority so I'll be going to college somewhere, whether that's going to university or doing school online." While her time on the team isn't up yet, Morgan already knows what her favorite part about being a Navarro cheerleader is. "I'd say it's probably the relationships I make with my teammates and other people and all the memories that I get to make along the way."