Nick Carter Takes the Cutest Dad Selfies! See the Best Photos of Him and His Kids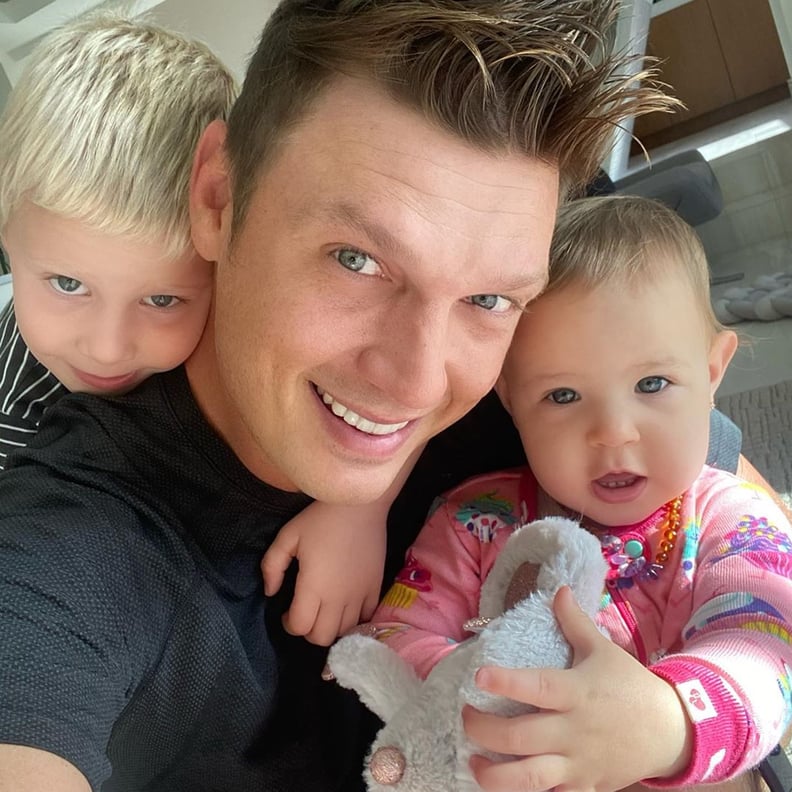 Odin Reign Carter
Nick and Lauren welcomed their first child, a son named Odin, on April 19, 2016 — and talk about seeing double, Odin looks just like his daddy!
On his fourth birthday, Nick shared a sweet message for his son on Instagram: "4 years ago a small ray of sunshine shot through the clouds and struck my heart, lighting up my life,leaving me forever changed. I never knew love could be so powerful. Son, I love you more than you will ever know. Thank you for blessing me with your beautiful soul and thank you God for giving him to us."
Saoirse Reign Carter
The couple welcomed their second child, a baby girl named Saoirse (pronounced SEER-sha), on Oct. 2, 2019. After sharing in September 2018 that Lauren had suffered a miscarriage, Nick wrote a sweet note to Lauren when sharing the first-ever photo of baby Saoirse's face.
"To my incredibly strong wife," he wrote. "For two years I watched you endure some of the hardest things a husband could ever witness. Going through the ups and downs of pregnancy all in the hopes that just maybe, with a little help from up above, we would get to this point. I'll never forget the moment You asked me what I wanted for my birthday, I said nothing. But deep down inside I knew what I really wanted. So on January 28th 2019 when I walked out of that bathroom with that positive test I already knew that Saoirse was coming back to us. I just want to thank you for giving me the life, love, and family that I always wanted. You are a true warrior and I love you."
On Saoirse's first birthday, the family celebrated with custom balloons and a red cake. Nick shared a photo on Instagram captioned: "One day hopefully you'll be able to look back on Instagram and see all these silly little stories we shared. 🥰🥰🎂🎂❤️❤️ Happy first Birthday Saoirse. Love, Daddy, Odin and Mommy."
Baby Girl Carter
Nick and Lauren's third child, a baby girl whose name has yet to be revealed, was born on April 21. Nick announced the news of her birth the following day without sharing much detail. "We are proud to announce that our baby has officially arrived," he shared on Twitter. "But as a parent knows all to very well, sometimes things don't turn out the way you plan it. We have been experiencing some minor complications but things are looking a little better after the first night." On April 26, the BSB alum let fans know that he and Lauren were home with their little one. "Ok everyone, I wanted to let you know that finally, we are home safe and sound. Baby is doing so much better."
We can't wait to see their baby's first photos and learn her name, hopefully soon!
More Pictures of Nick Carter's Kids