Phat Tuesdays' Guy Torry on Favorite Bob Saget Memories
Guy Torry Reminisces on Bob Saget's Times at Phat Tuesdays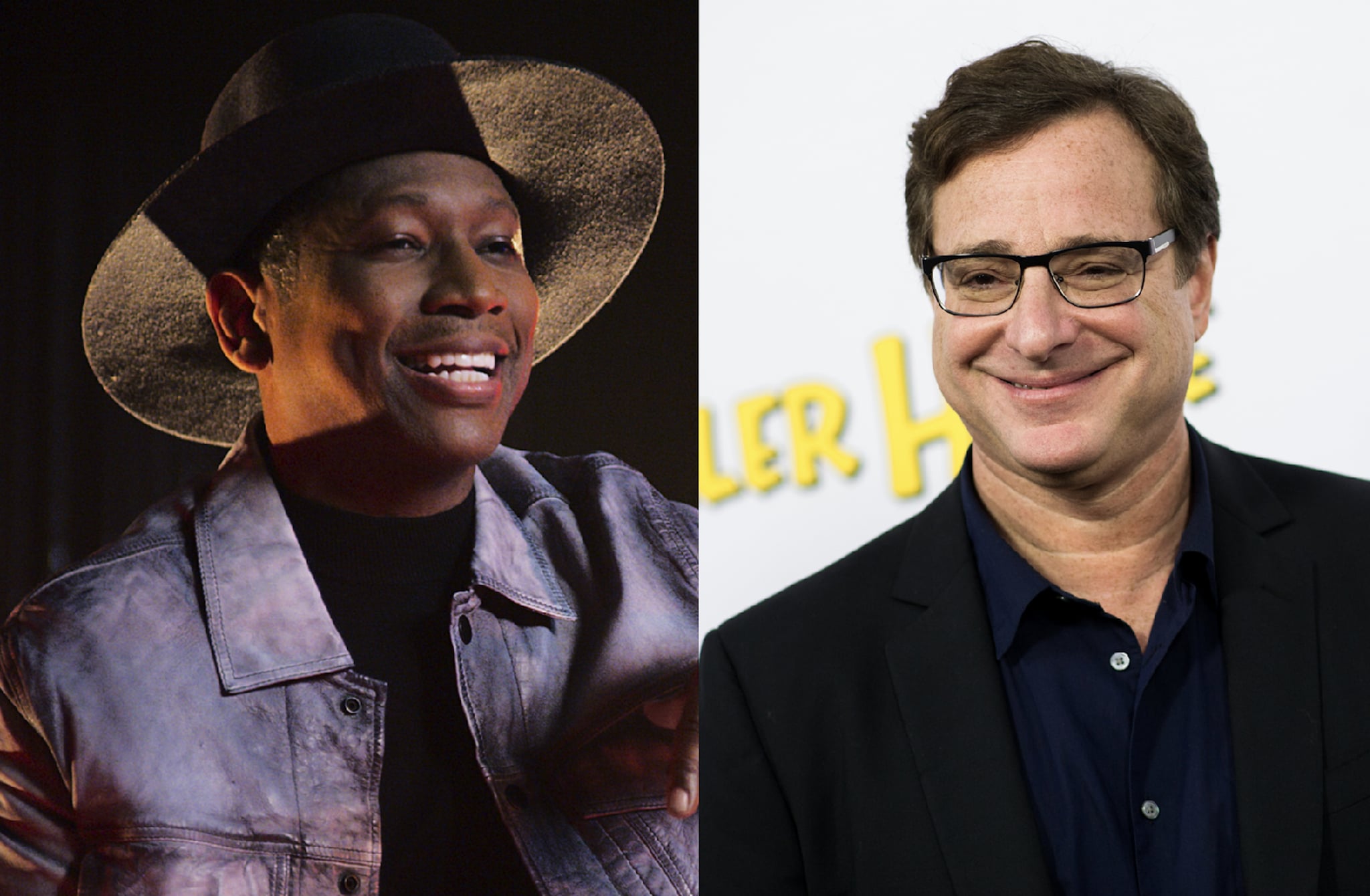 Phat Tuesdays was the pinnacle stage for Black comedians in the '90s. Created by Guy Torry, it was a space for Black comics to be unapologetic and for Black audiences to be catered to. It was also where some non-Black comedians performed to get a cosign on their material. The upcoming "Phat Tuesdays" docuseries on Amazon Prime Video, directed by Reginald Hudlin, features an appearance from the late Bob Saget as he discusses why he loved performing at the Tuesday night show at The Comedy Store. It also shows the raunchy bits of his standup that earned him the nickname "Bob Ratchet" during a time when many knew him as the wholesome Danny Tanner on "Full House." POPSUGAR spoke to Torry and Hudlin ahead of the "Phat Tuesday" premiere on Feb. 4, about their favorite memories of Saget, who died on Jan. 9.
"My favorite memory of Bob Saget is just having the cojones, the balls to step on to that stage at Phat Tuesdays," Torry says, noting, "Bob Saget was fearless. And he stepped on that stage and was like, 'I want to do this.'"
The Phat Tuesdays founder added: "There are Black comics who were afraid and I won't say their names – some really big name comics who was scared of Phat Tuesdays. I can't tell you the number of Black comedians who were on TV shows or in movies who didn't want to play Phat Tuesdays. Not because it wasn't a great room: they were scared to play that room."
"Bob Saget was fearless. And he stepped on that stage and was like, 'I want to do this.'"
Torry also explained that the standards for comedians were high because of the toughness of Black audiences. "Black audiences are going to let you know if you're funny or not. . . We need to [laugh] the most and we go through the most stuff. So we come to laugh, but you got to earn that laugh from our Black audiences."
Saget's time at Phat Tuesdays is also where his mentoring relationship with Tiffany Haddish expanded. Of that friendship, Hudlin says, "I remember talking to Tiffany Haddish – and this is before Bob passed away – and Tiffany saying how important Bob Saget was to her as a mentor. She had went to a comedy camp when she was a very young girl and some of the advisors said, 'You're so pretty. You should do clean comedy.' You should do this. You should do that. And Bob took her aside later and said, "No, no, no. You speak with your voice. You don't shape that to what other people think you should be. You should be yourself.'"
"And that meant to world to her that this guy who she saw on TV, took the time to [focus] on her [and] encouraged her to be true to herself. It just really spoke a lot to who he was as a man and Tiffany never forgot it. And she was like, 'You were the first, you were the first to tell me to be me,'" Hudlin recalls.
Haddish recently spoke about her friendship with Saget during a virtual appearance on "The Tonight Show Starring Jimmy Fallon." "[Saget] was like a big mentor to me, a big brother, a father figure. He meant a lot to me . . . He was the first white man to ever tell me, 'Just be yourself, just be who you are, Tiffany. Don't worry about nothing. Just be you.' That was huge for me," she shared.
To see Saget's appearances at Phat Tuesdays, watch the Amazon Prime Videos series "Phat Tuesdays," premiering Feb. 4.
Image Source: Amazon Prime Video / Getty / Emma McIntyre