Tonya Harding and Nancy Kerrigan Documentaries
Want to Know What Really Happened With Tonya Harding and Nancy Kerrigan?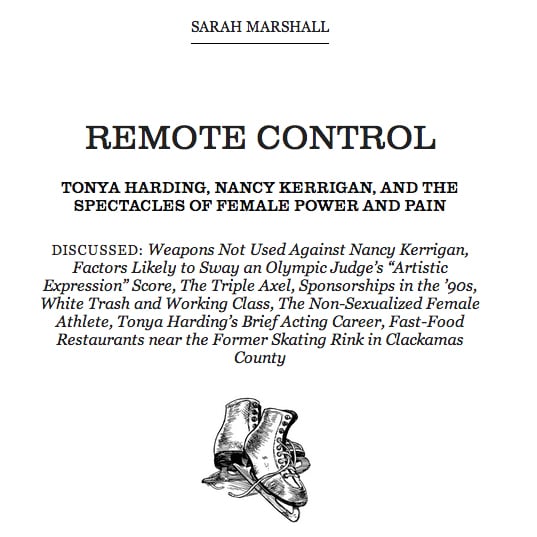 2
Read "Remote Control" in Believer
Sarah Marshall wrote a compelling article about the scandal and its implications in January's Believer issue. You can read the whole thing online. It too questions many of society's assumptions about both Tonya Harding and Nancy Kerrigan. The article recounts what really happened:
The man had been aiming for her left knee, but missed, instead hitting her on the lower thigh. Later, in an exclusive interview with Jane Pauley, Nancy put a brave face on the assault, reassuring Americans that she knew how lucky she was, because if the man had actually hit her knee she would undoubtedly have been unable to skate at the Olympics. She had to feel thankful, she said in a moment of good-natured wit, for his poor aim. By then, however, it didn't really matter what she had to say. To the public, her injury had already been transformed into a gangland kneecapping, while the assailant's weapon, revealed soon after the assault to have been a collapsible police baton, was routinely characterized as everything but — a crowbar, a wrench, a lead pipe — in an ongoing public game of Clue.
Marshall maintains that Tonya was a talented skater who often had the deck stacked against her and continues:
Later, Tonya would claim that the plot had been motivated completely by Jeff's [her husband's] greed, that she had been aware of it only after the fact, and that she had failed to come forward only because she feared Jeff would kill her if she tried. Jeff would claim it was Tonya's idea from the beginning, and that he had merely gone along with her wishes so he could help make her dreams come true. The public, given the opportunity to select one story as the more plausible—and juicier—version, overwhelmingly chose the latter. It seemed there was nothing more enjoyable, in prime time or real life, than a devious plot with a manipulative woman at the top.