Bet You Can't Look at These Photos of Prince Alexander's Christening Without Saying "Aww"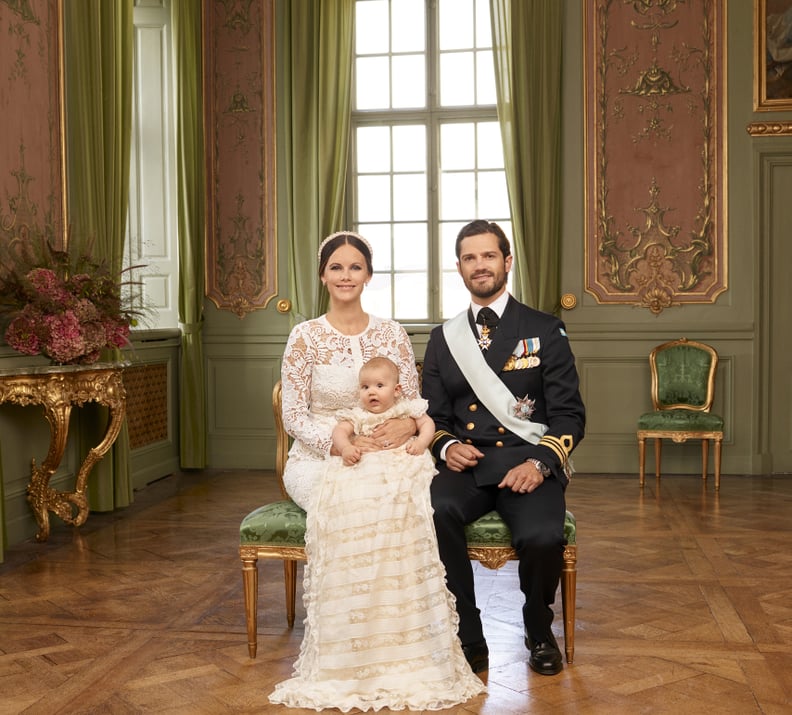 KATE GABOR/THE ROYAL COURT/SWEDEN
KATE GABOR/THE ROYAL COURT/SWEDEN
Prince Carl Philip and Princess Sofia of Sweden have one adorable son, Prince Alexander, and his cuteness was on full display during his christening at the Palace Chapel in Drottningholm Palace in Stockholm on Sept. 9. The 5-month-old prince, who Carl and Sofia welcomed in April, looked as happy as can be while being held by his mom during the ceremony. Crown Princess Victoria and Prince Daniel also made an appearance with their children, Princess Estelle and Prince Oscar, the latter of whom broke into a huge smile when he laid eyes on his cousin.
On Monday, Sweden's Royal Palace released adorable new photos of the family of three posing with Sofia's sisters, Lina and Sara Hellqvist, and Carl's sisters, Crown Princess Victoria and Princess Madeleine. Another portrait shows the trio with both sets of Alexander's grandparents, Carl XVI Gustaf, Queen Silvia, and Erik and Marie Hellqvist. Prince Carl and Princess Sofia have been sharing a whole bunch of aww-inducing photos of Alexander since his birth, but his christening photos might take the cake (those cheeks!).