"Daisy Jones & The Six" Star Riley Keough Is Elvis Presley's Granddaughter, FYI
As you might be aware, "Daisy Jones & the Six" star Riley Keough hails from a high-profile Hollywood family. Though she had phenomenal musical influences growing up surrounded by so many professional musicians, Keough found her passion in acting after devouring "Moulin Rouge" and "The Dangerous Lives of Altar Boys" at an early age. Keough debuted in 2010's "The Runaways," starring alongside Dakota Fanning and Kristen Stewart, and she hasn't shown any signs of slowing down since.
Having several career-defining projects under her belt — including Steven Soderbergh's "The Girlfriend Experience," "Mad Max: Fury Road," "Logan Lucky," and more — the 33-year-old actor has taken on her biggest role yet as the title character in "Daisy Jones & the Six." Based on Taylor Jenkins Reid's 2019 bestseller of the same name, the miniseries chronicles the journey of an iconic '70s rock group to the top and their sudden fall. The Amazon Prime series marks Keough's first foray into singing on screen, making it a full-circle moment for the star.
If you're intrigued by the mesmerizing range of the "Lodge" actor or want get acquainted with Keough after watching "Daisy Jones & the Six," keep reading for some intriguing facts about the model turned actor.
01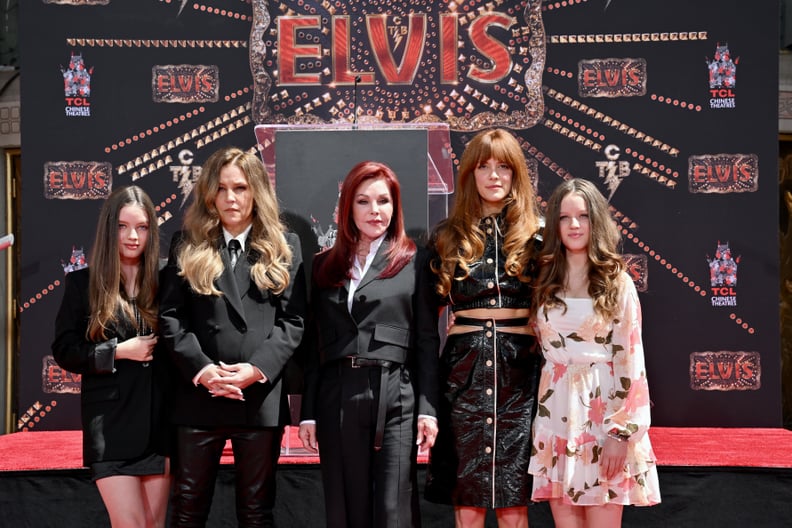 Riley Keough Is Elvis Presley's Granddaughter
Keough is the eldest of "King of Rock and Roll" Elvis Presley's four grandchildren. Though the iconic singer died 12 years prior to Keough's 1989 birth, the relation adds a certain pressure, though Keough said being a part of the Presley bloodline has more pros than cons. "It's been a huge help," she told The Guardian in 2017. "I'm very privileged. Like the normal story of moving to LA, and it takes you three years to find an agent? I got one in a week."
You'd think that her image as Presley's granddaughter would eclipse her individuality, but that's never been the case for Keough, who doesn't mind being referred to as his granddaughter. "Why should I? It's a fact. And I'm not ashamed of that in any way," she said.
Keough has also been supportive Baz Luhrmann's "Elvis," attending a number of events in honor of the movie along with her mother, Lisa Marie Presley, and grandmother Priscilla Presley. Tragically, Lisa Marie died on Jan. 12 after paramedics were called to her home due to a possible cardiac arrest.
Later that month, Keough commemorated her mom by sharing their last photo together. "I feel blessed to have a photo of the last time I saw my beautiful mama," she wrote.
02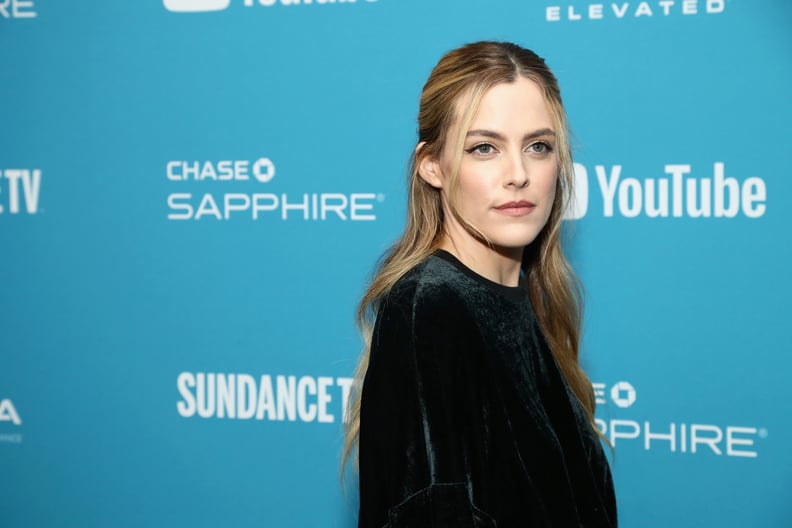 Riley Keough's First Name Isn't Riley
Though popularly known as Riley Keough, the actor uses her middle name in place of her first name. Her full name is Danielle Riley Keough, with her first name likely being a sweet nod to her father's name, Danny Keough.
03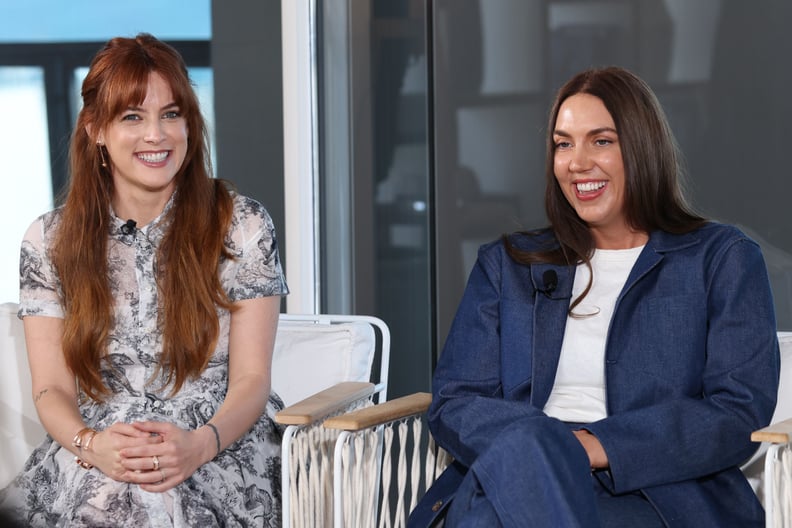 Riley Keough Has Her Own Production Company
Felix Culpa is a production company that Keough cofounded with longtime friend and producer Gina Gammell in 2017. The company has several projects in the pipeline, including "Cult Following," "Sweet Lamb of Heaven," and "Manodrome." The powerhouse duo made their directorial debut with the coming-of-age flick "War Pony," which premiered at the 2022 Cannes Festival and amassed a positive response from film critics.
04
Riley Keough Starred in a Justin Timberlake Music Video
Fans of Justin Timberlake might recognize Keough from the music video for "TKO" off his album "The 20/20 Experience — 2 of 2." In the video, Keough plays Timberlake's hot-and-cold girlfriend, who drags her tied-up beau down a dirt road while driving a truck at full speed.
05
Riley Keough Has Dabbled in Singing Herself
Keough lent backing vocals to Orville Peck's country rendition of Lady Gaga's "Born This Way." To mark the 10th anniversary of the iconic 2011 album, Gaga rereleased her classic songs off the LP with vocal assistance from various LGBTQ+ artists, including Big Freedia, Ben Platt, and Years & Years, among others. While recounting the sweet coincidence that led to her recording vocals, Keough said she didn't know at first that the song was going to land on Gaga's reimagined album. "So, Orville Peck, he did a cover, which is amazing, and my best friend's husband was producing the song, and randomly, one day, just texted me and was like, 'Can you just sing background vocals on this random song I'm doing?'" Keough told Jimmy Fallon on a June 22, 2022 episode of "The Tonight Show."
"I had no context, no idea what it was, so I just went in there and did, like, the background for Orville, for 'Born This Way,' and then I — you know, I didn't know it was this, like, huge thing that Lady Gaga was releasing in the 10-year anniversary, so I was very, you know, excited to be a part of it," she said. When asked about her previous experience with singing, she told Fallon that while she grew up singing quietly alongside other people, she had never really tried to sing on her own.
However, as of March 3, Keough can be heard belting out vocals in the screen adaptation of "Daisy Jones & The Six."
Though the initial audition process wasn't smooth sailing for the "Zola" actress, her voice coach helped her prepare for singing in a higher vocal range, an essential element of vintage rock music. "I sent them a video. I finally got to a place where I was like, 'Okay, maybe I can do it,' you know, and then they hired me, so I was like, 'Oh, okay, like I don't really have a perspective on it at all. If you think it's good, like, sure, let's go for it,'" she told Variety in 2021.
Later, she shared that during her audition, she panicked and apparently may have exaggerated her singing abilities a bit. "I think I blacked out on that meeting. I don't really remember what happened," Keough said at a Feb. 27 screening, per People. "And then I auditioned like everybody else, and lied to them and told them l could sing." In spite of that, it seems like her singing abilities are working for her — because the fictional Daisy Jones & The Six album "Aurora" managed to chart at No. 1 on iTunes the day of the show's release, per Entertainment Tonight.
06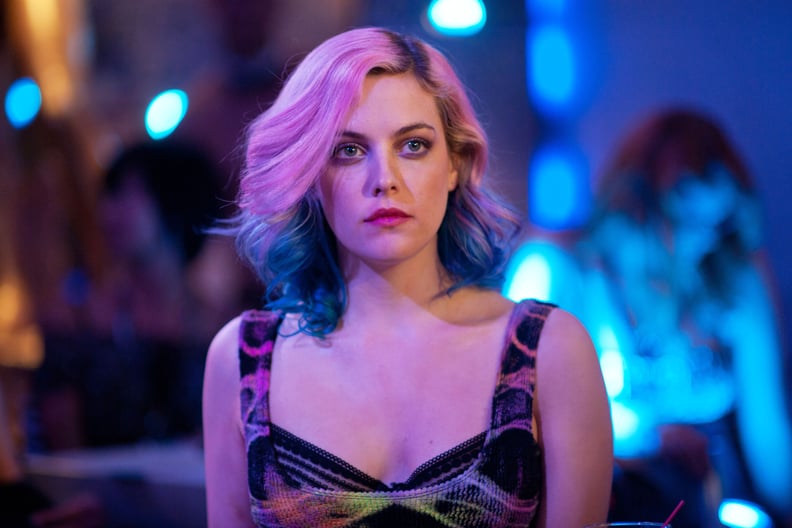 Riley Keough Was Briefly Engaged to Her "Magic Mike" Costar Alex Pettyfer
While filming the 2012 dramedy "Magic Mike," Riley grew closer to British actor Alex Pettyfer, who plays Adam in the movie, and the two embarked on a love story in real life, getting engaged in March 2012. However, they didn't go the distance and split up in 2013. "She was the first woman in my life that I fell in love with at first sight," Pettyfer told Radio Andy in 2018. He added that Keough helped him overcome his deep-seated anxiety, which had over time converted into claustrophobia and a fear of air travel.
07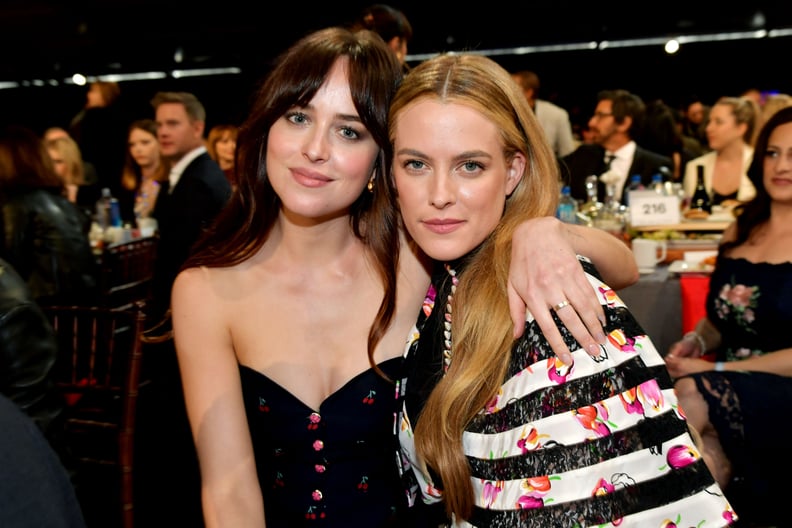 ​Dakota Johnson Was Her Bridesmaid
Keough fell in love with Ben Smith-Petersen, the stuntman behind the magnificent action sequences in "Mad Max: Fury Road," and the two walked down the aisle in 2015. The intimate ceremony took place in Napa Valley, CA, and featured a star-studded guest list, which included Kristen Stewart, Zoë Kravitz, Cara Delevingne, and Dakota Johnson, with the latter serving as one of the bridesmaids. Both Keough and Johnson come from well-known Hollywood households, which probably became the base of their close friendship throughout the years. The two actors are also set to star together in the forthcoming series "Cult Following," which is based on Bexy Cameron's memoirs.
08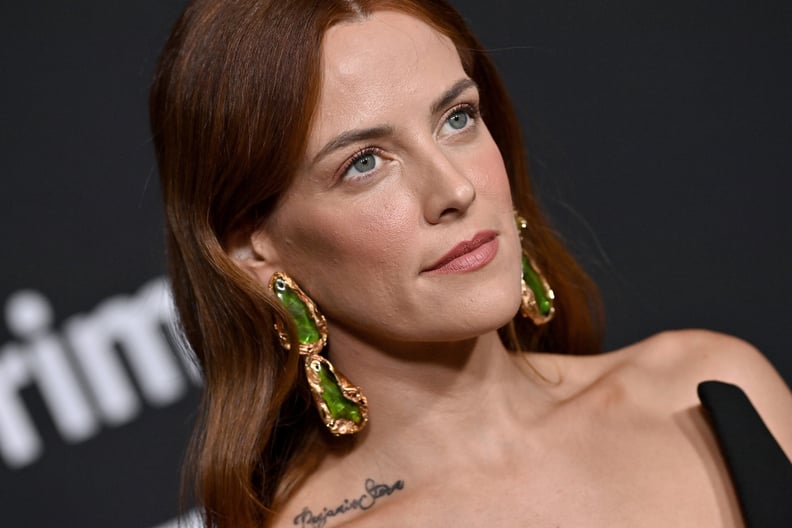 Riley Keough Is a Mom
In a speech read at her mother Lisa Marie's Jan. 22 memorial service in Graceland, Keough revealed that she and Smith-Peterson have a baby girl.
"I hope I can love my daughter the way you loved me, the way you loved my brother and my sisters. Thank you for giving me strength, my heart, my empathy, my courage, my sense of humor, my manners, my temper, my wildness, my tenacity," Smith-Petersen read on behalf of Keough, who was seated in the front row at the ceremony. "I'm a product of your heart, my sisters are a product of your heart, my brother is a product of your heart."