Rising Rap Star J.I. Is About to Take Off
Talking Punch Lines and Global Success With Rising Rap Star J.I.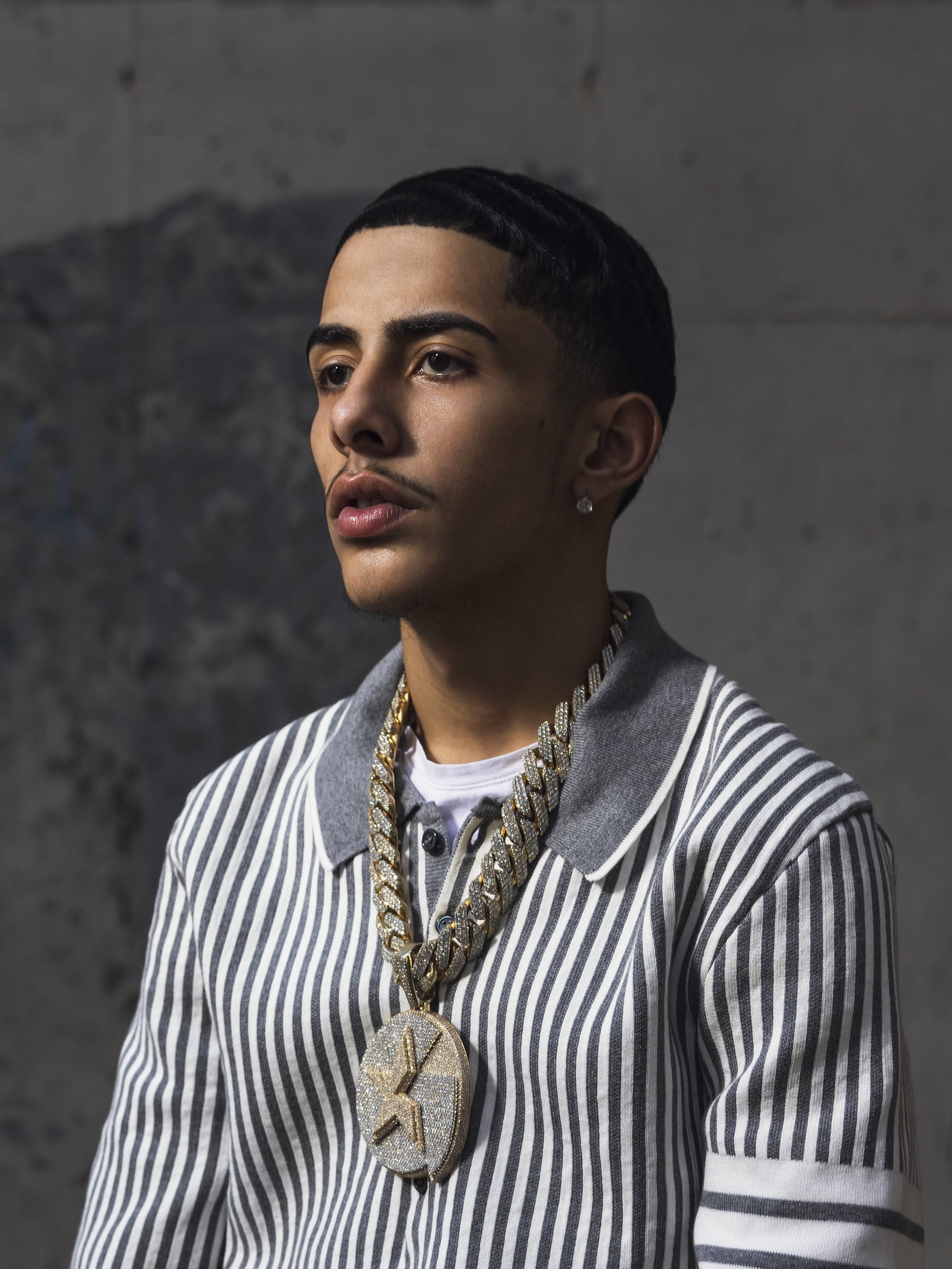 Image Source: G*Starr Ent
"The landscape is beautiful," Justin Irvin Rivera tells POPSUGAR. The Puerto Rican rapper and native New Yorker better known as J.I. is referencing the Rocky Mountains just outside the window of his Colorado hotel. Rivera, 21, has racked up millions of streams over the past seven years. Yet even as a rising rap star, the contrast between his newfound circumstances and his life growing up in Brooklyn isn't lost on him.
"I've been over here a couple of times, but while I'm over here now, I'm able to really embrace everything and see everything. I wish we had mountains like this in New York," he adds.
Rather than mountains, Rivera grew up surrounded in a panorama of Crown Heights apartment buildings and city stoops, running around the maze of streets from sunup to sundown and sharpening his lyrical skills at the local ciphers. Even at a young age, the Brooklyn wordsmith always had his sights set on something bigger. But like many young dreamers, Rivera wasn't sure how to get there.
"I've been rapping for about 10 years. The plan was always to go global, I just didn't know how," he shares.
But that would all change with an invitation from Jermain Dupri to join the second season of his hip-hop reality series "The Rap Game." Rivera seized the opportunity to expand his fanbase and released his first EP, "Hood Life Krisis Vol.1." Now, having just released his fifth EP, "One Way or Another," he finds himself far beyond the asphalt boulevards of his borough and poised for international success. His lyrical, yet melodic brand of hip-hop has found plenty of fans overseas. Rivera is currently on his first European tour.
"We live in a market now where you don't have to be from or live in New York to hear about a New York artist," he says. "I realized that firsthand when I stepped foot in London and I'm coming out of my hotel and I got kids older than me recognizing me. And I'm just a Brooklyn kid. It's crazy how somebody can be across the globe and be so in tune with what you're doing and how you do it."
In the global age of modern hip-hop in which regional styles don't always hold as much sway as they once did, Rivera feels that this kind of connectivity has allowed him to curate an international following without sacrificing the punch-line-heavy delivery he picked up from New York City legends like Jadakiss, Fabolous, and the late Big Pun.
"It's gotten to the point where artists from over there hit me up and want to work with me because of my style, because of what I do, or the way I speak on a track," Rivera says.
That signature style sees Rivera harmonizing on tracks in a style most reminiscent of Drake but that has its roots in the melodic anthems of the early 2000s made popular by Ja Rule and, later, his rival 50 Cent. However, it's not a stretch to say that the rapper has found a way to make the sing-songy cadence that's so popular in today's hip-hop his own, combining it with a lightning-fast delivery of lyrically complex bars and strong punch lines all in a single breath.
This is evident on tracks off his latest project like "Broken Dreams" and "So So," the former seeing Rivera rap bars like: "I used to sit in the rain hoping to diminish this pain / You stabbed me in the back not knowing I got skin made for blades / You crashed a car tryna figure out what I did in my lane / I swept you off your feet and dirt is what you put on my name."
Rivera prides himself on his punch lines, and he's quick to point out that while there's no shortage of new talent in hip-hop, there aren't many young rappers who dedicate themselves to cultivating a bar-heavy flow like back in the day. But while the young emcee definitely has the lyrical chops to cut it in a rap game where diss tracks and beef can be all too common, Rivera's attitude toward competition is surprisingly sage-like, reflecting his newer, broadened horizons.
"Don't get me wrong, I feel like there's more competition now, but it doesn't concern me," he says. "I'm the only one that can destroy what I got going, you know."
Rivera understands just how fickle fortune can be and how easy it is for an up-and-coming emcee to fall off track. There's no shortage of cautionary tales about promising careers cut short, either by drugs, violence, incarceration, or a combination of them all. For the young artist, staying motivated and staying the course to success is his top priority.
"It's rare that people are able to make it to the top just because of everything that's set up against them. So I just try to stay focused."
"It's easy to lose sight of the purpose when you've got a lot of people coming at you," the rapper says. "It's rare that people are able to make it to the top just because of everything that's set up against them. So I just try to stay focused."
That focus goes beyond just music, as he already has plans to break into the acting industry. "I'm a big fan of acting. Movies can be just as powerful as music," he adds.
Rather than just star in movies, Rivera expresses a desire to write them. Indeed, writing and a need to express ideas regardless of the medium seem to be what have always driven him. He mentions how he would submit short stories to Scholastic as a student prior to rap. But whether it's street chronicles about addiction and lost love or something a little more cinematic, Rivera just hopes he can use his craft to inspire.
"I want people to look at my story and look at where I came from and say, 'Wow, if he could do it, I can do it.'"
"I want people to look at my story and look at where I came from and say, 'Wow, if he could do it, I can do it.' Whatever their dream is, pop star, superstar, whatever star they want to be," he says. "Even if they don't like the music. I want them to look at my story and be able to take something positive from it and feel like they can flip their situation around."
Rivera's latest EP, "One Way or Another," is currently available across all streaming services. Check out the music video for his latest single, "So So," ahead.