Roman Wellington Banks on Going From Broadway to HSMTMTS
HSMTMTS's Roman Wellington Banks Reveals His First Celeb Crush Was an OG Wildcat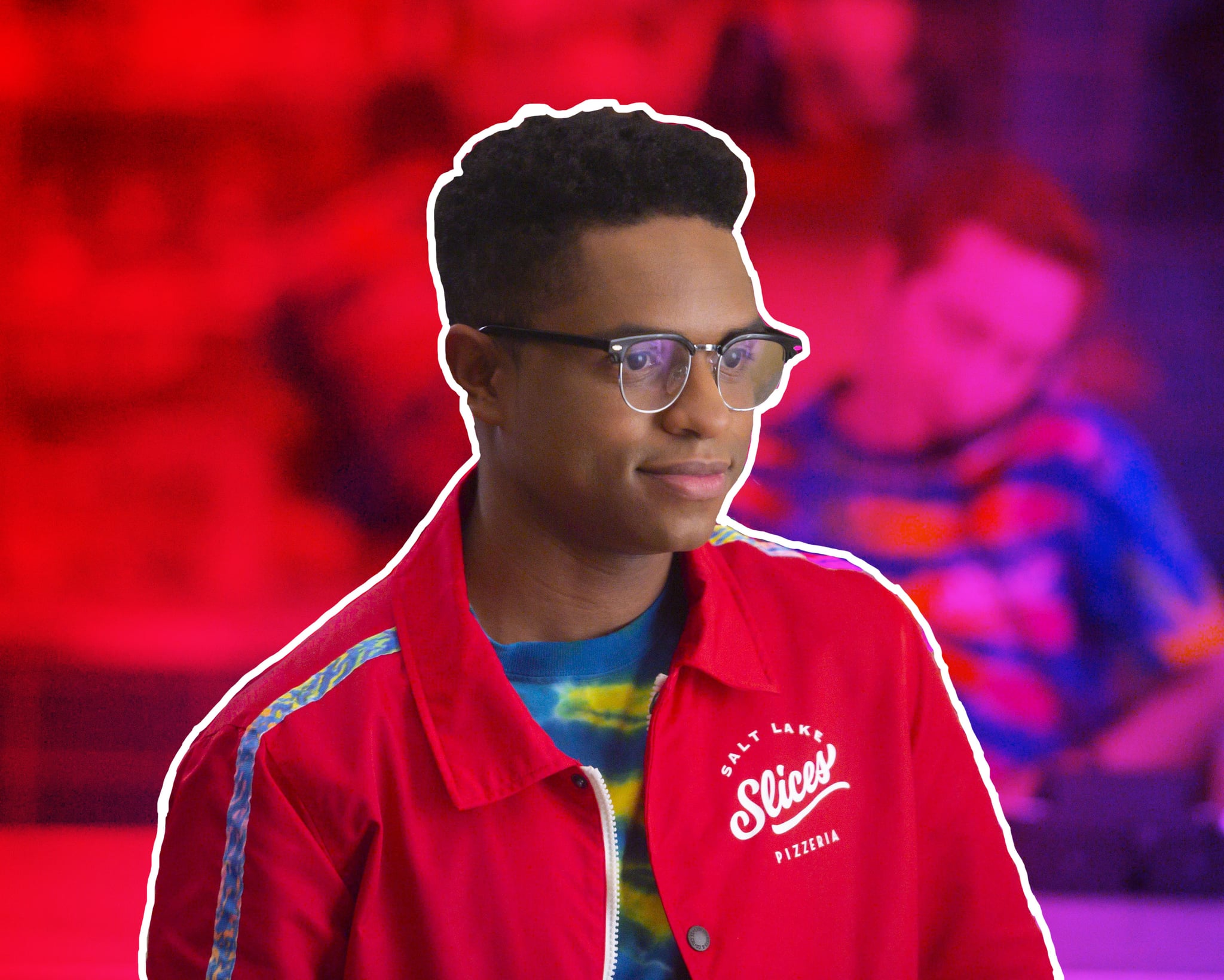 Image Source: Disney+
In our Q&A series POPSUGAR Crush, we get to know some of our favorite celebs' more intimate details — from their favorite flirty emoji to their most valuable relationship advice. This month, we're crushing on Roman Wellington Banks.
Roman Wellington Banks first stole our hearts when he took the stage in Broadway's Dear Evan Hansen, and now he's making a whole new audience swoon with his role on High School Musical: The Musical: The Series season two. We're first introduced to his character, Howie, as Kourtney (Dara Reneé) takes on a new job at Big Red's family pizza shop. Though the two initially butt heads, they eventually develop a deeper connection, and fans have been shipping the characters ever since.
While we've loved seeing Roman on HSMTMTS this season, fans will be surprised to learn he almost didn't audition. "I just wrapped Dear Evan Hansen, and it was maybe a week and a half afterwards I got emailed about the role of Howie." He admitted that he was initially skeptical about the concept of the series, being an OG High School Musical fan. "I feel for people who don't want to hop on the show's train, because the moment I heard what the show was about and I heard the title, I was like, 'High School Musical: The Musical: The Series, what a weird title. What a weird idea. They're going to ruin the movies and the nostalgia.'" However, after watching the first few episodes for himself, he completely changed his tune. "I watched one and two, and then I watched three, four, five, six, seven, eight, nine, and 10 in like 48 hours. I was like, 'I love this show. This show is like everything that I want to do.' I still love theater. I still love singing. It's the best of both worlds, but it's also on TV, so it opens a new door for me." As we wait to learn more about Howie's character this season, get to know more about Roman ahead.
First celebrity crush:
Quite fitting for the genre, my first celebrity crush was Vanessa Hudgens. I remember watching High School Musical, and she popped up in that little karaoke number. I was like, "Oh my God, she's so cute." It's also the moment where I was like, "Oh, I like girls. Girls are cute." She's been my celebrity crush ever since. I'm dying to meet her. I hope I don't come off as too much of a fanboy.
Favorite flirtatious emoji:
Oh, it's a very controversial one. Everyone has a different opinion on it. My girlfriend thinks it's a drunk guy. The guy [who is] winking, but his mouth is swirly and the other eye is kind of open, and his cheeks are really red. I just feel like it's a very cheeky wink, so I use it when I'm flirting all the time. Other people are like, "That's not a flirting emoji." I'm like, "You don't know."
Favorite form of self-care:
It's a tie between the gym and my facial routine. My facial routine can really just make me feel beautiful. It's such a pick-me-up. I can go into the restroom and be like, oof, and then I can come out feeling glowy. Then the gym just makes me feel strong and that I'm capable of overcoming obstacles that I may not have thought I was strong enough to get through.
Favorite workout:
I believe it comes from Arnold Schwarzenegger, it's this Arnold shoulder press where you're sitting down. I just like it because it's really hard but it makes me feel strong when I get to the set. You're sitting down, you bring the dumbbells up past your shoulders, full press them by your head, and then you bring your shoulders to a 90-degree angle. Then you close them in front of your face and then put the dumbbells back by your side. All of that is just one. It's too much for one rep, but at the same time it makes me feel, I guess, however strong Arnold Schwarzenegger felt when they named that after him.
Dogs or cats:
Oh, dogs all the way. I hate cats. I hate them. If I lose fans for that, so be it, but I cannot stand cats. I love dogs.
Biggest turnoff/turn-on:
[Biggest turnoff is] someone who isn't kind. I feel like the prettiest person in the world could be sitting in front of me, [but] if I see them be short or rude to a waiter or a server or someone in front of us at a store, it's just immediately like, who raised you? How did you get this far acting like this? I can't believe I'm spending time with you.
My biggest turn-on would have to be a caring person. My girlfriend, our thing is Krispy Kreme doughnuts. The first day we met, we went and got Krispy Kreme. It was a cute little thing. So I went home to watch my first episode of HSMTMTS with my family, and she ordered Krispy Kreme to my house. It was left on my doorstep with a really cute note. I think small gestures can go a huge way because we just know someone is thinking about you even when you're not around. That just really shows me how much someone might care about me. That caring always goes such a long distance.
Coffee/tea order:
I'm not a drinker of coffee or tea. Coffee actually scares me because I feel like it's a legal drug. Caffeine, I feel like when people are like, "I get jittery," I'm like, that sounds like a drug. Then people get addicted to coffee, so I've just been too scared to try it. I'm not an avid tea drinker unless I'm in my vocal pain and I need throat coat. Any musical-theater person will tell you that's the saving grace of tea. So if I had to choose a favorite, that would be it. It's helped me through the tough times.
Ideal first date:
I live in New York City, so I would say we go out to a rooftop restaurant and we order something. We both also try each other's dishes and then take a walk around the city a little bit, maybe stroll. Get to know each other a little bit better. Then go out for Krispy Kreme. I know that's very traditional in the sense of it's a dinner, but I like moments where you can just really sit down and get to know someone. If on the first date we're doing something that takes a lot of focus or something, at the end of the night, I just want to feel like I have a good sense of who that person was. It's so funny, I basically just described the first time I went out with my girlfriend. But we didn't go out on a date. It was just friends. We were just friends and we connected through Instagram. But at the end of the night, I was like, wow, that was really great. The Krispy Kreme was a spontaneous choice, but now I'm like, yeah, that really put a good cap on the night.
Go-to movie-night movie:
I'm a little bit biased, because right now I'm rewatching the Marvel series. My girlfriend has never seen any of them. I would say Avengers: Infinity War is really great. Hereditary is a really great one if you're looking for some scary stuff. Then my favorite Pixar movie is Monsters, Inc. Always a good laugh. So a little bit of range there. Something for thrill, something for scare, and something for a lighthearted mood.
Best love advice:
Be with someone who makes you the best version of yourself. Be with someone who you spend time with and after that time you've spent with them, you can honestly say to yourself, "I like myself when I'm around this person. I don't change or I don't put parts of myself away or I don't adapt to make them feel better." You can be your honest, 100 percent self. Also, you can be the parts of yourself that you might not always love to bring out, but that person makes you feel comfortable to show those parts as well.
Most romantic thing you've ever done/that's ever been done for you:
The way I asked out my girlfriend. When we very first started talking, she sent me a video of her lip-syncing one of her favorite songs on her hairbrush. So I was taking a shower and she was watching a show, and I told her to pause the show and I played the instrumental to the song that she originally lip-synced to me. I sang it coming out of the shower with a towel on. The steam was setting the mood, and then I changed to lyrics. At the end of the song, I changed the lyrics to ask her out. The song is by her favorite artist. It's called "Find Someone Like You" by Snoh Aalegra. So it's just a really good full-circle moment, and she was just over the moon for like 30 minutes afterward. It was really sweet.
The most romantic thing someone's done for me [was] when I wrapped High School Musical [and] I came back to the city — this was before I was dating the girl I'm with — she bought a pizza and then she cut up pepperoni. Even though she hates pepperoni, she cut up pepperoni on the pizza and put "Congrats on High School Musical: The Musical: The Series" in little pepperonis, and then baked it, and then brought it to me. She was like, "Go look in my bag," and it was there. I was like, "This is so sweet." Once again, just the whole caring thing, thinking of someone when you don't have to. That was really romantic. I was like, "Man, you're the best." That was one of the things that sealed the deal.
Song that describes your love life:
"You're My Best Friend" by Queen. The energy of that song is so free and open. It's a song that you just don't want to end and you can just replay over and over again. I think he's just describing the love of knowing someone so personally and getting to spend time with them. It's like a sunny day through the park. It's just bliss. That song feels like bliss, and it feels just open and like love without boundaries. That's how I feel like my love life is. That's how I want to love and be loved.
Favorite Broadway song to sing at the top of your lungs:
I'm a little biased. Honestly, I was going to say "Waving Through a Window," but I would say top of my lungs is probably either "The Schuyler Sisters" or "The Room Where It Happens" from Hamilton. You get to basically scream in that number. That's my dream role, Aaron Burr in Hamilton.