Hugh Jackman Shows Off His Ryan Reynolds Coloring Book in New Instagram Post
Hugh Jackman and Ryan Reynolds are each entertaining on screen, but the actors' fake feud off screen may truly be their best work yet. The two developed a friendship when they costarred in 2009's "X-Men Origins: Wolverine," and they've been poking fun at each other ever since. Whether they're roasting each other during interviews or simply throwing some shade on social media, we always get a laugh over their fake rivalry. Though they briefly called a truce in February 2019 to support each other's companies, it didn't last long.
So, just how did the "feud" start? Well, if you ask Jackman, it was all Reynolds's fault. During an interview on "The Late Late Show With James Corden" in April 2020, Jackman joked that Reynolds started it due to his "insatiable need for attention." However, they did put their "differences" aside to work together for the All In Challenge, and they're reuniting again in "Deadpool 3," set to release in 2024, so at least that's something.
Jackman is even hanging out with Reynolds during his downtime . . . well, pictures of Reynolds that is. On March 19, he shared a photo of himself holding a coloring book dedicated to the "Free Guy" actor on Instagram Reynolds swiftly responded in his Instagram Story, where he wrote, "He lives to colour in the pretty pictures."
Keep reading for some of the frenemies' best feud moments.
01
Hugh Jackman Shows Off His Ryan Reynolds Coloring Book
02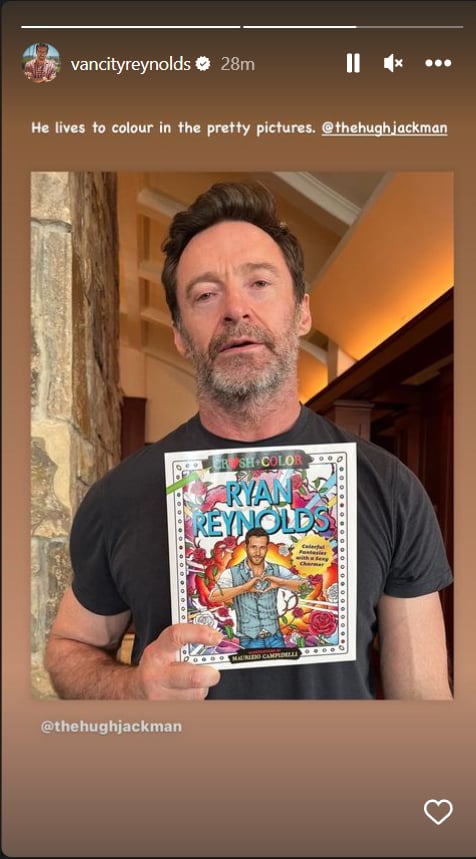 Ryan Reynolds Responds to Hugh Jackman's Coloring Book Post
03
When Ryan Reynolds "Humbly" Submitted Hugh Jackman For Oscar Consideration
04
When Hugh Jackman Begged the Academy Not to Nominate Ryan Reynolds's "Spirited" Song For an Oscar
05
When Ryan Reynolds Just Couldn't Stay Away From Hugh Jackman
06
When Ryan Reynolds Poked Fun at Hugh Jackman's "Fans"
07
When Hugh Jackman Impersonated Ryan Reynolds
08
When Hugh Jackman "Exposed" Ryan Reynolds
09
When Ryan Reynolds (Deadpool) Pretended to Be Hugh Jackman
10
When Hugh Jackman Wasn't a Fan of Deadpool
11
When Ryan Reynolds Made It Clear He Didn't Care For Wolverine Either
12
When Hugh Jackman Gave Ryan Reynolds Some Birthday Love
13
When Ryan Reynolds Questioned Whether Hugh Jackman Was Really Australian
14
When Deadpool Wouldn't Let Hugh Jackman Record a Message
15
When Hugh Jackman Got Ryan Reynolds a Special Birthday Present
16
When Hugh Jackman Begrudgingly Liked Deadpool 2
17
When Hugh Jackman Enlisted Jake Gyllenhaal to Prank Ryan Reynolds
18
When Ryan Reynolds Reluctantly Wished Hugh Jackman a Happy Birthday
19
When Ryan Reynolds and Hugh Jackman Called a "Truce"
20
When Hugh Jackman Ended the Truce With His Commercial
21
When Hugh Jackman and Ryan Reynolds Teamed Up For the All In Challenge
22
When Hugh Jackman Used His Emmy Nomination as a Chance to Roast Ryan Reynolds
23
When Ryan Reynolds Narrated Hugh Jackman's Coffee Commercial