If You Want to Date Saweetie, You Need to Step Up Your Game: "Life's Too Short Not to Be Bold"

In our Q&A series POPSUGAR Crush, we get to know some of our favorite celebs' more intimate details — from their first celebrity crush to their most memorable fan encounters. This month, we're crushing on rapper Saweetie.
Whether it's guest-starring on Grown-ish, appearing in Maluma's steamy "Sobrio" music video, being honored with her very own McDonald's meal, or gearing up for the release of her debut album, Saweetie seems to be everywhere lately. The 28-year-old rapper is dropping Pretty Bitch Music very soon, and she is just as excited as fans are for its release. "I'm looking forward to the visuals, which I haven't shot yet," Saweetie told POPSUGAR. "I really want this to be a visual experience. And the songs sound really good . . . I'm really just excited to share it with the world."
Given her huge success, Saweetie is aware of what it means to be a role model, and she doesn't take it lightly. "Although we don't sign up to be role models, it is a responsibility we are given," she explained. "I still live my life to the fullest, however, there are certain things that I try to be aware of because I know little girls are looking up to me. The fame and the money is cool, but I actually have a purpose. And in order for me to fulfill my purpose, I have to take accountability that I have the responsibility for the other women out there."
"Although we don't sign up to be role models, it is a responsibility we are given."
It's the idea of being a "big sister" and role model to her fans that led to the creation of her Icy University web series, which features Saweetie breaking down specific topics from f*ck boys to starting a business. "I didn't have a big sister growing up. However, I did have a lot of aunties and cousins and they put me on a lot of things," she shared. "So from a little girl, I was just filled with wisdom. As I got older, I realized that not all of my friends had that . . . then my fans would also ask me for advice. So, instead of going on a rant on Instagram or Twitter, I wanted to give the people something that's timeless that they could always go back to."
Saweetie might not know what the future holds for her career, but it's the fans that keep her going. "I think the best token I get from being an artist and [having] fans is that I know that I'm giving them the gift of inspiration," she explained. "I've always been a risk taker, whether it works out or if it doesn't work out. So I know what it feels like to fail and make mistakes. However, I feel like those things are lessons that I've learned from, and it makes me a stronger woman. Hopefully, my story inspires other women to really go out there and be whatever they want to be."
Saweetie's drive, determination, and creativity are just some of the qualities that made her the perfect choice for McDonald's newest Famous Order. "I feel like an honor is an understatement," she said of joining the ranks of Travis Scott, BTS, and J Balvin. "The fact that I'm the first woman to have the collaboration just means everything to me." Fans can get The Saweetie Meal — which includes a Big Mac, four-piece Chicken McNuggets, medium World Famous Fries, a medium Sprite, Tangy BBQ Sauce, and "Saweetie 'N Sour" sauce — for themselves starting Aug. 9. Ahead, you can get to know more about Saweetie and her thoughts on love, first dates, and signature scents in our POPSUGAR Crush interview.
What is your go-to order from McDonald's?
It used to just be the Big Mac because my mom loves the Big Mac. Sometimes she would even order two for herself, so I grew up eating the Big Mac. But now The Saweetie Meal, girl. The Big Mac with Chicken McNuggets and fries. I got crazy concoctions. I put the chicken nuggets on the Big Mac, along with the fries, and the sweet and sour sauce.
What is your favorite form of self-care?
Oh, the beach. I love swimming and I love laying in the sand. Did you know that the sand and salt water is a natural way of exfoliating? Not only do I love swimming, I love to exfoliate. So it's like a two-in-one.
Who was your first celebrity crush?
Honestly, Aaliyah. I would literally sit in front of the TV and watch Aaliyah DVDs and videos all day. And I would sing in the shower and would think that I sound like her until the music cut off.
Do you have a favorite pick-up line? If so, what is it?
I recently used this pick-up line on someone. I said that "I was looking for you." I think that's a great pick-up line, so you should try it. Life's too short not to be bold. I'm a very bold person, which is why [The Saweetie Meal] is so bold.
Are you more likely to make the first move? If so, what is it?
I've made the first move before, and I've said, "I've been looking for you." I just know what I want. I feel like women should know what they want. I know what I want to eat, I know what I like, and I just know everything that I want for myself. So I always go out there and get it, whether it's a scholarship, a meal, the latest lip gloss, or something as simple as going out and doing some self-care. I think women should always cater to themselves.
What is your ideal first date?
My ideal first date is probably the arcade. I need to know that this person is fun, because I'm really fun and I want to have fun. And don't let me beat you, I like a challenge.
What is your go-to first date outfit?
My ideal outfit would probably be some sneakers, pants, and a t-shirt. Nothing too crazy, I want to have fun.
Do you prefer getting dressed up or wearing comfy clothes?
Both. You just never know what you're going to get with me. Sometimes I love sneakers, sometimes I like the six-inch [heel]. So it really just depends on my mood, the weather, and time of the month.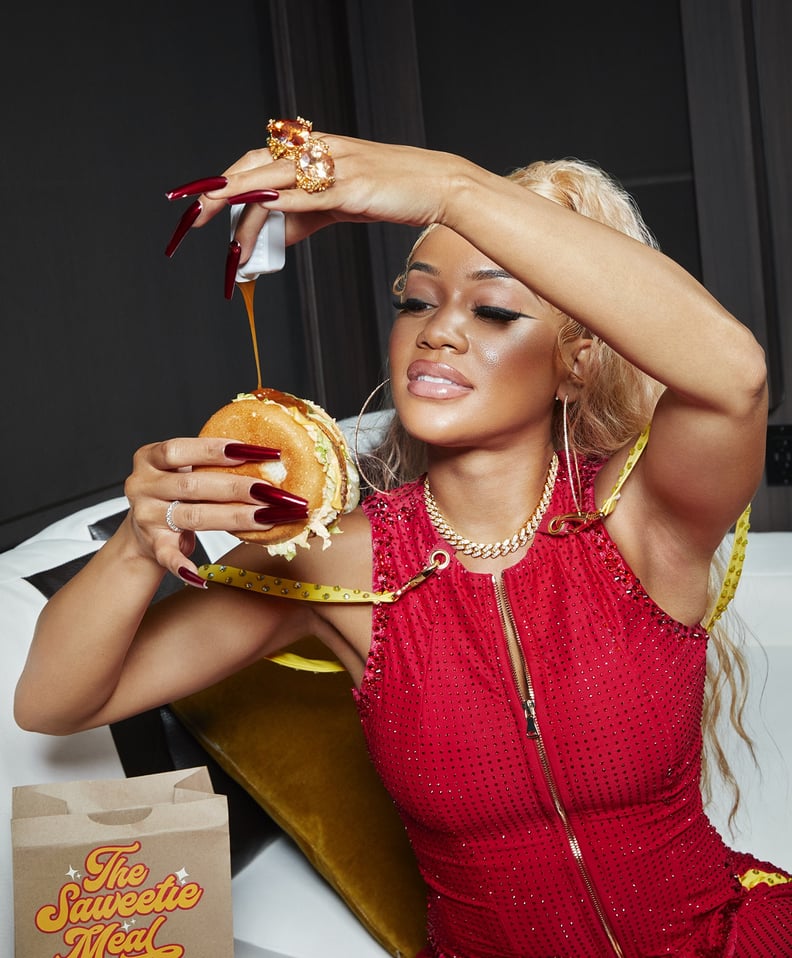 What are your biggest pet peeves?
Hygiene. That's also the biggest turn-on. If you smell good, it's kind of like the Disney movies, the vintage ones when the cat is walking by and she has a pretty aroma. Then the other cat is just sniffing. Like that.
What is your signature scent or go-to perfume?
Honestly, I don't have a signature scent because I'm always mixing. What I find the best is that you should always mix oil-based with a regular perfume base because it makes both perfumes and scents last longer.
What has been your most memorable fan encounter?
Oh my gosh, I was at a mall, and I thought this girl was going to bite me because she comes up to me sprinting. As she's about to get to me, she yells, "Can't stop, won't stop, get guap." And she starts rapping "Icy Grl." This was earlier on in my career and I never realized people would be excited to see me — at least that excited. But that was a really interesting fan moment.