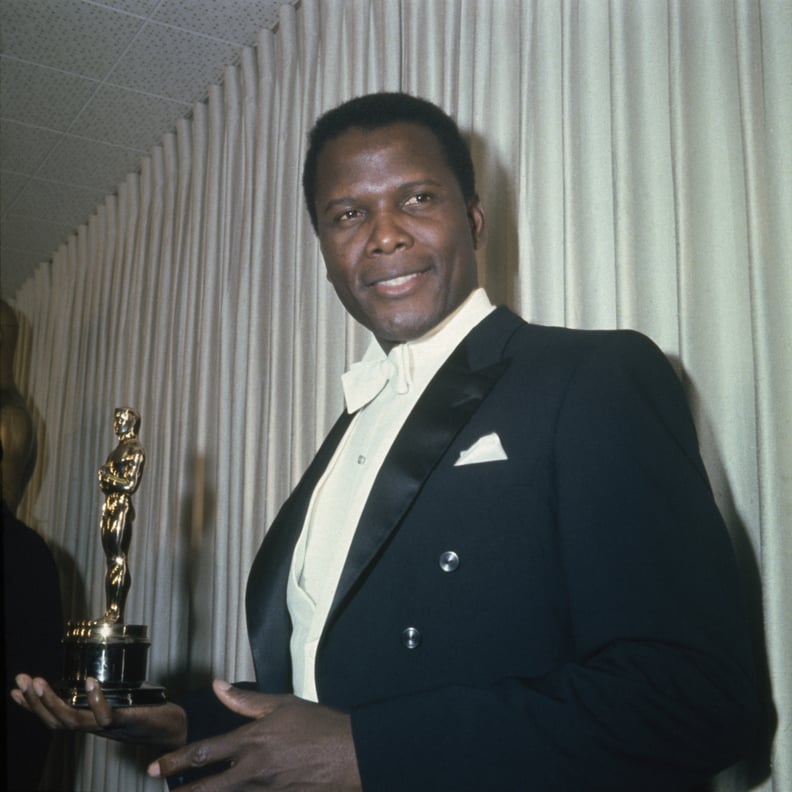 Archive Photos | Stringer
Archive Photos | Stringer
I'm in the business of covering celebrity news. Although each death resonates, we are trained to cover the news first and deal with the emotions thereafter. But this morning (Jan. 7), as the alerts about Sir Sidney Poitier's death came in from The Bahamas, I needed a minute. Because he was such a mantle of grace, class, and elegance for me growing up, I took that minute to call my mother. I wanted her to find out the news of his passing from me. Her jazz played in the background as we talked about the greatness of his life.
My love for Sir Poitier was etched into my heart at birth. Although I grew up in a Queens, NY, suburb, my family's roots run parallel to the Harlem Renaissance. Most of my lessons of Black Harlem's elite happened by sitting under the dinner table listening to their stories.
On holidays, the sounds of Miles Davis, Duke Ellington, and John Coltrane would play on an old scratchy record player from the '40s that still worked insanely well in the '90s. I'd listen to the elders of my family — Harlem-born with Bahamian roots — talk about rubbing elbows with the likes of the great poet Langston Hughes and being friends with my all-time literary hero, James Baldwin. They'd remember a young Diahann Carroll, always a stylish force walking down Harlem's streets. As the music played and the memories spilled, old Harlem sounded like a magical place akin to my favorite Disney movies. But when the conversation landed on Sir Poitier, the awe and reverence spilled down to my mom's generation in particular.
My mother would talk about her pride when she watched Sir Poitier win the best actor Oscar award in 1964 for Lilies of the Field. She would stand up straighter when she spoke of her idol playing a Black doctor in Guess Who's Coming to Dinner? opposite leading lady Katharine Hepburn. And the fact that he was Bahamian?! The island pride soared around the table. I knew that the black, gold, and aquamarine flag on our mantel, which included flags from all of my cultures — America, The Bahamas, Puerto Rico, and Honduras — was something that made me a titan, too.
When I travel to The Bahamas, I like to ask friends, relatives, and dear elders about their Sir Poitier stories on the island. Everyone has one. I met an old-timer whom Sir Poitier would call whenever he was in Nassau and needed a reliable driver. He told me that the Oscar winner would always sit in the passenger seat, and they would catch up — he never sat in the back. He represented the elegance of The Bahamas and the island's way of treating everyone as royalty — as equals — no matter their station.
Sir Poitier knew his tremendous role as a model for millions of Black people globally. "I felt very much as if I were representing 15, 18 million people with every move I made," he said. He was a source of inspiration in an era when Black families would call each other when a Black entertainer appeared on The Ed Sullivan Show or had any TV role in general. These moments were like their own cultural Super Bowl, during a time when they saw misrepresentation more often than accurate depictions.
Thanks to Sir Poitier, Black men could be the leading man. They could be professional. Black actors could be romantic and desired at the box office. He paved a smoother way for the likes of Denzel Washington and, today, Michael B. Jordan.
I'll tune in to the TCM channel this weekend, where a marathon of his movies will surely play. And as the sadness of the moment subsides, I know that what will remain is what has always been there from my earliest memories: grace, style, tenacity, pride, and excellence. As a proud Bahamian halfsie, I'm honored to have lived while Sir Poitier walked the earth.