Simu Liu Awkwafina and Shang-Chi Cast Interview Video
Awkwafina, Simu Liu, and the Shang-Chi Cast Reveal Their TikTok Domination Strategy
Every Marvel movie is an absolute spectacle, and we're delighted to report that Shang-Chi and the Legend of the Ten Rings is no different. It's an epic story that's equal parts action-packed thrill ride, hilarious moments, and poignant family drama. It's a delicate balance, and Simu Liu, Awkwafina, Meng'er Zhang, Florian Munteanu and the rest of the cast truly delivered.

When we had a chance to sit down with these four, it was clear that their incredible chemistry continued to radiate even offscreen. As they were faced with multiple "would you rather" questions, they took us down a rabbit hole of TikTok dances, extreme Power Rangers nostalgia, the intricacies of breaking through walls as the Kool-Aid man, and so much more. Just look at them enjoying themselves: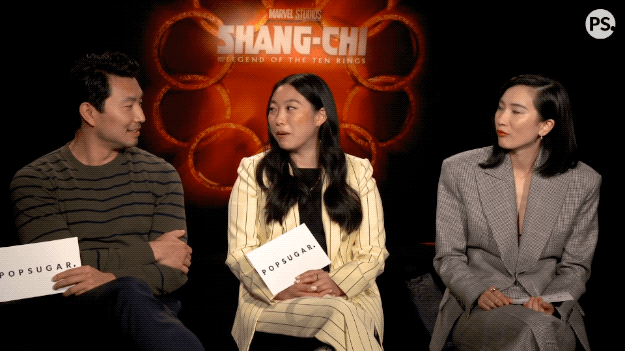 You need to watch the above video to at least see a snippet of Florian's wise words, and why Awkwafina promised she'd get those words tattooed on her back (we're holding you to it!). Definitely make it a priority to go see Shang-Chi and the Legend of the Ten Rings when it hits theaters Sept. 3!