Sophia Bush on False Positive, One Tree Hill, & Love, Victor
Sophia Bush Was in Need of One Tree Hill Nostalgia When Filming Hulu's False Positive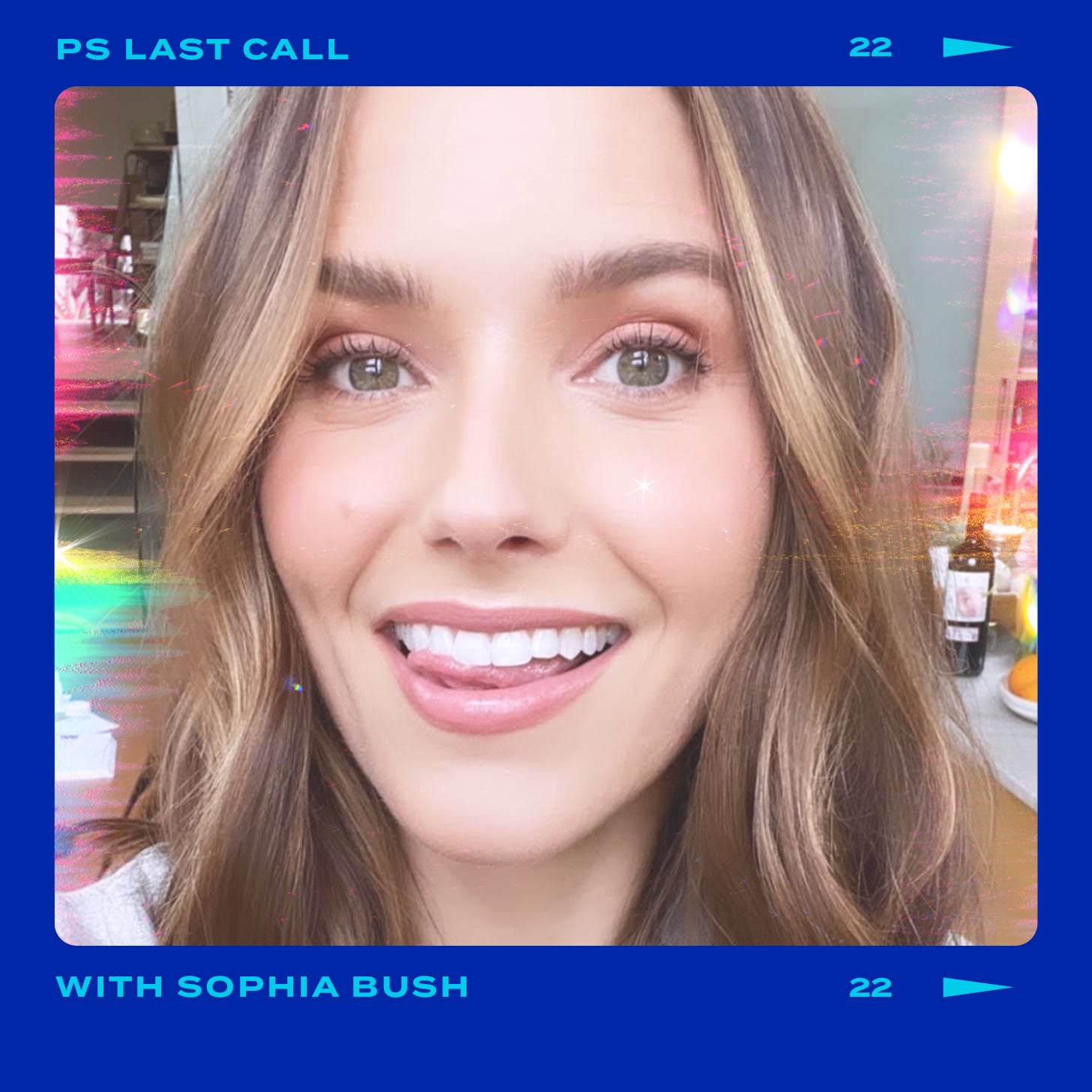 In our Q&A series Last Call, we get down to the bottom of every last thing with some of our favorite celebs — from the last time they were starstruck to the last song they listened to. This week, Sophia Bush takes our call.
To say Sophia Bush's role as Corgan in Hulu's False Positive is a departure from Brooke Davis on One Tree Hill is an understatement; where Brooke is selfless and kind-hearted, Corgan is selfish and heartless. "What really felt insidious to me about the character I play is that, if you asked her, she'd say that she's a great friend and a great person," Sophia told POPSUGAR. "This woman just makes my skin crawl. [She's] someone who's almost been poisoned by internalized misogyny and the worst of the gender politics in our society. [Someone who's] been trained to be a good girl and smile through it. It was deeply unpleasant to have to play, but I think we made it work."
While filming, Ilana Glazer and Sophia had to sometimes take a moment between takes to let everything go, because "it felt so gross to be talking to each other in the ways we do in this film." It's the superficial nature of their characters' friendship that helps cement the Rosemary's Baby connection people continue to make, although the father of Lucy's child is more human in nature. "It's truly my favorite kind of horror because it's psychological," Sophia added. "[False Positive's] social themes could not have been more important to talk about as we're [currently] seeing some really dangerous legislation for women and for our autonomy. It all feels like a horror movie in real life."
"I just called the girls and was like, 'I think we should do this.' The nostalgia is even more special than I think any of us could have imagined."
Outside of acting, Sophia has been busy in the podcast world. "I've had such an amazing time hosting Work in Progress. It's one of my very favorite things that I do in my career," she said of the weekly podcast. It was a mixture of staying home during the pandemic and a need for nostalgia that inspired the creation of Drama Queens, the One Tree Hill podcast she cohosts with friends and former costars Hilarie Burton and Bethany Joy Lenz. "I needed the 'How do we help people?' activist space, but then I also really wanted things that felt comforting. I just called the girls and was like, 'I think we should do this.' The nostalgia is even more special than I think any of us could have imagined."
The transition from playing a high-school student on One Tree Hill to the parent of a high schooler on Hulu's Love, Victor has been interesting for the 38-year-old. "They were like, 'Yeah, [Mekhi Phifer's character is] always kind of dating a younger woman and now he's going to date someone who's serious. Someone with a career,'" she shared of her excitement to work with the star. "Then I was like, 'Oh, it's me? But doesn't he have a teenager? I couldn't possibly . . . Wait a second.' I could theoretically date someone who's 50 and has a 16-year-old, so [it was] a weird moment."
She's also had some sweet moments on the set of the Hulu series. "All of the actors playing the high-school kids had such great questions for me about growing up on [One Tree Hill]," she continued. "They're so conscious of what this all means and are willing to be vulnerable enough to ask people who've walked that road before them questions. I'm so impressed with them. They're just the coolest group."
In honor of False Positive's June 25 premiere, check out Sophia's Last Call interview below.
What was the last day on the set of False Positive like versus Love, Victor?
They could not have been more wildly different. On both of my last days, I was actually wearing a fake pregnancy belly. So, that's an interesting thing they have in common. I don't want to blow the plot [of False Positive], but one resulted in a lot of very creepy energy and screaming and the other was a wedding.
What is the last thing you did for self-care?
I spent five days out at a place called Vermejo. It's a Ted Turner Reserve, and it was my first unplugging in over a year. I rode horses, went fishing and hiking, and met with all of these cool scientists on the property who are working on bringing the cutthroat trout back from extinction and on saving the bison. And I was just like, "I love it here." So that felt like a lot of self-care for me.
What is the last piece of advice you received that changed your life?
Gosh, I don't know. I don't feel like anyone's been giving anyone advice this year. I feel like everyone's just been like, "Are you OK?"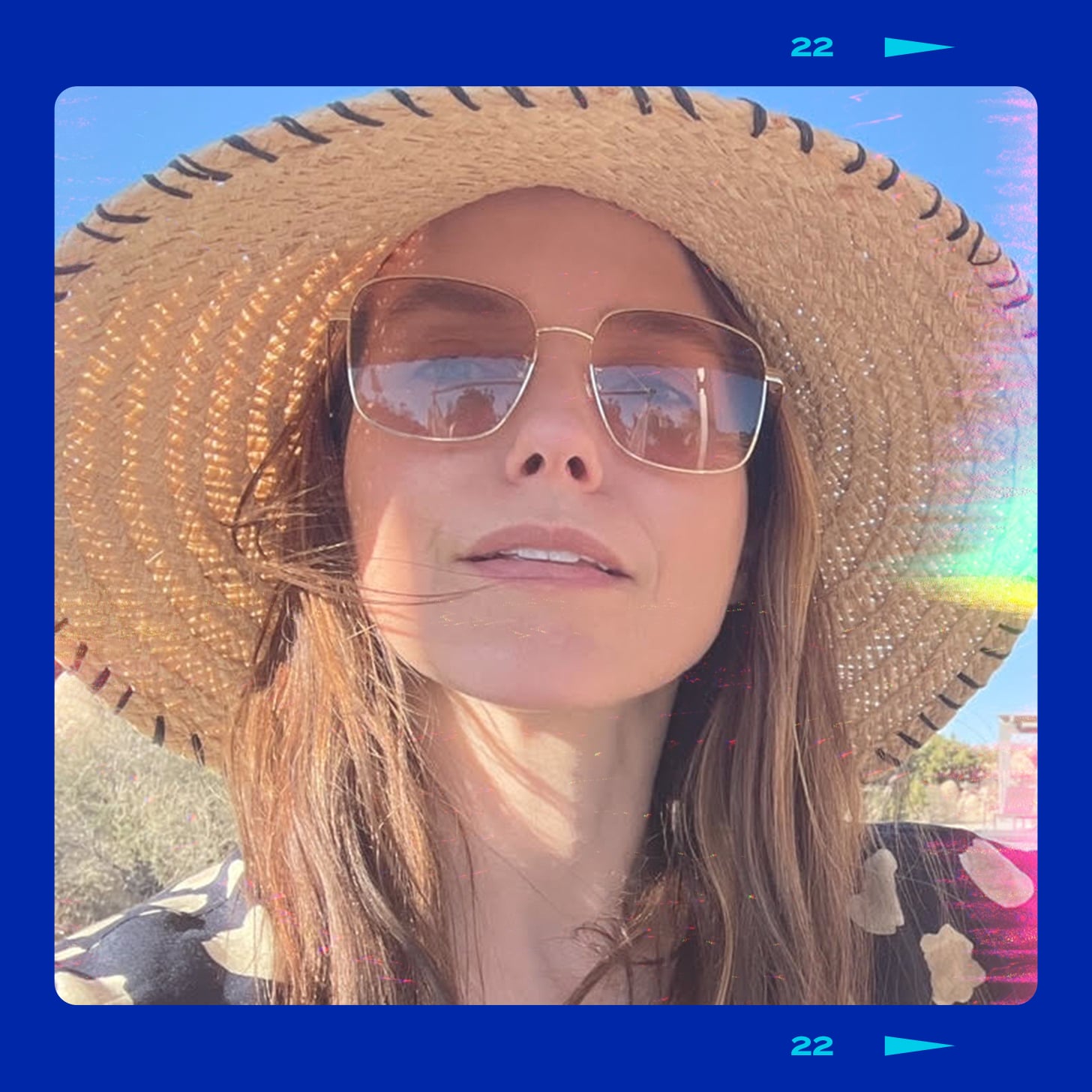 What is the last thing you texted?
I texted my best friend Nia this morning. She was having coffee with her husband, and I texted her a list of questions that I have begun asking myself every morning that she's really fascinated by.
What is the last photo on your camera roll?
The last photo in my camera roll is actually my friend Nia and I last night at dinner in New York.
What is the last song you listened to?
The last song I listened to was "Mirror" by Sigrid.
What is the last show you binge-watched?
Feel Good on Netflix.
What is the last thing you do before going to bed?
This is going to sound so creepy, but I guess it's appropriate because I have a horror film coming out. I just read that book Breath: The New Science of a Lost Art by James Nestor. So now, the very last thing I do before I go to bed is tape my mouth shut so that I only breathe through my nose.
When was the last time you were starstruck?
It was Maxine Waters. Jenny, one of my girlfriends, was making fun of me because she was like, "What is wrong with you? You are famous. You can't behave this way around other famous people." [So] I ordered a coffee and literally just sat and waited until [Maxine] was done eating. She was so lovely, but I was babbling about how she's inspired my work as an activist and a whole generation of women to take no sh*t and reclaim our time and how she's just such an icon. She was so patient with me, but there was a moment when I was like, "I really have to stop talking now and walk away." She then gave me a little elbow bump because, COVID. Even thinking about it now, I'm sweating.
Image Source: Sophia Bush