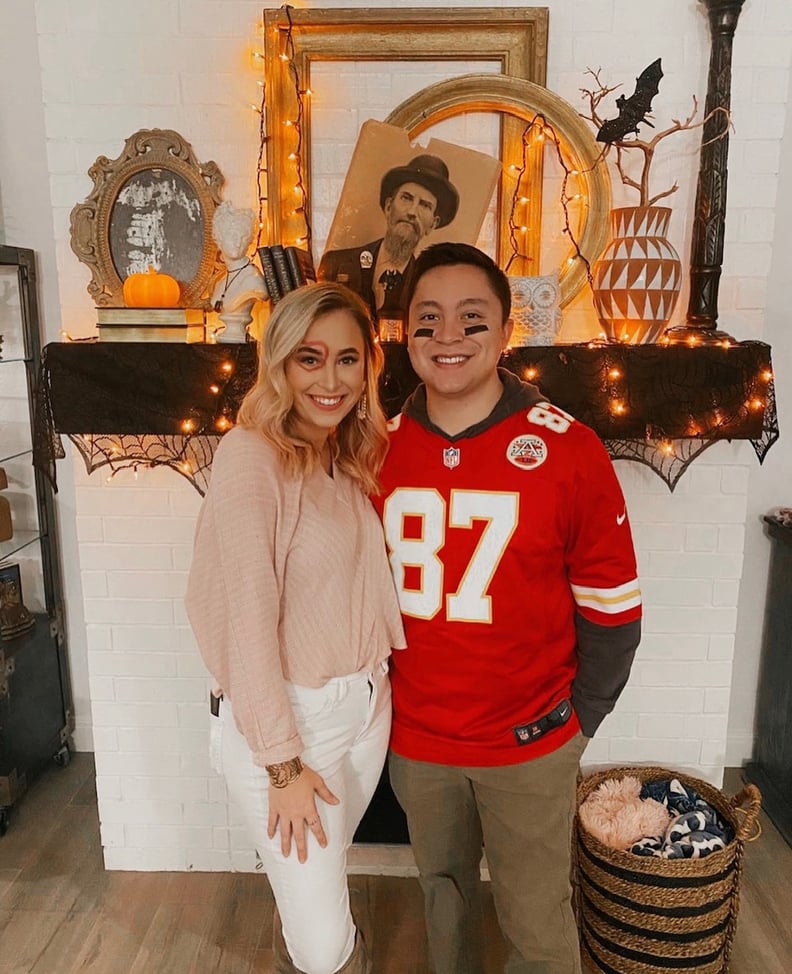 Courtesy of Makayla Stephens
Courtesy of Makayla Stephens
Call it fate or call it karma, Taylor Swift is familiar with both. Back in October 2020, long before the Swift and Travis Kelce dating rumors ever began, Makayla Stephens and her husband debuted what might be the world's first documented "Traylor" Halloween costume. "I don't know any world in which Taylor Swift + Travis Kelce would be in the same room together, but apparently in this one they're married?" Stephens joked in an Instagram post three years ago, unknowingly flexing her manifestation skills.
The now-viral photo shows Stephens in a pink long-sleeved shirt and white jeans, paying homage to Swift with a "Lover" heart drawn in pink glitter over one eye. Her husband stands next to her in a Kelce jersey (pre-Swiftie sales spike) and stripes of black face paint under his eyes. The couple pulled the last-minute costumes out of their own closets to attend a Halloween party thrown by family during the pandemic. "My husband and I are not big dress-up people, so when they were like, 'Costumes required,' we were like, 'Well, what do we already have?'" Stephens exclusively tells POPSUGAR.
"I was like, 'These are the two most random people in the whole world to be together.'"
"It was funny because we went to the party and everyone was like, 'Who are you supposed to be?' It wasn't a thing at the time," she recalls. "I was like, 'This is the lamest costume ever.' But we took a picture and I posted it with that caption because I was like, 'These are the two most random people in the whole world to be together.'"
Stephens, who has been a big Swift fan for as long as she can remember, found out about the Swift and Kelce dating news with the rest of the world. She woke up her husband in the middle of the night once she realized they may have accidentally predicted their alleged relationship three years prior. "He was asleep and I gasped in our bed and I was like, 'Babe, we dressed like them. We already did this.'"
In the past week, Stephens's 2020 Instagram post has garnered thousands of new likes and comments, and more than 100,000 people have watched her latest TikTok video in which she explains exactly how she "predicted" the unlikely pairing with her couples' costume. "Woman I need your manifestation routine. Like howww omg," one person commented on Instagram, summing up what many others were also thinking. Could Stephens really be a master Swiftie manifester? She's not ruling it out. "We're both rooting for them so hard because we just love them," Stephens says. "It's like . . . maybe we really did manifest this."