10 Fun Facts About the Model Who Stole Peter Kavinsky's Heart — Alexis Ren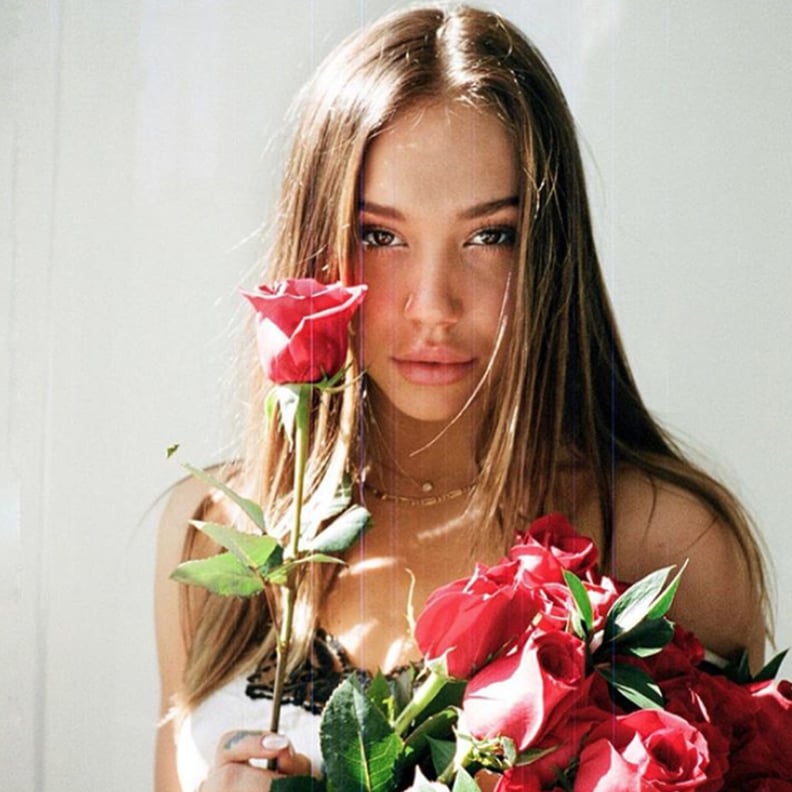 Model Alexis Ren is no stranger to having millions of admirers — 13 million on Instagram, to be exact. If you don't know her from the 'gram, though, you've likely heard Alexis's name floating around with Noah Centineo's. You know, star of films like To All the Boys I've Loved Before, Sierra Burgess Is a Loser, and The Perfect Date (and the king of our collective hearts)? Not to disappoint, but the pair have allegedly been dating for months ⁠— Us Weekly reported that they were spotted canoodling at a Florida airport back in May and leaving an LA restaurant together in September. So as much as our hearts are broken that Noah is taken, we want to get to know Alexis better and find out who all the boys are that she's loved before. Let's dive in.
She's Danced With the Stars
Appearing on season 27 of Dancing with the Stars, Alexis knocked the socks off the judges week one with an ice-cream-shop-themed jive. Her classic ballet training and charisma on the dance floor carried her through to the finals, where she and partner Alan Bersten eventually landed in fourth place.
Throughout the season, rumors swirled that Alexis and Alan were, uh, more than just dance partners — Alexis confessed to having feelings for him on the show's Halloween episode, and they later shared a kiss during a country-themed performance. Their showmance was short-lived though, as the duo reportedly broke up in December 2018.
This season, Alan is dancing with Hannah Brown of The Bachelorette fame.
She Was Sports Illustrated's Rookie of the Year in 2018
Off the dance floor, Alexis landed in the pages of the Sports Illustrated ever-coveted Swimsuit Issue in 2018 as well. Photographer Yu Tsai shot the model in an array of barely there bikinis for the magazine, and the magazine dubbed Alexis "Rookie of the Year."
She First Rose to Fame in a Black Bikini
Unsurprisingly, the Sports Illustrated Swimsuit Issue was far from Alexis's first rodeo. A Southern California native, Alexis was scouted at a mall in LA at just 13 (she first modeled for clothing brand Brandy Melville). Two years later, her career blew up when photos of her posing in a black bikini went viral on Tumblr, as reported by The Cut. From there, Alexis began to amass modeling gigs, social media followers, and many an online admirer.
She Helped Inspire the Phrase "Relationship Goals"
Around 2014, Alexis started dating fellow Instagram star Jay Alvarrez — the pair first connected via Tumblr before Jay asked Alexis out on Instagram.
For about two years, they made careers out of traveling the world and taking insanely hot photos together, leaving many of their followers drooling and describing the couple as #RelationshipGoals. In 2016, however, their passion turned sour and the Instagram duo called it quits. The breakup got especially messy when Alexis and Jay started subtweeting insults, but that's a story for another time.
She Has an Appreciation For Japanese Culture
At age 14, Alexis took her modeling to Japan — a country she still seems to visit pretty frequently (or so her Instagram would suggest). She's described herself as "addicted to traveling" and said Japan, specifically, has a special place in her heart (she's also a big fan of anime).
During a visit to Tokyo in the Fall of 2018, Alexis shot a quick video to give fans (who she affectionally calls her "Ren Den") a glimpse of her life in the city.
She's a Big Sister
The oldest of four, Alexis is the proud big sister to two sisters and a little brother, including siblings Amber Rose and Ace Ryan. In 2013, they devastatingly lost their mother to breast cancer, leaving Alexis to step in as the family's matriarch.
"From the people that knew her, they say I'm a lot like her," Alexis once explained in a YouTube video. "The best compliment to get, because she was a shining ball of light."
She's Tatted Up
According to Inked, Alexis is covered in tiny tattoos.
In addition to the gun on her index finger, she's also got "the planet Saturn behind her right ear, the name 'Alexandra' in her BFF's handwriting on her right forearm, the word 'Duality' on her right foot, a music note on her right ring finger, a spade on her left middle finger, the roman numerals of her mom's death anniversary on her left elbow, the roman numerals of her mom's birthday on her right elbow, [and] the signature of her mother's name on her left wrist."
She's an Advocate For Self-Love
Like many Instagram models, Alexis regularly reminds her fans to show self-love and compassion, a practice she admittedly struggled with for years. In 2017, she opened up to Cosmopolitan about her battle with disordered eating. She explained that she spent years in a "toxic state of mind," often experiencing food guilt and overexercising as a form of self-punishment. "Looking up to girls for inspo is a beautiful thing, but comparing yourself is what creates the anxiety and self-hatred," she shared.
You Can Catch Her South of the Border
She already starred in The Chainsmokers' "Paris" video back in 2017, and you can also catch Alexis acting (and wielding some weaponry!) alongside Camila Cabello, Cardi B, and Ed Sheeran. She plays Scarlet Jones in the "frivolous spy film" shot for the trio's "South of the Border" single.
She's a Bit of a Hopeless Romantic
Though Alexis Ren and Noah Centineo have been fairly hush-hush about their relationship to date, Alexis has been dropping hints that there's a new love in her life for a while now — and she's as smitten as you'd expect a girl dating the real-life Peter Kavinsky to be. On Sept. 24, she shared a mysterious text exchange on Instagram, in which someone (cough, Noah, cough) proclaimed she's "this gentle layer over my reality." Goodness me.