Jo Ellen Pellman is a budding star who already has my heart. She plays Emma in The Prom, Netflix's new adaptation of the Tony-nominated Broadway show. For the uninitiated, The Prom is a musical comedy about a high-school girl who wants to go to prom with her girlfriend, but the PTA bans it. However, when Broadway stars hear about this, they come to help, hoping they can turn things around. The Prom's cast is filled with big stars like Kerry Washington, Meryl Streep, James Corden, Nicole Kidman, and Keegan-Michael Key, as well as Jo Ellen. Keep reading to learn more about about her, and I'm sure you'll love her just as much as I do.
01
She Conducted Theater Workshops For Incarcerated Women and Human-Trafficking Survivors in India
Jo Ellen served as one of Michigan's South Asia Fellows, in which she worked for a nonprofit that combined art therapy and social change. In Mumbai, India, she led theater workshops for various groups, including incarcerated women and survivors of human trafficking.
02
New Year's Eve Is One of Her Favorite Holidays Because She Loves Reflection
Jo Ellen loves to look back on the year to see what she's learned and to also hear what others have learned. "New Year's Eve is one of my favorite days of the year, mostly because I *love* reflecting (it's like journaling in your mind!)," she wrote in an Instagram post. "I LOVE reading everyone's posts about their revelations and resolutions." I bet she's starting to feel excited this time of year!
03
She Heard She Got the Role While Shopping in a Vintage Store (and After Loving It on Broadway)
Director Ryan Murphy shared a picture on Instagram of Jo Ellen hearing she got the role of Emma, and he's excited for her and her costars to play their respective roles. "Jo Ellen (as Emma) and Ariana Debose (as Alyssa) are the beating heart of the movie," he said. "They are both out and proud queer young women who saw The Prom on Broadway and were so moved by the LGBTQ love story told with joy and optimism. Jo Ellen and Ariana are the perfect ambassadors to tell this story and I'm certain they will be role models and beacons of hope for so many kids all over the world." How amazing is that?!
04
She's Appeared on Some Popular Comedy and Drama TV Shows
Jo Ellen may look familiar, and that's because she's appeared in a few other great shows! She's most known for her work on Amazon Prime Video's The Marvelous Mrs. Maisel and HBO's The Deuce.
05
Playing Emma Meant a Lot to Her as a Queer Woman
06
She Can Play the Guitar
In an Instagram post, Jo Ellen joked she can only play four chords on the guitar, but hey, we think that counts! Considering she posted this a while back, who's to say she hasn't learned more?
07
One of Her Favorite Books Is The Color Purple
Jo Ellen understands the importance of taking breaks, and she loves Alice Walker's book The Color Purple. "Sometimes you just have to avoid all your responsibilities and reread one of your favorite books, you know?" she wrote in an Instagram post. Yep, we get that!
08
She Played Basketball When She Was Younger
09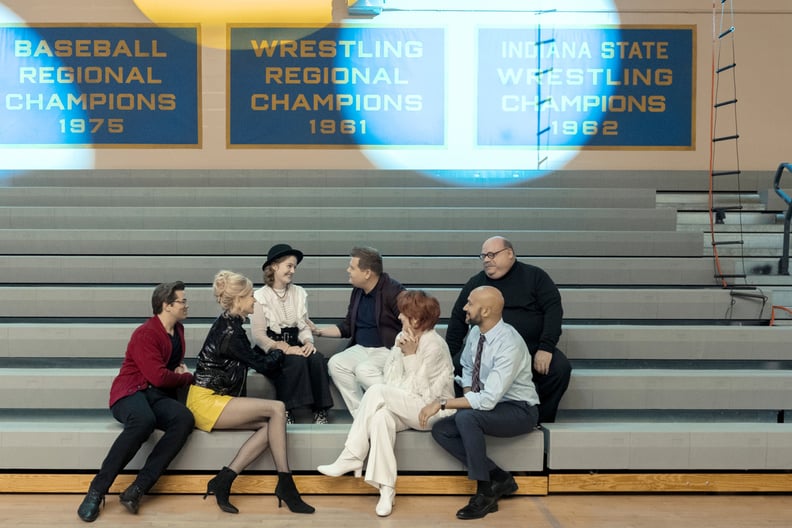 She's Friends With James Corden, Who FaceTimed Her Grandma in the Hospital
James's and Jo Ellen's characters have a meaningful relationship in the movie, and the two are also close in real life. "My grandma had just gone into the hospital and she's a big fan of James and his show. I asked him if he would FaceTime her with me and without hesitation he was like 'Of course!'" she shared in an interview. "He made my grandma's day, and that's who James is . . . I'm so glad that I can call him a friend."
10
She Majored in Musical Theater and Minored in Creative Writing