William Jackson Harper on We Broke Up and The Good Place
William Jackson Harper Reveals the 1 Cameo on The Good Place That Left Him Starstruck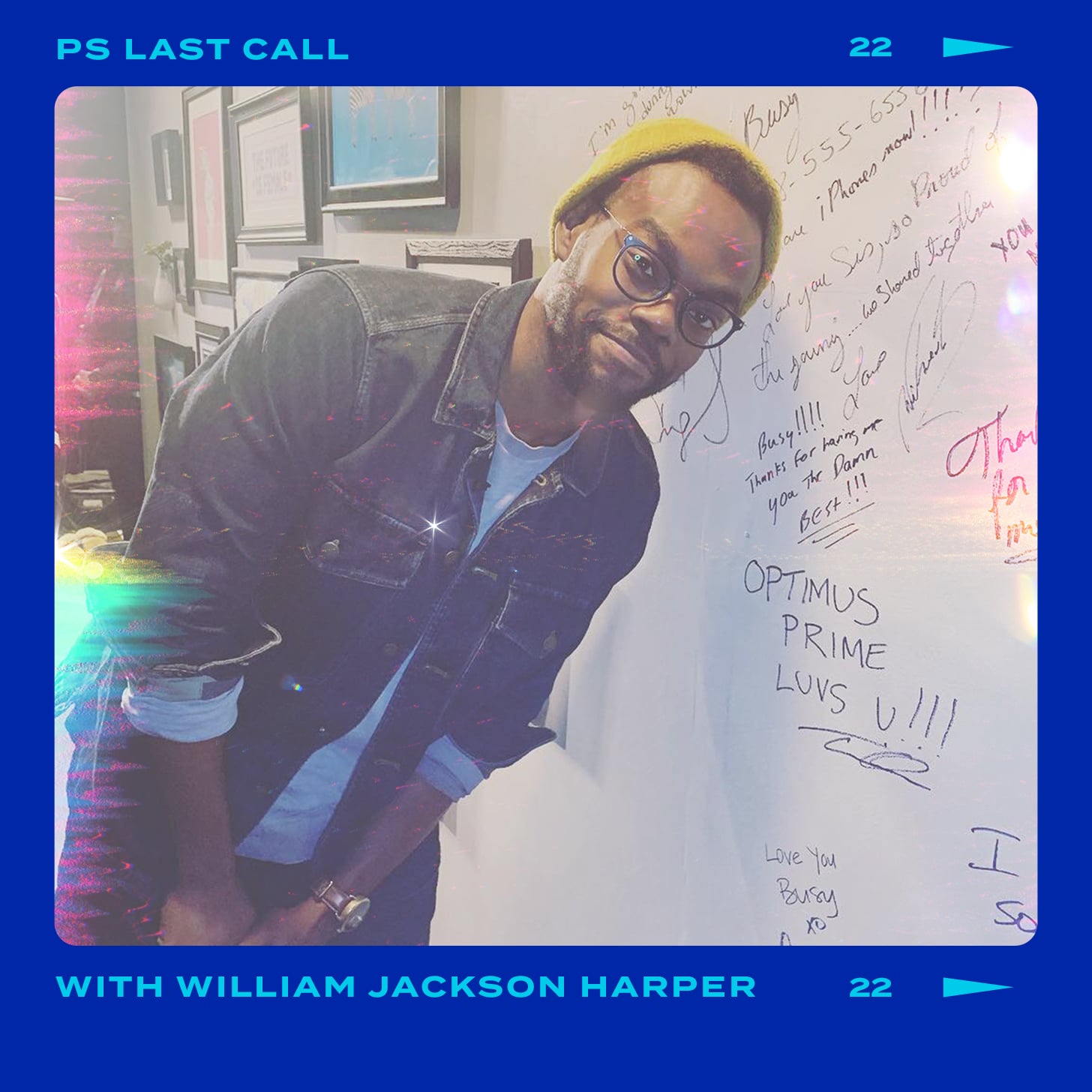 In our Q&A series Last Call, we get down to the bottom of every last thing with some of our favorite celebs — from the last time they were starstruck to the last song they listened to. This week, William Jackson Harper takes our call.
William Jackson Harper first gained critical acclaim for his role as the dorky but lovable Chidi on NBC's The Good Place, and now he's going full rom-com leading man with his latest film, We Broke Up. The film, which also stars The Boys actress Aya Cash, follows a long-term couple named Lori and Doug who decide to call it quits. The only trouble is that their breakup comes right before Lori's little sister's wedding. In an effort to keep the peace, the two decide to pretend they're still together until the wedding weekend is over. What could go wrong, right?
"Going through the time that we're going through right now, it is pure escapism in that it's people getting to be together and things turning out OK."
A self-professed "sci-fi, fantasy nerd," William told POPSUGAR that he doesn't actually watch a lot of rom-coms, but was really attracted to how We Broke Up "felt very real" and true to actual relationships. "It felt messy in a way that long-term relationships can be. But it also wasn't heavy." That being said, he has developed a deeper appreciation for rom-coms this past year. "Especially going through the time that we're going through right now, it is pure escapism in that it's people getting to be together and things turning out OK," he said. "We've just seen so much death and so many people not being OK in this past year that I've actually watched a couple of rom-coms here and there. It's just sweet and comforting in a way that I usually didn't appreciate until this last year."
Now, he's completely leaning into the genre. In addition to starring in We Broke Up, he's also set to star in the second season of HBO Max's Love Life. While the titles certainly tackle the rom-com genre in different ways, he admitted that starring in We Broke Up has prepared him for the role in some ways. "One of the things I loved about the first season of Love Life is that it really didn't play into the idea of a romantic comedy. It was very real in a lot of respects. I guess in that respect, We Broke Up does feel like it's a cousin in certain ways. Maybe the messiness of it is something that connects the two pieces for me."
Ahead of the release of We Broke Up on April 23, we chatted with William about everything from the last day on set to the last time he caught up with one of his costars from The Good Place. Spoiler: it sounds like the Soul Squad is still super tight after the series ended in January 2020, and that makes us so forking happy.
What was the last day filming We Broke Up like?
We Broke Up was an exceptionally late night. It was actually really bittersweet for me, because I'd had a really good time shooting with everybody. It was such a quick shoot. We only shot for 15 days, and everyone was going to get to go to this party afterwards and really just hang out. We'd been hanging out on set and having a good time together, but I actually had to fly back to finish up The Underground Railroad. So I had to miss that part, but I was really looking forward to getting to hang out with everybody. So it was sad.
Last thing you did for love?
This is actually recently. My girlfriend and I got away for a little bit this past weekend, and we went to this rural town, and we were hanging out near this lake. My girlfriend wanted to take a walk down to this river from this cabin we were staying in, and I was terrified for this walk just because being a Black dude in a rural place, sometimes I'm like, "Yo, I don't know. I don't know how everyone's going to be." But I toughed it out and definitely made a lot of jokes on the way there trying to keep myself calm. But it was great. We hung out by the river for awhile. But I definitely had to swallow my fear for awhile [and just be like], "She wants to go look at the river. Let's go look at the river. She planned this gorgeous weekend. I need to not be a stick in the mud."
Last rom-com you watched (other than We Broke Up)?
I watched The Incredible Jessica James. That's the last one I watched. It had been on my list for awhile to watch it, because I think Jessica Williams is such a dope actor.
Last song/album you listened to?
"Stepping Into Tomorrow." It's on this album by Madlib called Shades of Blue.
Last piece of advice you received that changed your life?
It came from Bryan Cranston, actually. We were doing a play called All the Way, and we were in Boston, and we were doing a Q&A session with some of the students at the school there. He said something that, it was for the students, but I really took it to heart. He was talking about when doing an audition, think about giving a performance rather than getting a job. That flip in my mind changed things for me. It made auditioning a lot more fun, made me feel a lot more free. Even if I'd got a rejection, I still felt like well, I did the thing that I wanted to do and I had fun in the room. So I walked away with something other than just feeling like I tried to give them something and they didn't want it.
Last thing you ordered online?
Some briefs from Bombas. I've been living out of a suitcase for awhile, and my girlfriend's been making fun of my underwear, so I need to obviously upgrade my game a little bit. So I got some drawers from Bombas.
Last photo on your camera roll?
A picture of my girlfriend and our dog in a waterfall.
Last thing you do before going to bed?
Sadly, during the pandemic, watching a show. Usually it's the last thing I'm doing before passing out.
Last time you were starstruck?
When Lisa Kudrow guested on The Good Place. We had some heavy hitters, and I've been starstruck several times before that, but Lisa was near the end of our run, and I was definitely like, "Yo, I know everything this woman's done." I was losing my mind. That took a second to get over.
Last book you read?
Impeached by David O. Stewart. It's a history book about the impeachment of Andrew Johnson.
Last thing you did for self-care?
Well, I've actually had a massage now that I've been vaccinated. So that's not something I normally do, but I have now.
Last time you caught up with one of your The Good Place costars?
I texted with both Kristen [Bell] and D'Arcy [Carden] yesterday. Me and Kristen were just trading some jokes and pictures and stuff. Then D'Arcy and I, we routinely send each other stuff that we find funny.
Image Source: Courtesy of William Harper Jackson