Yung Baby Tate Talks "I Am," TikTok, and Affirmations
How Yung Baby Tate Turned Her Personal Affirmations Into TikTok's Empowering Anthem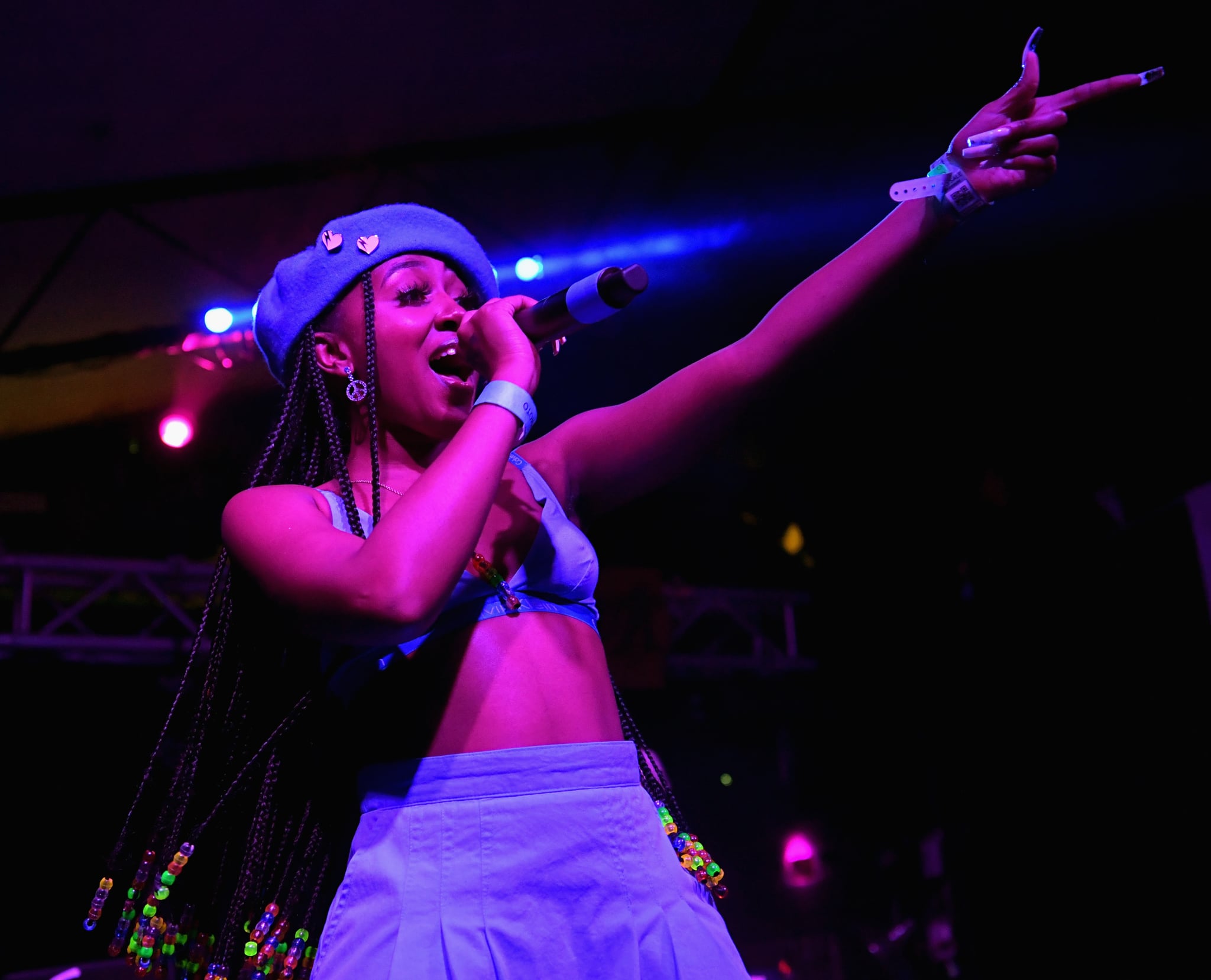 I am healthy. I am wealthy. I am rich. I am that b*tch. Yung Baby Tate's "I Am" serves as the motivating soundtrack for millions of TikTok users, and it all started with her own personal affirmations. The 24-year-old rapper from Georgia intentionally infused her After the Rain track (featuring Flo Milli) with positivity and power, hoping to set herself apart from the negativity of the world and the industry in 2021. She accomplished this goal and more, giving listeners seemingly therapeutic experiences that they recorded and shared on social media.
Yung Baby Tate puts in the work, both personally and professionally, to accomplish her aspirations. POPSUGAR recently chatted with the rapper otherwise known as "YBT" about "I Am," the joys of manifestation, and other ways she practices self-care during tumultuous times. A spiritual person by nature, YBT is humbled by the success of her song but not incredibly surprised. After all, she saw it coming — she's been speaking this success into existence for years. Check out our conversation below, and prepare yourself for more new music when she drops After the Rain Deluxe soon.
POPSUGAR: I want to kick it off by first congratulating you on all of your success lately, especially the success of "I Am." How does it feel to have such a big hit right now?
Yung Baby Tate: It feels really great. It feels great to not only have a song doing really well but for it to be this song in particular, because "I Am" is so positive and full of affirmations. A lot of times I think some artists can get discouraged because in the media, a whole bunch of negativity pops up and gets popular. For this to be such a positive song and make people feel so good and good about themselves, I'm just really proud of it.
PS: Can you tell me a little bit about the creative process behind "I Am" and what inspired you to create the song?
YBT: I was inspired by affirmations, like little YouTube videos that I was watching at the time. I'm really into positive spiritual things, and I was looking to boost my confidence. I was listening to some videos, but they were all like very humdrum and boring. I wanted to make some affirmations that caught a bit more, and I felt like these are things that I could say. So that's what I ended up doing; I just wrote these down in my phone as a note and ended up going into the studio later and wanting to put this on a song. We found the right beat for it, and that's how it came about.
PS: How long have you been engaging in affirmations or manifestations? Has it been something that you've done your whole life or something that you recently started practicing?
YBT: I just recently started doing affirmations, but manifestations I think I've been unconsciously doing my whole life. But on purpose, I've been doing it for probably the last three to four years, just continuing to keep a positive outlook. Also, purposely manifesting more like new moons and full moons, that's been going on for about three years.
PS: What inspired you to start doing self-affirmations more regularly in your life?
YBT: I think Twitter actually inspired me. I'm very into astrology, and I followed a few astrology pages on Twitter, and one of them used to regularly post about new-moon rituals or full-moon rituals where you need to write down the things that you want and close the book and just forget about it. Or if it was full moon, write down the things that you want to release and burn the paper. So I started doing that and really seeing results. It wasn't a quick snap of a finger . . . but I just believe in the power of the mind, the power of believing that something will happen and working towards it, and when you have that belief, you know what I'm saying? It makes things a lot easier to work towards.
PS: Obviously, other people are resonating with your song and the way that you kind of package affirmations, especially on TikTok. Did you expect this reaction from social media?
YBT: No, I really didn't. I think when we created this whole EP, we kind of knew that certain songs might take on TikTok, but I don't think we really anticipated it being this big of a thing or anticipated this song necessarily having the life that it has on TikTok. I don't create with TikTok in mind. So when it started to go up, I was very shocked actually. Not like this was impossible, but like, "Oh wow, I wasn't expecting this."
PS: Why do you feel like this song particularly is resonating so much with people, not only on TikTok but with your whole listener base?
YBT: I think this song is so positive, and it really makes you feel good when you listen to it. A lot of the music that is out today, specifically in rap, doesn't necessarily do that and doesn't create that space for people to feel good. It's like it has to be shooting somebody or having sex or doing something crazy, but this song is just very inclusive of everybody. Everybody can say it, everybody can feel it, and everybody can take the message and relate it to their own life. Or even if they don't relate at that time, can say these things and want to bring those aspects and those qualities into their lives.
PS: What do you hope people who are inspired by your song take away from it after they listen or post a TikTok? What do you hope they gain from it?
YBT: I hope they gain an understanding of the power of the mind and the power of words. Sentences are spells, and I think not enough people know that and understand that; I think not enough musicians and artists understand how we transfer energy through our music. I hope that the listeners can understand that, "Oh, saying these types of words to myself or just saying these types of words out loud can actually change my life just because I changed the way that I think." Then for other artists to know changing the way that I give energy through my music can inspire and change the world. I just hope that people get a little tidbit of spiritual knowledge.
PS: It's obviously a tumultuous time in the world right now, and it's hard to find that positivity to speak kindness to yourself. What brings you joy or helps you find the light in your life during really difficult times?
YBT: Lately, I've been on a super self-care tip. I try to make sure that I do things that I want to do, whether that's take a superlong bubble bath or play The Sims, cook myself a nice meal, get my hair done or my nails done. Whatever it is that makes me feel good. It's very important to love on yourself and to be good to yourself. A lot of times, people say "do unto others as you would do unto yourself," but sometimes, we're not doing unto ourselves that great. You have to do unto yourself how you want to be done.
PS: You've got incredible style. Does fashion factor into your self-care or self-love at all?
YBT: It definitely does. I love to shop, but I also love to get dressed up real cute. I noticed that throughout the pandemic, when it first hit, I was in the house in sweats and a T-shirt and not caring about how I looked, and it affected my outlook on myself and on life. Recently, I've decided I don't care what's going on, I'm going to get dressed up, look cute. I might even do my makeup. Fashion can completely, 100-percent change my mood, whether I just got this new outfit or it's something old that I really love. Fashion is definitely self-care for me.
PS: I know you've teased on Instagram that a video for "I Am" is coming soon. Can you share any details about that?
YBT: The video will be coming next month, really excited about it. I can't really share any more details right now, but it's coming very soon.