R&B duo (and real-life sisters) Chloe and Halle Bailey have unparalleled talent and an unbreakable bond. With a "sexy, darker" new sound and exciting solo projects on the way, the multihyphenates are all grown up and ready for their second act — both together and on their own.
"You. Look. Stunning!"
Halle Bailey watches as her older sister Chloe poses in a faux-leather Nanushka trench coat against a vibrant background of red and pink, Kelis's album Tasty blaring through the studio. Halle's eyes dart between the shots popping up on the monitor and the real-life vision that is 21-year-old Chloe, who smirks at her sister's instructions to "slay" and "work" as they echo in the cavernous studio. Chloe returns the favor when it's 19-year-old Halle's moment in front of the lens; being photographed separately is a rare occurrence for the pair. Chloe cheers Halle on as the latter poses in a houndstooth Area dress, nipped at the waist with a patent leather belt, and matching knee-high boots: "That's gorgeous! You're beautiful."
When Chloe and Halle arrive at Milk Studios in Hollywood for our cover shoot on Oct. 29, the energy is celebratory; they are fresh from the set of the Freeform series Grown-ish. Chloe and Halle graduated from recurring roles on the Black-ish spinoff to series regulars for season two, playing college students and track star twins Jazz and Sky Forster. They — along with cast members Yara Shahidi, Trevor Jackson, Francia Raisa, and Luka Sabbat — just wrapped filming on the third season, which premieres Jan. 16. The next installment of the show promises an unplanned pregnancy, an acting debut from Kylie Jenner's former BFF Jordyn Woods, and a much-appreciated homage to Beyoncé's 2018 Homecoming performance. It's also a busy time for Chloe x Halle's music: in 2019 they dropped two singles, "Who Knew" and "Thinkin Bout Me," and are putting the finishing touches on their highly anticipated second studio album, Ungodly Hour, which drops this year.
They are buzzing while talking about their new, more mature sound. "It's more grown; it's sexy, it's darker," Halle tells me. She and her sister showed up in laid-back looks before undergoing superhero-style transformations in a curtained-off section of the studio, where they snacked on chips and guacamole and drank green juice while trying on dozens of potential designer outfits. They are sweet and petite, and during a break from the photo shoot, they sit side by side on a velvet ottoman across from me. Both are wearing curve-hugging dresses by Dion Lee and have traded their matching Alevì Milano heels for slippers and slides.
Chloe and Halle are defining themselves individually even more than before, and their style is part of that. Throughout the day, Halle will rock playfully sexy ensembles (my personal favorite is a Carrie Bradshaw-esque Maison Margiela button-down shirt cinched with a Zana Bayne belt). Chloe's outfits are equally grown-up and sexy, but with an edgy sophistication — she will channel Olivia Pope, smizing in a camel-colored Fendi trench coat and graphic Sophia Webster heels. Their looks will always complement each other but still reflect the woman wearing them. Their eyes are wide, their mocha skin glistening, locs cascading down their backs. The mood feels highly melanated and highly favored.
Chloe and Halle's connection goes beyond the typical sibling bond — they are collaborators, costars, and best friends. It's what makes the stakes of this next stage of their career, as they explore a more adult sound and divergent career opportunities of their own, so high. To see them posing together is like watching a delicately choreographed dance. It's as if they each instinctively know which way the other is about to lean her arm or turn her head and will shift congruously. Between shots, Chloe and Halle smooth each other's locs, bump shoulders to the bass of "Milkshake," or talk in hushed tones. Chloe is the textbook older sister and ultimate hype girl ("The angel that's always in my ear," Halle tells me).
"We'll always squeeze each other's hands or look in each other's eyes and crack a joke," Chloe says, admitting that they both sometimes feel anxious while posing on the red carpet or for photo shoots like this one. I recognize their subtle movements, exchanged glances, and seemingly secret language; it reminds me of the way that my sister and I — and sisters everywhere, really — exist in our own universe.
Chloe and Halle spent their childhood in Atlanta before moving to LA, where they reside today with their parents Courtney and Doug and their 14-year-old brother, Branson ("We're the Three Musketeers," Chloe says). In 2011, they launched their YouTube channel with an impressive cover of Beyoncé's "Best Thing I Never Had." Wearing matching red tank tops and bouncy braided bobs, they showed off melodies reminiscent of vocalists well beyond their years (Chloe was 13, Halle just 11). They would go on to cover hits from John Legend, Alicia Keys, Lorde, and Rihanna. In 2015, their rendition of Beyoncé's "Pretty Hurts" got the attention of Bey herself, and she signed the duo to her Parkwood Entertainment management company. And, as they tell me, being the protégés of a megastar like Beyoncé is a masterclass in ambition.
"She's a boss and she takes care of her own," Chloe says. "She's independent and knows what she wants, and she's not afraid to articulate that." They employ their mentor's take-charge attitude by trusting their instincts when making tough career choices. "That's what we truly admire about Beyoncé . . . she's allowed us to grow in our own right, and as much as she is vocal, she lets us fly on our own."
Up until now, Chloe x Halle's sound has been bright, ethereal R&B soul; they released their debut EP Sugar Symphony in 2016, followed by a critically praised mixtape, The Two of Us. Their 2018 album The Kids Are Alright — with jazz-inflected trap-pop songs like "Happy Without Me," "Everywhere," and the Grown-ish theme song "Grown" — showcased their angelic harmonies, earning them Grammy nominations for best new artist and best urban contemporary album. They solidified their place in history with a chill-inducing performance of "America the Beautiful" at the 2019 Super Bowl.
But with age comes experience and, yes, growth. The new Chloe x Halle era will reflect their sisterhood and the kind of women they aspire to be: powerful, strong, and effortlessly sexy. "We're not little kids anymore," Chloe tells me. Their sound has evolved from light and airy soul-pop into "edgier, grittier" R&B, like something you'd want to hear during an episode of Euphoria. They teased new music during an "electric, intense, and fun" performance at The Forum in LA late last year. "We played two new songs; 'Do It' — that's one of our favorites — and 'Rest of Your Life,'" Halle tells me during a phone conversation after the shoot. She describes both tracks as being high energy with party vibes. While Ungodly Hour will be a clear departure, the sisters seem to be more musically aligned than ever.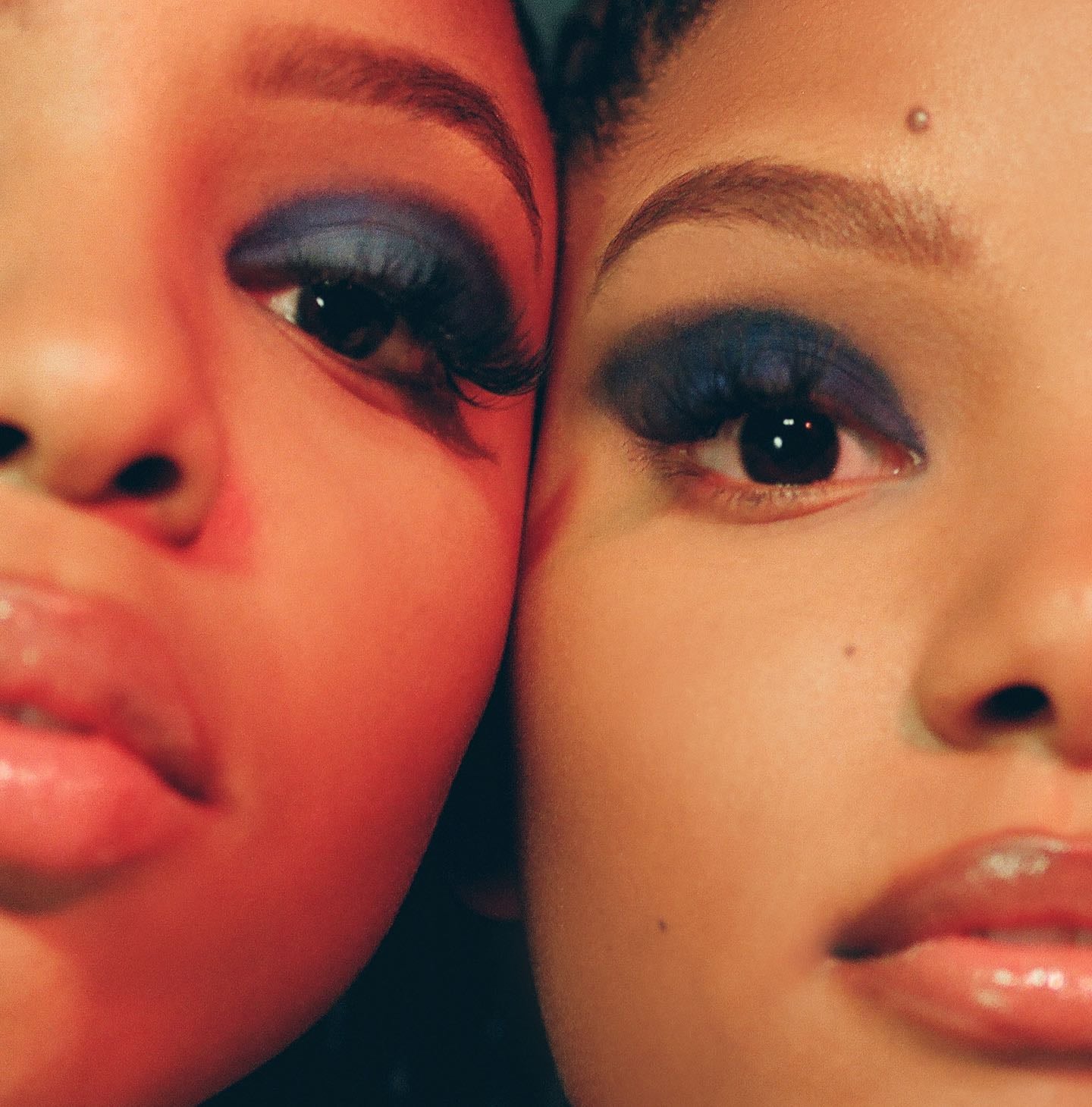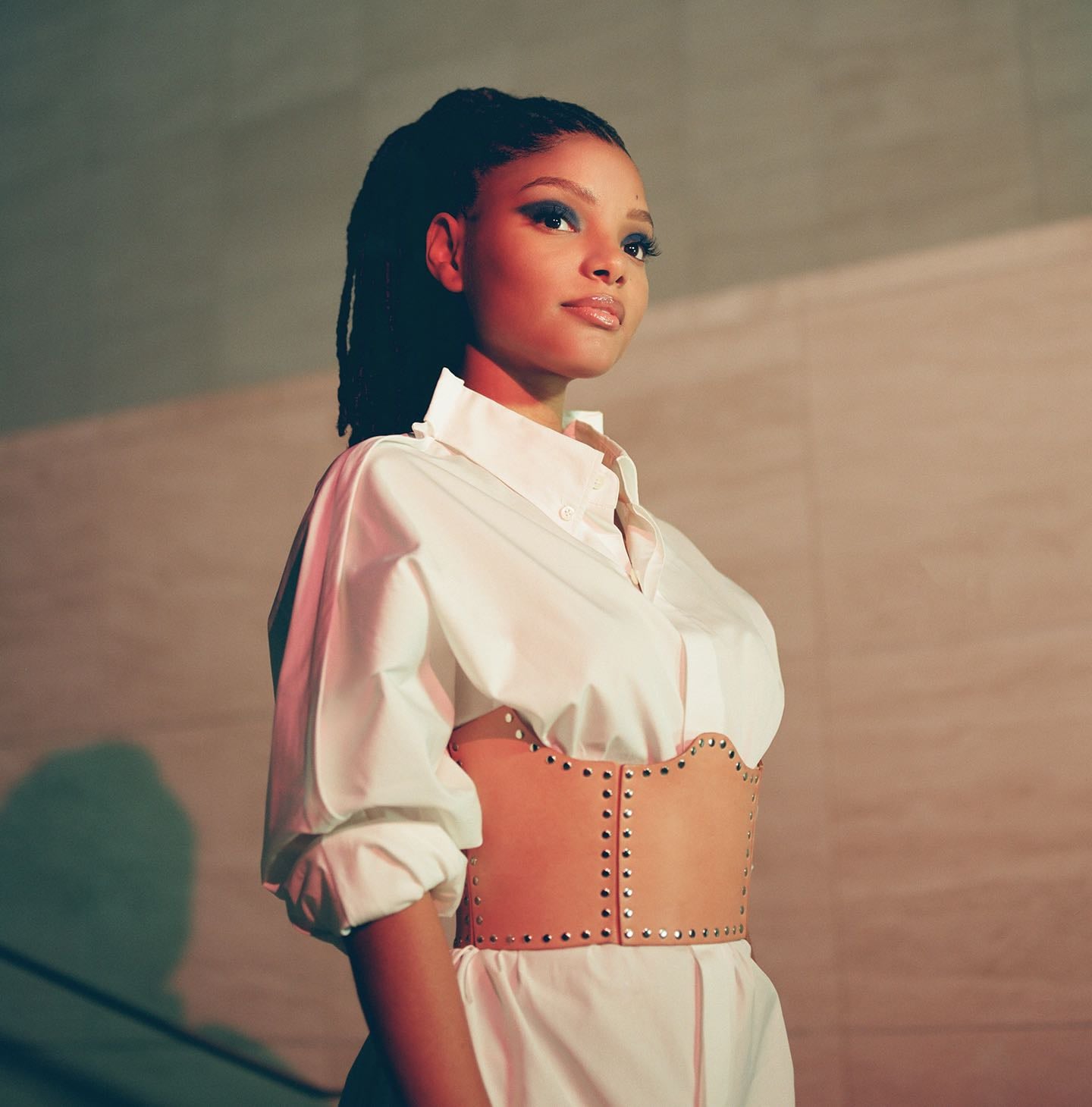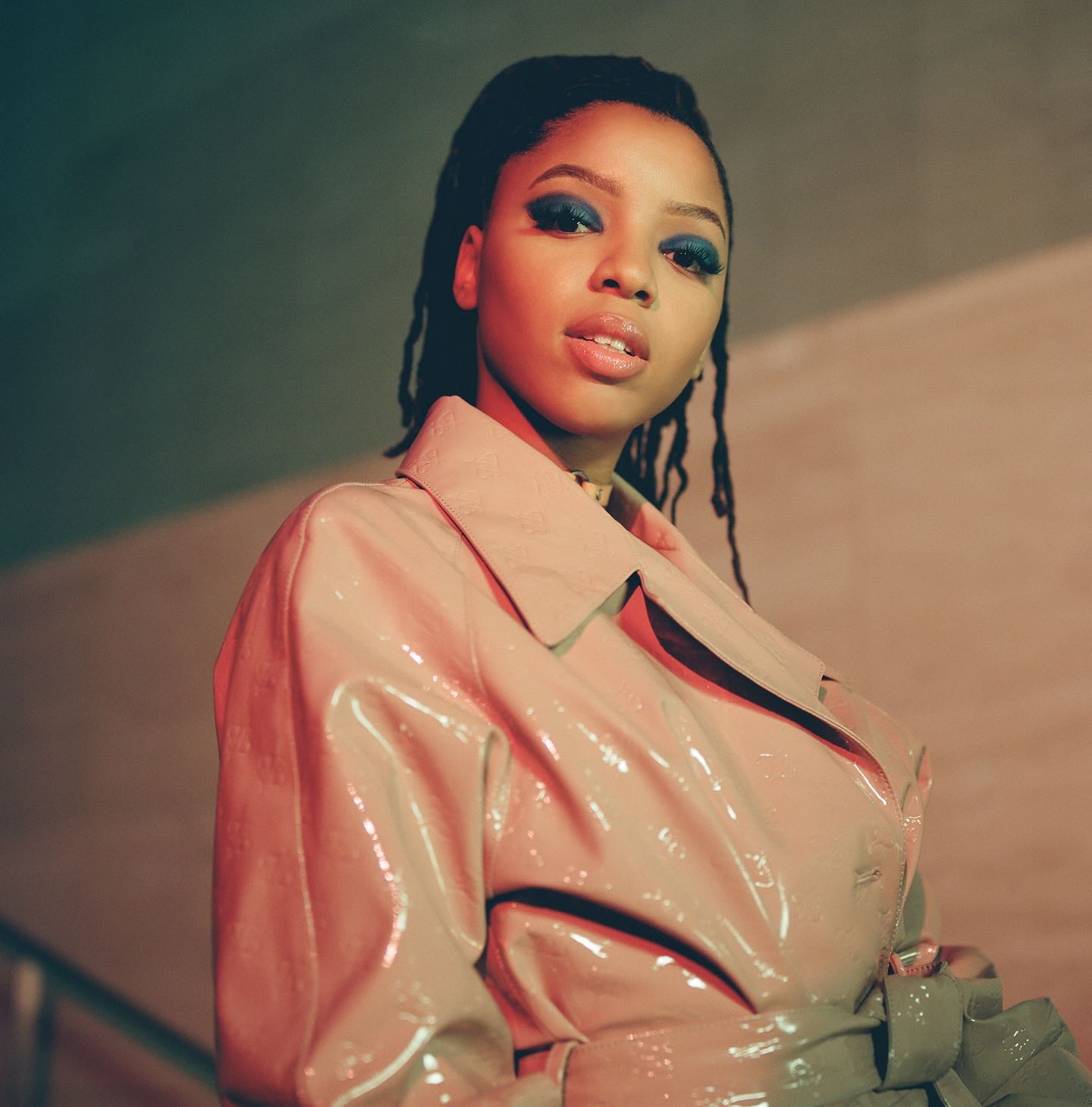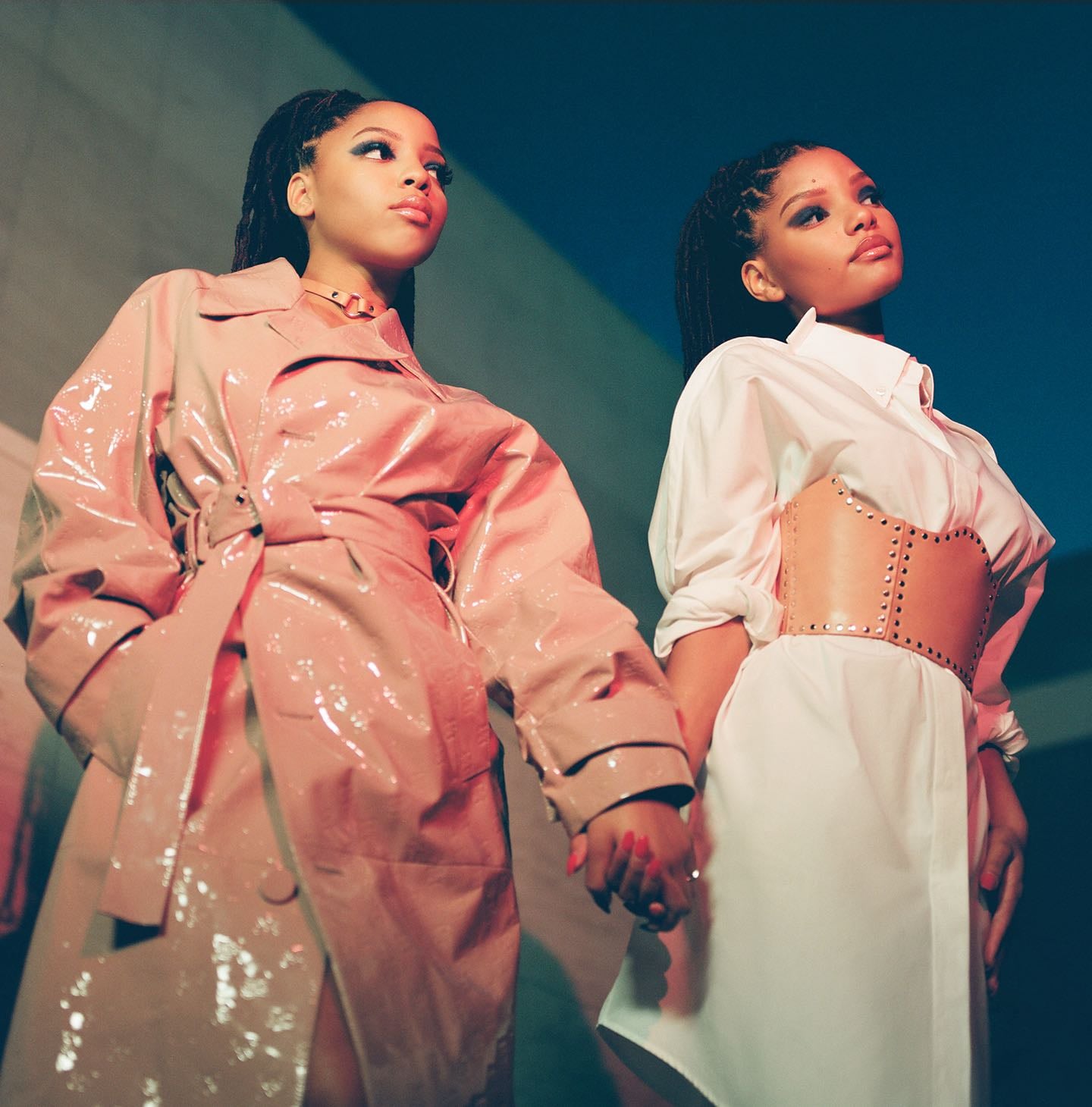 Chloe and Halle say there's no formula to their music-making process. "We feel like that takes away any creativity," Chloe explains. They went delightfully old school for brainstorming sessions, filling two or three poster boards with magazine cutouts representing what the new project should feel like. Before creating music, they keep things breezy by having "tea time and girl chat" and narrowing down the themes they want to write about. "I'll make a beat and Halle will hear some really sick melodies and go on the mic and record them," Chloe says. "I'll lay some melodies down and splice [them] together, and then we do lyrics, but we never force it." Halle nods. "It's much like throwing paint on a wall and seeing what happens, and that's the beauty of it."
When I ask how they landed on the album title Ungodly Hour, Halle tells me that it came from a single studio session with English electro artists Disclosure. "They are two brothers, and they're literally like mirrors of us," Halle says of duo Howard and Guy Lawrence, who they worked with on the up-tempo title track. "[Ungodly hour] was a phrase for that riff. We kind of spoke it into existence, you could say," Chloe continues. She reveals that one of their early mood boards included the phrase "The Trouble With Angels" (possibly a nod to the 1966 religious comedy starring Hayley Mills?), and notes how exciting it's been to tie those themes together.
I spent hours holed up in my childhood bedroom plastering editorial images on any available surface, so it's nice to hear that some methods will never go out of style. But let's not get it twisted: Chloe and Halle aren't two girls making cute collages — they're artists with a precise vision and the talent to execute it. Their technique is free-flowing, but there's a keen attention to detail that influences those working with them. Singer-songwriter Victoria Monét, who helped pen chart-toppers for Fifth Harmony and Ariana Grande, collaborated with Chloe and Halle on Ungodly Hour. She confirmed my theory that they are Black girl magic personified. "I really admire their spirit," Monét said over email. "They feel amazing to be around, and their voices represent that."
"They're so hands-on with everything, from melodies to lyrics and production," Nija Charles said over email. The 22-year-old songwriting phenom produced hits for Cardi B and Summer Walker and worked on the sisters' sensual kiss-off "Forgive Me." "Watching them work always makes me go back home and want to perfect my craft." Hands-on is certainly one way to describe the sisters, who play a role in writing, arranging, producing, and playing instruments on nearly all of their own music.
What does it mean to two young, gifted, and Black businesswomen to have so much creative control of their work? "Since we were young, our parents instilled in us the power to do things on our own, and not rely on people if [we're] just as capable," Halle says. This encouragement is what motivated them to learn instruments and produce their own music as preteens. Although extraordinary on their own, Chloe and Halle are quick to praise those who have inspired them along the way. I can tell they harbor a deep sense of sisterhood within their own circle, a tight-knit group of family and close friends with the occasional superstar thrown in. It's galvanizing for them to see other young stars doing equally amazing things.
"I stan over Zendaya. I love her, and Normani," Chloe says, beaming. "There are so many amazing women right now, and I'm just happy to be a part of this generation with them." Halle agrees, shouting out Grown-ish castmates Yara Shahidi, Francia Raisa, and Emily Arlook as women who uplift them when they're low. The feeling is mutual for 19-year-old Shahidi, who told me being part of Chloe and Halle's atmosphere is "truly a gift." "We share successes, challenges, frustrations, everything!" Shahidi said in an email.
"I define sisterhood as an eternal bond with your best friend," Halle tells me. "I'm so fortunate that I get to do this with my sister every day." She looks up to Chloe more than anyone else; after all, as an older sibling, there's a responsibility (and sometimes pressure) to protect, guide, and set a good example. But Chloe is just as heart-eyed about Halle and lights up when talking about her. "Forget all the business stuff and the music and acting; this is my best friend," she says. "Whenever we're apart for 15 minutes, we're like, 'I miss you!' We're texting each other, FaceTiming. I love this one."
I make a mental note to respond to unread texts from my sister.
"You'll need each other one day" is something I heard a lot growing up, especially when being reprimanded for terrorizing my younger sister. And it occurs to me that Halle and Chloe might need each other even more this year. In 2020, they are each embarking on big solo projects: Chloe in the supernatural thriller The Georgetown Project, her first major movie role as an adult, and Halle as Ariel in the upcoming live-action adaptation of The Little Mermaid. For Chloe, a self-professed scaredy cat, working on the "sophisticated horror film" with the likes of Russell Crowe, Ryan Simpkins, Samantha Mathis, and David Hyde Pierce has been a real game changer.
"When I got the script, I fell in love with it. I was like, 'I have to do this,'" Chloe tells me. The movie follows a troubled actor (Crowe) who unravels while filming a thriller, and Chloe plays an actress cast alongside him in the project. She learned a lot about herself during the production process, but more importantly, she conquered her fear of scary movies. "I know how it works behind the scenes, so now when a scary movie trailer comes on, I don't close my eyes."
When the topic turns to The Little Mermaid, Halle's enthusiasm is palpable. "It's so overwhelming, and beautiful, and breathtaking. I'm like, 'Wow, am I really doing this?'" she tells me. When I ask what she hopes to bring to such an iconic character, Halle takes a beat. "Freshness," she says. "Just being authentically me. It's amazing that the directors have been so forward in asking me to show my true self . . . that's been a really fun growing experience." Halle also tells me that she's most looking forward to the music ("Of course!"), and reveals that the movie will feature classics like "Part of Your World" and new songs written by composer Alan Menken, who scored the 1989 animated film. "I've been a fan of The Little Mermaid since I was 5, so those new songs are very exciting to me, as well as the old," Halle says. "That's probably like, ding, ding, ding! My number one."
Halle's history-making casting news was announced in July 2019 and marked a major win for diversified representation, but drew criticism from those who don't think a Black woman should play a fictional sea creature. The defense came swiftly: Little Mermaid director Rob Marshall and Jodi Benson, the original voice of Ariel, showed support, as did Beyhive members worldwide. After spending a day in her presence, I can corroborate that Halle — with her doe eyes, dulcet-tone voice, and winsome charm — was born to play the role. I ask how she approaches the downsides that can come with celebrity. "It's beautiful that people are tuning in to our lives and that they love what we're doing, and I just think of them as friends," she says, unfazed.
Chloe's older-sister senses are tingling. She sits up a little straighter. "You know when certain apps crash?" I do; a Twitter blackout is secretly one of my favorite things. "Who are you without these things, without your followers? You realize that you can't rely on outside validation for who you are as a human being. If I think I'm amazing, then I'm amazing."
The sisters have flourished in the industry as Chloe x Halle the duo, two halves of a preternaturally talented whole. They appear at events together, maintain joint social media accounts, and don't have separate Wikipedia pages (though that's certainly going to change). They're a dream team, navigating fame by leaning on each other. Working separately allows them to stretch as individuals, but as their careers evolve, it's inevitable that their relationship will, too. Chloe seems genuinely joyful watching Halle grow into her own. "I see it happening right before my eyes and it makes me really happy," she says. But those feelings of pride haven't come without a bit of loneliness, too — especially as Chloe films her first solo project.
"In the beginning I was really, really sad," she tells me. There have been plenty of tears and, according to Chloe, plenty of text messages, too. "[Halle] texts all the time; daytime, all the time," Chloe laughs. "To have someone who's always in your corner encouraging you, and making you feel better when you're down . . . it's just such a good feeling. I'm just happy to have her as my partner in crime in life."
Naturally, it's also been "a little scary" for Halle, who admits that she's been clinging to her sister over the years. Just as Chloe is the consummate firstborn, Halle fits snugly into her role as little sis, always looking to her "safety blanket." She tells me that visiting Chloe on the set of The Georgetown Project gave her a new perspective. "I was just so proud of her, because you always want to see your beautiful sister succeed," Halle says. "We always do those monumental things together, so when I was able to be on the outside and look in, it was really cool." Ultimately Halle realized that — like gluing magazine cutouts to poster boards — some things don't have to change: "Regardless of if I'm branching out, she's always going to be there. That bond and our sisterhood will never go away."
Though some things may be mapped out — production schedules, release dates, fishtail fittings — so much more lies ahead for Chloe and Halle. I ask where they see each other in five years. Halle springs up; she sees Chloe with every award in the book. "She's going to flourish. What do you call it? EGOTs?" Chloe's five-year vision includes even more plastered photos, but this time they're of Halle, and they're on giant billboards across the world. "I'll be hearing her voice [singing] while walking down the street like, 'Who is that? Oh yeah, that's my sister. I know her. You don't,'" she says.
The three of us laugh, but their predictions aren't out of the realm of possibility. Their Grown-ish costars agree: actor Trevor Jackson tells me he hopes to see them collecting armfuls of trophies and "truly dominating the world." Shahidi insists Chloe and Halle's hard work knows no bounds and remembers them simultaneously filming season one of Grown-ish and mixing their debut album, The Kids Are Alright. "The sky is not even the limit," she cosigned.
Chloe and Halle have more to shoot before the sun sets in smoky LA. It's been a long day, but their energy is still straight-up sparkly. We wrap up our conversation, exchanging thank yous before they disappear to the wardrobe area. They'll model more effortlessly sexy pieces from Nina Ricci and Fendi, cheerleading each other during lighting changes and eye shadow touch-ups, before the day gives way to night. As the sky changes, so does the vibe. Chloe is jetting off to North Carolina to film tomorrow morning without her sister, and they seem to be soaking up this moment in time. Things are coming to a close both on set and in their lives, chapters ending and new ones beginning. But no matter what comes next — together or separately, making music or making moves — Chloe and Halle will keep throwing paint at the wall and seeing what beautiful things come out of it.
There's no magic formula. It's just what we sisters do. ★
Editorial
Editors: Lisa Sugar, Nancy Einhart, Lindsay Miller Copy Editor: Bryce Aston Talent Booker: Kristin Harris
Creative
Photographer: Kanya Iwana Creative Direction: Jenny Anna Ung Art Direction: Jae Payne Wardrobe Styling: Dana Avidan Cohn Hair: Tinisha Meeks Makeup: Christiana Cassell Prop Styling: Pakayla Biehn Production: Laura Lehman Video Production: Kyle Hartman, Kyle Cowgill, Sandra Salas Product and Site Design: Joslin Lee, Sam O'Donnell