Puerto Rico 5 Years After Hurricane Maria
Where Are Puerto Ricans 5 Years After Hurricane Maria?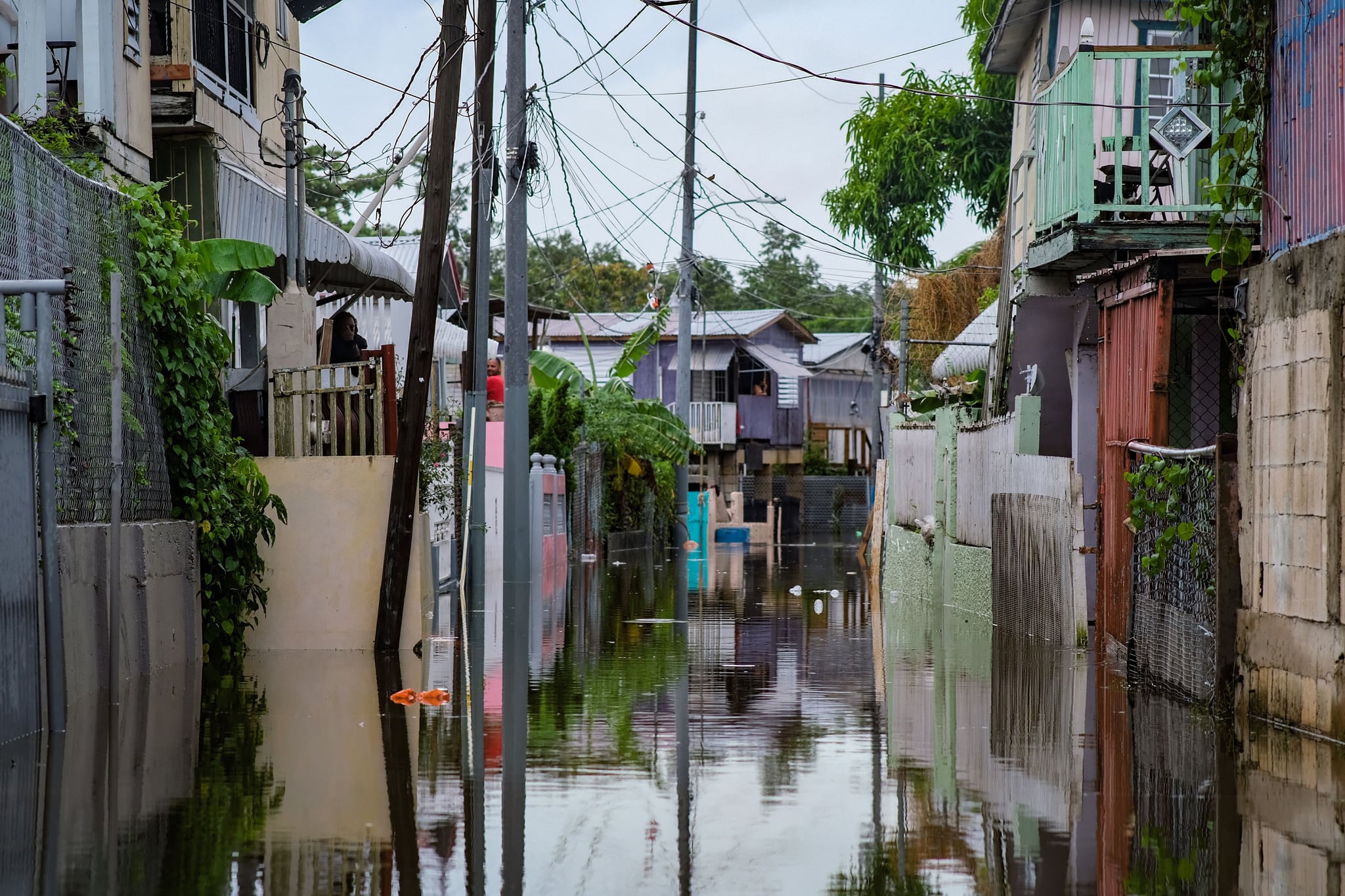 Puerto Rico has faced multiple natural disasters in the last five years. On Sept. 6-7, 2017, category five Hurricane Irma passed through Puerto Rico. Then, on Sept. 20 of that same year, the notorious category four Hurricane Maria arrived. Then, on Jan. 6, 2020, a 6.4-magnitude earthquake struck the island, followed by aftershocks that experts say will continue for years or decades. This year, another hurricane has created catastrophic damage to Puerto Rico: category one Hurricane Fiona. An island-wide blackout took place this past Sunday. Although the Saffir-Simpson Hurricane Wind Scale (1-5) can estimate the potential damages based on wind speeds, it does not account for "other potentially deadly hazards such as storm surge, rainfall flooding, and tornadoes." This year, it was (and is) the nonstop rainfall that caused record flooding across the island. This was seen in the town of Utuado on Sunday when the flood broke off a temporary metal bridge placed after Hurricane Maria.
As climate change continues to be a part of our everyday lives, our people continue to face disasters that are labeled as "unprecedented" and "life-threatening." It is no longer acceptable to replace damaged structures with models and technologies from yesterday. The Puerto Rican electrical infrastructure was still being repaired from the damages of Maria and has now been set back. The people of Puerto Rico have demonstrated their frustrations with protests, including one that was held in the summer of 2019, and now with LUMA Energy. For many Puerto Ricans, the electrical grid system has been an unreliable source of energy, be it from mismanagement or outdated technologies. Some citizens like Juan J. Bibiloni-Rodríguez, MD, FAAOS, have turned to solar energy as a cleaner and more efficient solution.
Dr. Bibiloni-Rodríguez divides his time working as an oncologist at the Recinto de Ciencias Médicas de la Universidad de Puerto Rico and as a coffee farmer at Café Idilio. Before Maria made landfall on the island, he collaborated with an architect and a structural engineer to Maria-proof his "hacienda" and houses across his farm. His machines and structures did not suffer severe damage, but the crops were lost to the hurricane. "I had 28 cuerdas (Spanish acres; 1 cuerda = 3,930 square meters), and I lost 100 percent of the coffee," Dr. Bibiloni-Rodríguez tells POPSUGAR. "We had coffee trees that had eight to nine years in peak process of production."
The neighborhood where his farm resides in Jayuya, Puerto Rico, did not have power for about 10 months after Maria. Between six to eight months after the hurricane, Dr. Bibiloni-Rodríguez started placing solar panels on his farmhouse. In 2019, about 15 other agriculture farmers and himself were able to completely switch to solar-powered energy with funding from the Banco de Desarrollo Económico para Puerto Rico, the Innovation Fund for the Agricultural Development (FIDA in Spanish), and the Puerto Rico Electric Power Authority (PREPA, or AEE, in Spanish). This was the same year the Puerto Rico Energy Public Policy Act was approved. Dr. Bibiloni-Rodríguez says, "I have the great luck that I switched everything to solar. Well, I say luck, but we also designed it that way. We've become independent from the electrical energy."
Before LUMA took over, there was PREPA, and Puerto Ricans were already seeing poor electrical management by the latter. On June 1, 2021, the responsibility of transmission and distribution was officially transferred to private American-Canadian company LUMA. Its sole purpose was to fix the electrical crisis in Puerto Rico. It's been more than a year, and before Fiona came, many customers were having outages every week. These American citizens live with constant unknowns regarding power for essentials like running water, medical devices, and refrigerators. There can be outages where all electrical appliances are turned completely off and others where it comes and goes, causing damage to these technologies.
Hospitals like Centro Médico de Puerto Rico have also experienced power outages, before and during Fiona, and patients with life-threatening conditions needing treatments like dialysis are in danger. On Aug. 21 of this year, a video posted on Twitter showed the Auxilio Mutuo Hospital having no electricity. POPSUGAR spoke with Zorimar Betancourt, founding director of the nonprofit Fundación Stefano. During the reinforcements after Hurricane Maria, Betancourt dedicated her time to flying patients with serious conditions to places like Florida, Texas, South Carolina, and New Jersey. She collaborated with private charter companies, pilots, and donors to fly dialysis and chemotherapy patients of all ages to continue their treatments safely. Betancourt remembers, "I would say I didn't want money, what I wanted were planes to get people out and to take donations to Puerto Rico."
Betancourt explains how the foundation offers "psychological services, palliative care, and social work free of costs to families that are going through trauma in the mourning of their loved ones." The "participants" who come to the foundation can find support at local events, workshops, and appointments, but with the electrical outages on the island, they've had to cancel the latter. "It's a delicate service we provide," Betancourt explains, "and we need that private and safe space inside our offices to provide that service."
"The electrical plants on the island are antiquated. And it's going to take time to redo everything that has not been done for so many years and especially after Maria."
Although LUMA has been working on distributing power to the island for more than a year, Betancourt still believes that it is not enough time to fix everything that was needed 40-50 years ago. She points out, "The electrical plants on the island are antiquated. And it's going to take time to redo everything that has not been done for so many years and especially after Maria." Most of the island's energy is derived from four main oil power plants that were built between 1960 and the '70s: Costa Sur, Complejo Aguirre, San Juan, and Palo Seco. The island does not have production or reserves in petroleum, natural gas, or coal, which means everything is dependent on imports. And yet these are the main energy sources on the island.
In 2019, Puerto Rico's government set renewable-energy goals for the following years: 40 percent by 2025, 50 percent by 2030, 60 percent by 2040, and 100 percent by 2050. According to the US Energy Information Administration, as of December 2021, about three percent of the island's total electricity was conducted from renewable energy. Puerto Ricans have been demanding a better electrical system for decades and a switch to renewables for years. A 2008 study from El Colegio, or the University of Puerto Rico, Mayagüez, presented achievable renewable-energy targets using realistic constraints around wind, solar, and wave energy. Professor Mauricio Cabrera, who specializes in industrial engineering, expands on the use of multiple clean-energy sources: "If we want to last, hold off after the next hurricane, if we want to lower the costs [of electricity], we shouldn't bet on just one industry. We need the diversity."
Then there's the National Renewable Energy Laboratory's technical report from 2011 that shows the costs, placements, and efficiency for solar-powered options and how to selectively place them on the island's landfills. Environmentalists like Myrna Conty compiled scientific facts, educational goals, and financial planning for the Puerto Rican government on this issue with a proposal called "Queremos Sol (We Want Sun)." "It's a proposal to transform the energy system in Puerto Rico," Conty says. "That also does not want to continue burning fossil fuel. Instead, we want to use renewable energy with solar panels and batteries on roofs." The creators of the proposal include "environmental groups, university professors, citizens, and labor movements united to form the truth," Conty says, "to prepare, study, and recommend a solid proposal with scientific evidence."
"In a country like ours, where there is so much sun, I would vote for everything to be solar. I think anyone who can convert to photovoltaic should do it."
Conty and her colleagues have been preparing information around renewables for years, even before Act 120 was approved. According to Myrna, Act 120 was the beginning of the privatization of PREPA. Myrna explains, "Act 120, the law from 2018, is the one that privatizes the energy service, and by privatizing it, it means that a private company is underway." Before Fiona struck the island, we asked Dr. Bibiloni-Rodríguez, Betancourt, Cabrera, and Conty, "Do you think Puerto Rico can withstand another Maria?" Betancourt says, "I don't think we are ready for another Hurricane Maria, in terms of infrastructure." Everyone can agree that no one wants to see this become a reality. However, if it comes to it, "our people are resilient," Conty says. "I think we are better prepared than we were for Irma, Maria, and the earthquakes," Cabrera chimes in. And when it comes to switching to renewables like solar energy, Dr. Bibiloni-Rodríguez believes, "In a country like ours, where there is so much sun, I would vote for everything to be solar. I think anyone who can convert to photovoltaic should do it."
What have we seen so far with Fiona? Our people are rescuing and aiding each other. Just like after Maria, Puerto Ricans are not waiting for their government and electrical company to act in the post-Fiona times. As for the people on the island, they are reliving the trauma of another Maria-like scenario. For people in the diaspora, like myself, the sense of powerlessness seeps in as I watch the disaster from my computer screen. It will be up to the people of Puerto Rico, on and outside the island, to decide what happens next. Many have already lost trust in the government's power to help those in dire need of essentials. They have and are still taking it upon themselves to help their neighbors through the floods, but it is not enough nor is it a sustainable system.
"While we focus on providing Puerto Ricans with the immediate humanitarian assistance needed, we must also push for climate-resilient infrastructure to safeguard the island and its residents in the long-term."
Maria and Fiona have taught us many things. They have demonstrated the willpower and resilience that grows in the people of Puerto Rico. When it comes to power across the island, literally and figuratively, it belongs to the people. Moving away from the centralized, fossil-fueled electrical system has the opportunity to save lives. Luis Martinez, director of the Climate & Clean Energy Program from the NRDC, explains, "While we focus on providing Puerto Ricans with the immediate humanitarian assistance needed, we must also push for climate-resilient infrastructure to safeguard the island and its residents in the long-term. Developing decentralized solar energy is a part of this solution, which can give islanders independence from the centralized power grid that is currently failing, supply reliable and stable access to energy, and place control of crucial adaptation resources directly in the hands of local leaders."
Puerto Rico cannot continue to sustain the forces of nature that will continue to increase due to climate change with fossil fuels.