ABC Edited The Bachelorette Trailer
Um, This Key Moment From The Bachelorette Trailer Never Really Happened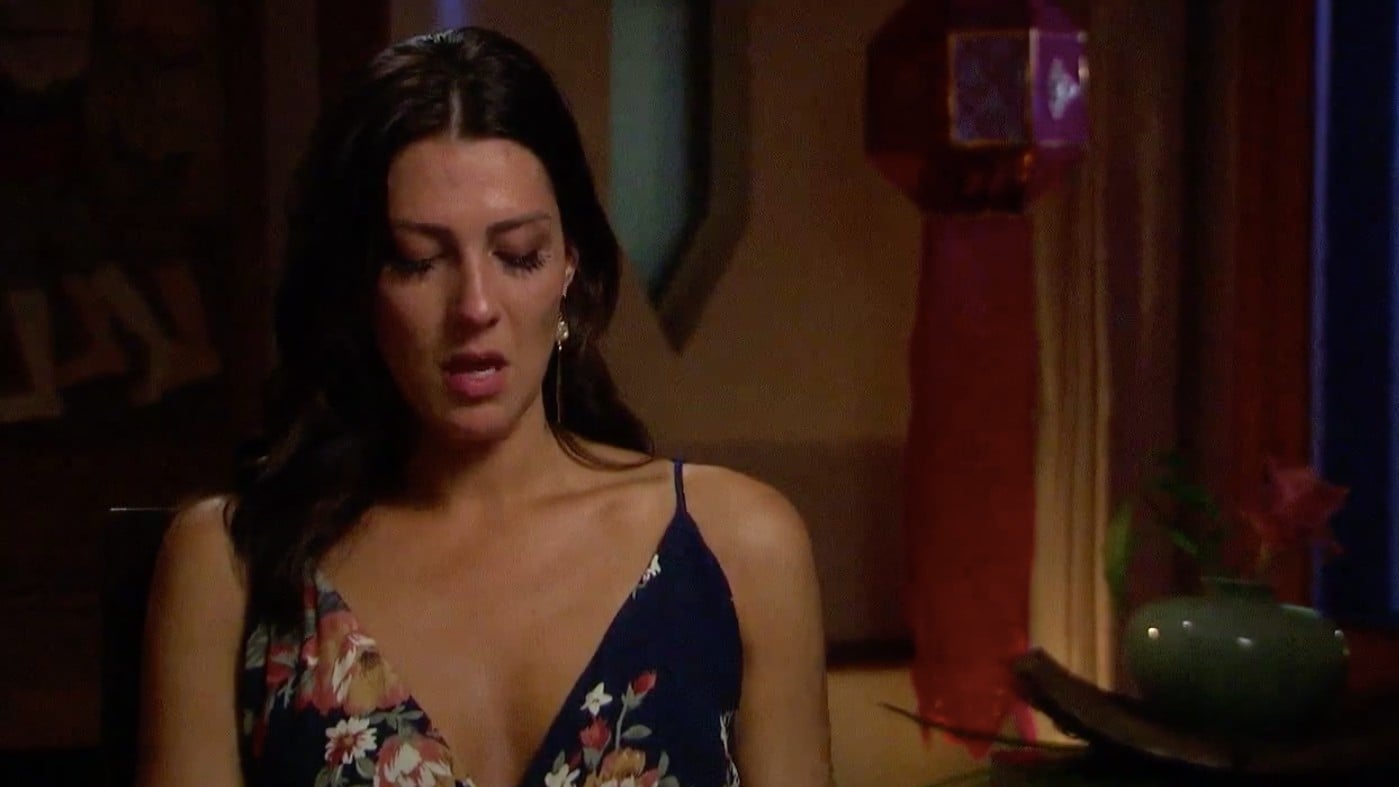 Think back to the first episode of The Bachelorette season 14. Leading lady Becca Kufrin had sent home her first batch of guys (sorry, Grocery Store Joe), and Chris Harrison rolled that beautiful "coming up this season" trailer. It's an important moment for any new season of the reality show, when we get to learn which fresh-faced contestants will become villains, which tropical locales we'll visit with the production, and which men are falling in love with the Bachelorette. This season, however, there was a particularly shocking moment — one that didn't happen.
Becca was hot off the heels of a horrific trainwreck of a breakup with Bachelor Arie Luyendyk Jr. when she agreed to become the Bachelorette. Still raw from the failed relationship, she forged ahead, making new connections. We see all this in the trailer, but things come to screeching halt when we see her sobbing on her bed (around 1:20 in the video below).
"He literally just did what Arie did to me," she said, between gasps.
Cut to Chris R. tearing down Lincoln in a confessional: "It's completely disgusting that someone would do that, but it just shows what kind of liar and manipulator Lincoln is, and I'm really hoping that Becca sees the lies."
As we now know, those clips are taken from two very different parts of the season. Let's for a minute ignore the fact that they edited it together to look like Lincoln was the one who made Becca cry (in fact, let's ignore Lincoln altogether.)
This line — "He literally just did what Arie did to me" — is important, as it implies that at some point during the season, one of the guys dumps Becca. I know I'm not the only one who watched that clip in horror, wondering who could be so heartless. As it turns out, though, not only does that not happen, that's not even what she says.
That clip is taken from the night she broke up with Jason, and the real line is: "I literally just did to him what Arie did to me." She's the heartbreaker, not the other way around! Watch for yourself — the moment happens about 45 minutes into episode nine.
ABC set us up for an entire storyline that never happened. It's one thing to stitch stories together, but to fully manipulate audio like that? It's straight-up unethical. This is just yet another reason this season has been the worst, and though I'll still watch Bachelor in Paradise, I'm not happy about it.