Source: POPSUGAR Photography / Tegan Butler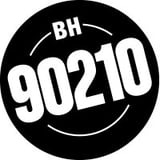 We've partnered with FOX to celebrate the premiere of BH90210 by bringing the iconic Peach Pit to life. Catch new episodes of the limited series on FOX on Wednesdays at 9 p.m. ET/8 p.m. CT.
Every high school has that one hangout that everyone frequents. It's the place you might take first dates, "study" pre-calculus over milkshakes, or just hang out with your friends until curfew hits.
For the characters of Beverly Hills, 90210, that place was the Peach Pit. The old-school diner is where the gang came to chat through bad breakups, grab some fries after class, or even pick up a shift for extra cash. The burger joint was such a hot spot, it even spawned the After Dark nightclub where all the trendy new bands played.
So what could be a more fitting location to celebrate the return of the original West Beverly Hills High gang — Gabrielle Carteris, Shannen Doherty, Jennie Garth, Brian Austin Green, Jason Priestley, Tori Spelling, and Ian Ziering — in BH90210 than the Peach Pit? In honor of the new show, POPSUGAR created a real-life Peach Pit in Los Angeles, complete with burgers, milkshakes, retro decor, and even an after-hours bar. Ahead, check out the buzzworthy photo moments, classic treats, and fun cocktails at the Peach Pit pop-up, and get excited to watch BH90210 on FOX every Wednesday at 9 p.m. ET/8 p.m. CT.