Beyonce's Fifty Shades of Grey Song
9 Questions We Have About Beyoncé's Fifty Shades of Grey Song
Fifty Shades of Grey and Beyoncé fans went crazy on Saturday night after the singer shared the movie's teaser on Instagram. We were not only treated to new visuals of Christian Grey and Anastasia Steele, but also what sounds like a dark and dirty remix of Queen Bey's "Crazy in Love." It all has us hoping for one thing: a Beyoncé single on the official soundtrack. Before the rumored song is announced, we have some pertinent questions about Bey and the movie that we need answered ASAP.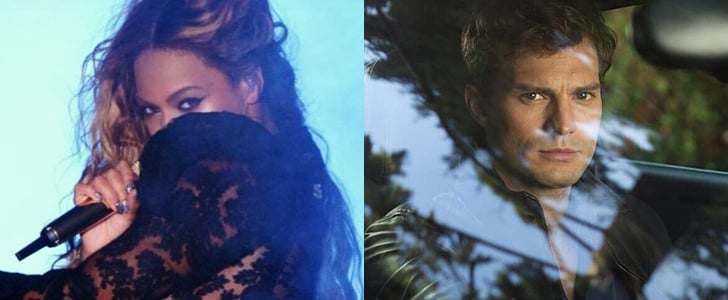 Did Queen Bey do this because she's a real Fifty Shades of Grey fan?
If so, what's her favorite chapter?
OK, "Crazy in Love" definitely describes the dynamic between Christian and Anastasia. But really? Why would Beyoncé redo an old song for a new project? We hope this is just a warmup.
Did Bey film a top-secret cameo? We didn't see her in set pictures.
Singer Rita Ora is in the movie. Will Ora and Beyoncé duet?
Let's talk about Jay Z. Will he capture Christian's perspective in a verse?
How insanely sexy will the music video be?
Will Bey go S&M on us?
And finally, we need to mark our calendars for this track. Is the song just going to magically appear on iTunes in recent Bey fashion?
We're waiting for your call, Beyoncé.
Sources: Instagram user beyonce and Focus Features