Bohemian Rhapsody True Story
Bohemian Rhapsody's True Story Will Rock You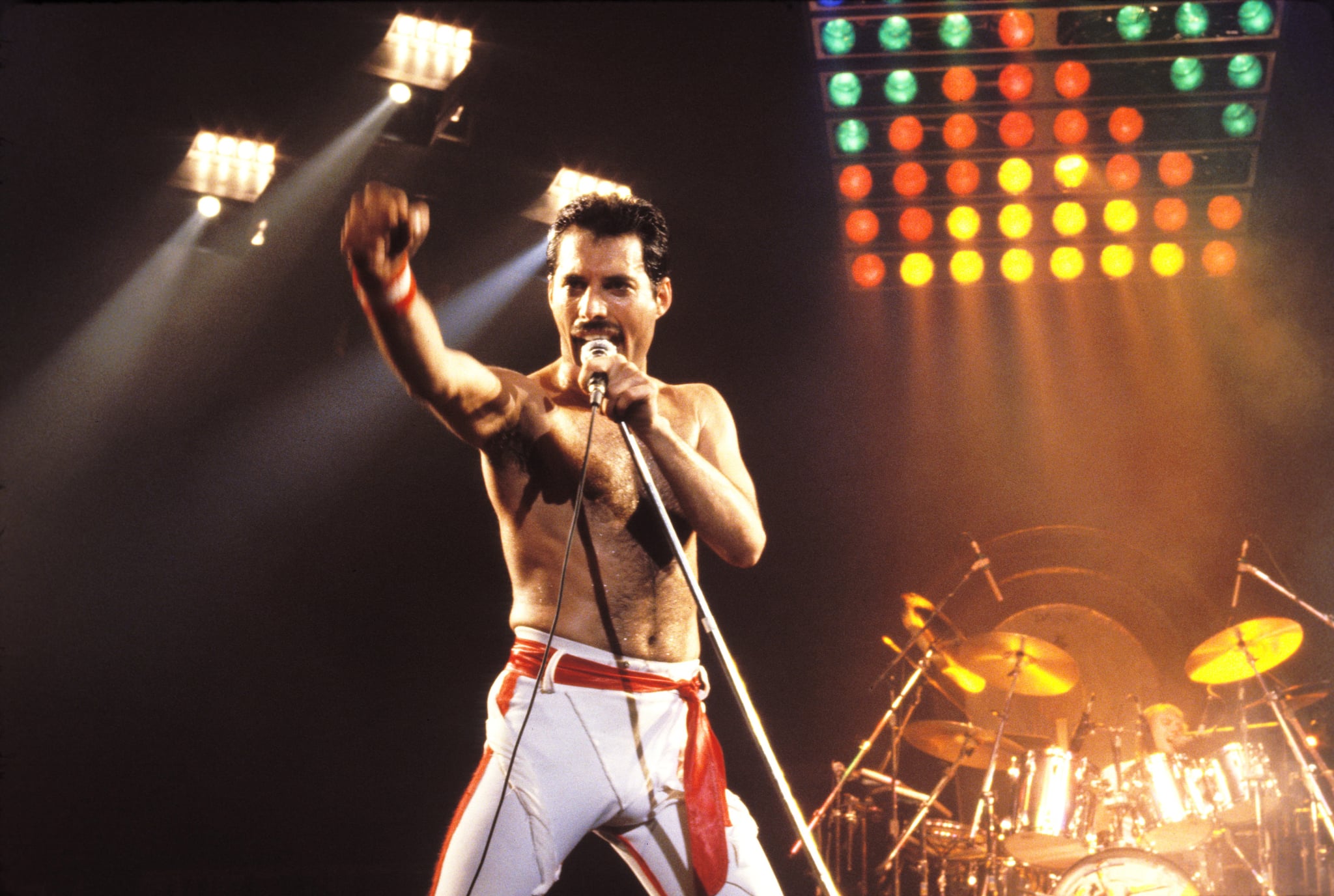 Mercury in 1982. Image Source: Getty / Steve Jennings / WireImage
There's no denying that the first trailer for the Queen biopic Bohemian Rhapsody is a rocking celebration of the band, especially its lead singer, Freddie Mercury, played by Rami Malek. Despite its musical flourishes and impressive shots of Malek seeming to effortlessly inhabit the iconic singer's persona, the trailer doesn't give away much about the actual plot of the movie.
Bohemian Rhapsody is set to explore the rise of Queen straight through until their legendary performance at the Live Aid benefit concert in 1985 — at least, that's what the maddeningly vague synopsis says. In truth, there's so much more to Mercury's story than just his hit songs, and his real-life tragedies and triumphs appear to be hiding in the margins of the trailer, as well as in the casting details for the film.
Queen officially formed in 1970, and by 1971, they had assembled the lineup that would make them famous: drummer Roger Taylor, lead guitarist Brian May, bass guitarist John Deacon, and lead singer Mercury. In the beginning, everyone aside from Mercury was pursuing a college degree. Rock and roll wasn't their life yet, and it still wasn't after they released their first album. However, for Mercury, who attended an all-boys boarding school called St. Peter's Church of England School in India, music was the only profession that he wanted.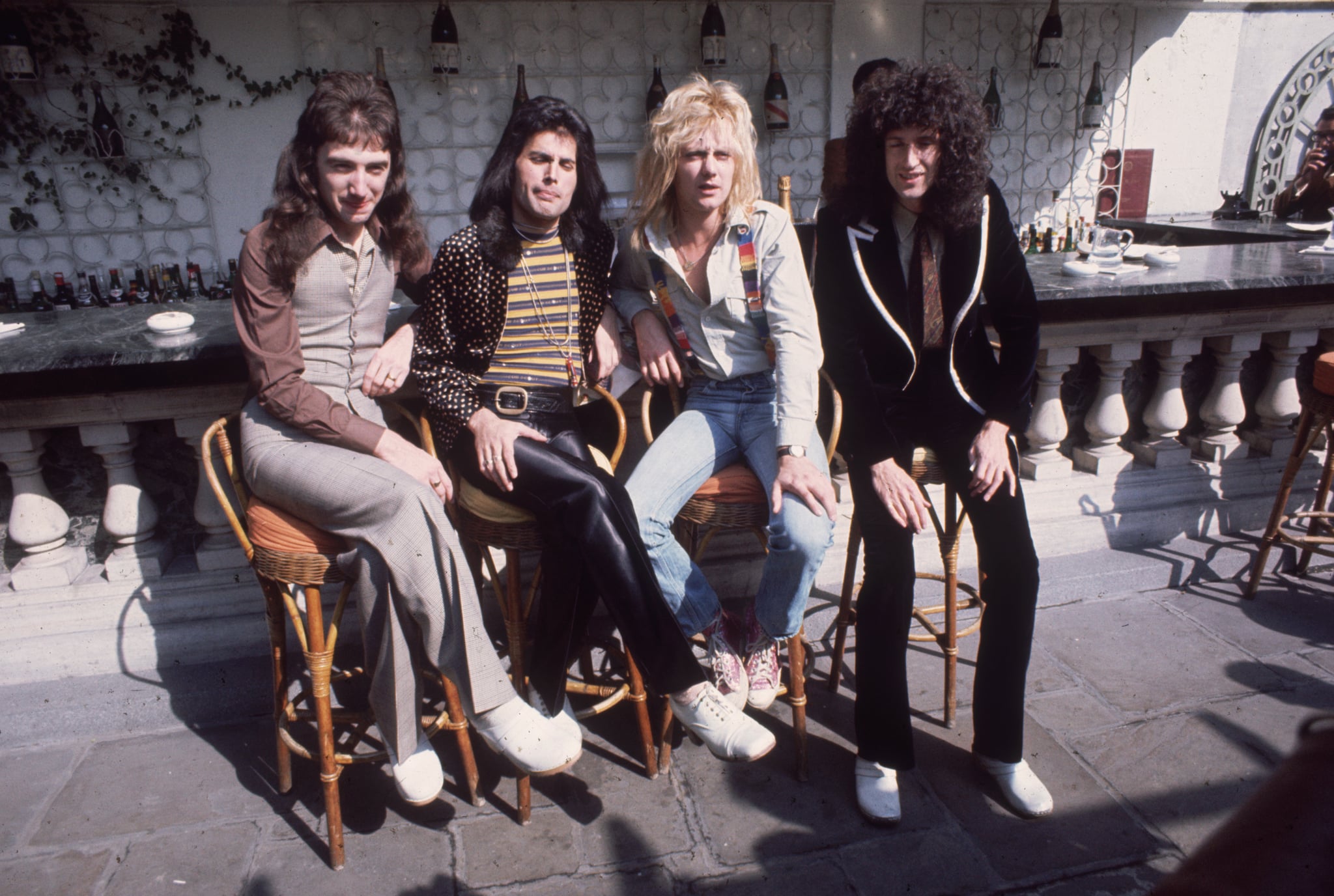 Deacon, Mercury, Taylor, and May in 1976. Image Source: Getty / Keystone
The singer not only named the band, but also shaped their style and convinced the others to give up on the idea of a plan B in order to devote themselves entirely to developing their sound. In a 2014 retrospective for Rolling Stone, May said, "If we were going to abandon all the qualifications we had got in other fields to take the plunge into rock, we weren't prepared to settle for second-best."
By the time Queen released A Night at the Opera in 1975, they were a creative force to be reckoned with. However, behind the scenes, fame brought its own set of troubles. For all of his talent, Mercury was also a man of excess, and, according to Rolling Stone, he spent as much time drinking in Munich clubs as he did creating music. His life off of the stage was chaotic, and his partying ways put a strain on the band.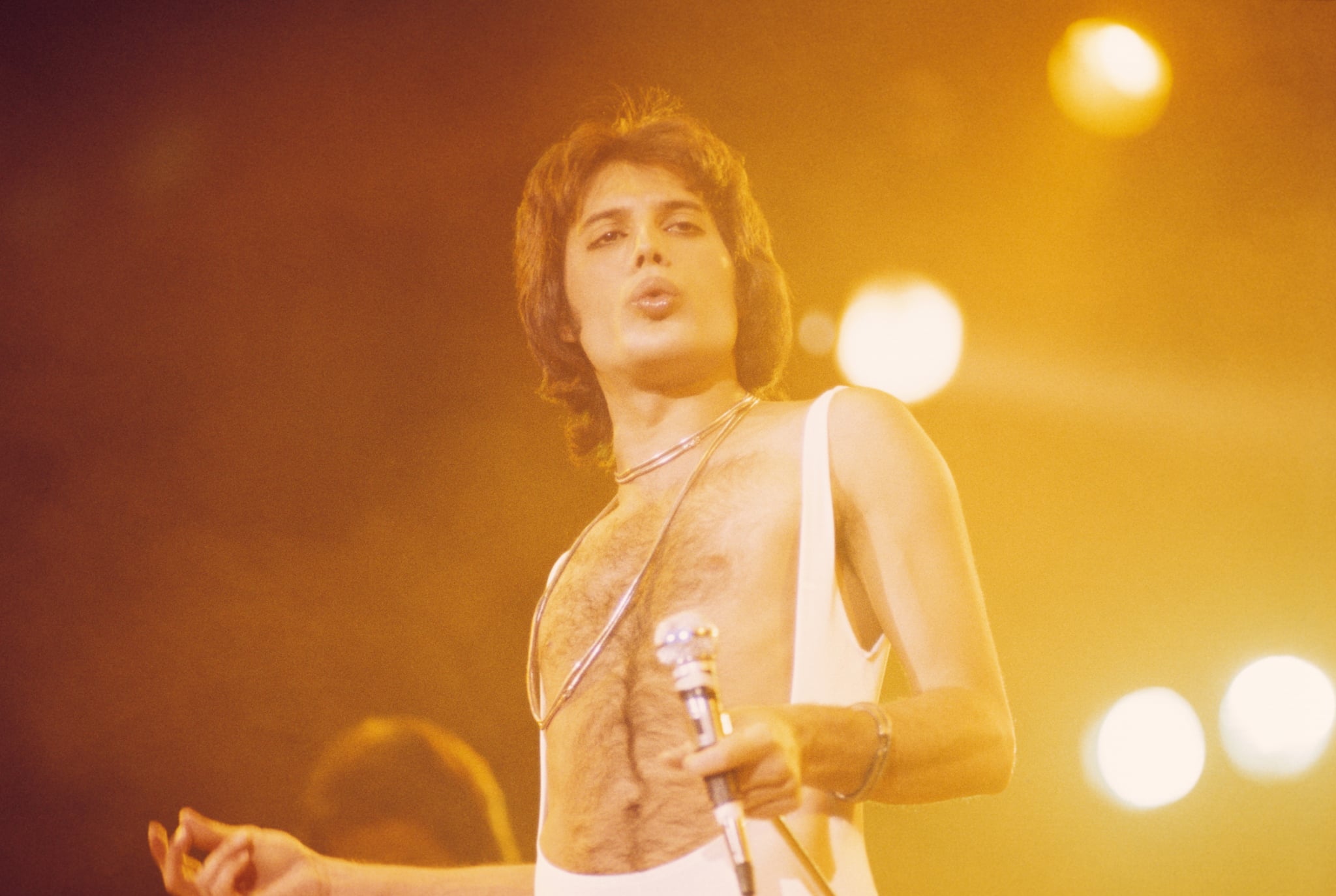 Mercury in 1977. Image Source: Getty / Tom Hill / WireImage
Meanwhile, on stage, Queen faced fans and critics who were uncomfortable with Mercury's androgynous style. By 1985, things had slowed down for the group. After playing shows in apartheid Africa, they were all but shunned in England, and it truly seemed as if their time making hits like "Bohemian Rhapsody," "We Will Rock You," and "We Are the Champions" had come to an end. Then the London Live Aid concert happened and, led by Mercury, the band gave what was perhaps the most legendary performance of their career. They kept the momentum going afterward, as well, at least until Mercury's 1991 death from AIDS complications.
In between, Mercury, who was bisexual, had a number of lovers. Two of the most important were Mary Austin and Jim Hutton, both of whom will be included in the film. Mercury and Austin met through his fellow bandmate May, and their connection seems to have been instantaneous. While their relationship was physical for a time, the singer eventually confessed that he had been with numerous other people while they were involved, including men.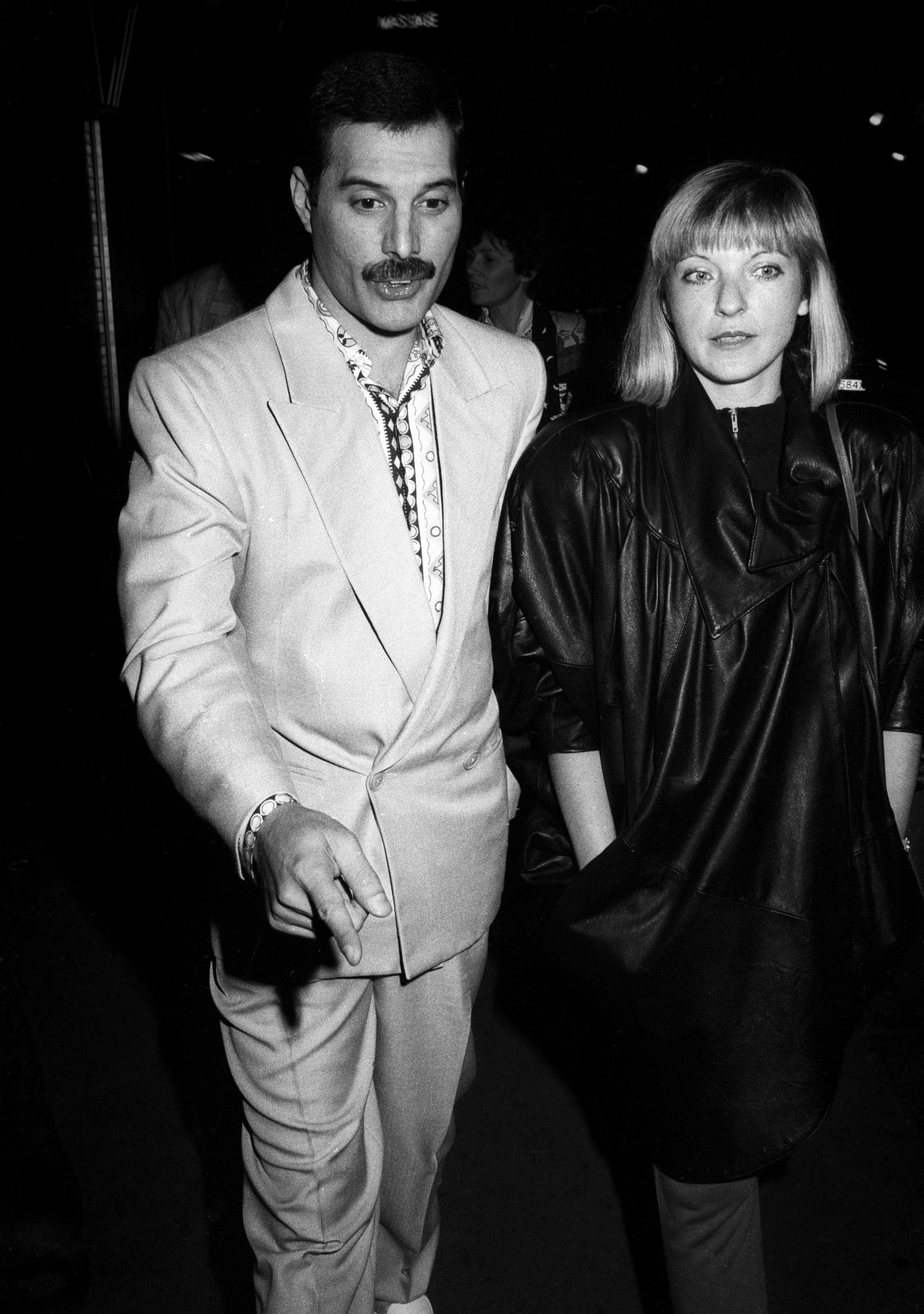 Mercury and Austin in 1988. Image Source: Getty / Tom Wargacki / WireImage
They broke up, but they never truly parted. Austin was Mercury's assistant and closest confidante — he even wrote the ballad "Love of My Life" for her. Most importantly, Mercury called her the only person he trusted, and he considered her his common-law wife. When he died, Austin was entrusted with the singer's ashes, and only she knows where his final resting place is.
While Austin was Mercury's confidante and muse, Hutton was the man who remained by the singer's side until he died. Their relationship was never in the spotlight, but Mercury and Hutton shared a home for a number of years. Throughout their relationship, they both wore wedding bands to symbolize their commitment to one another, according to Irish Central.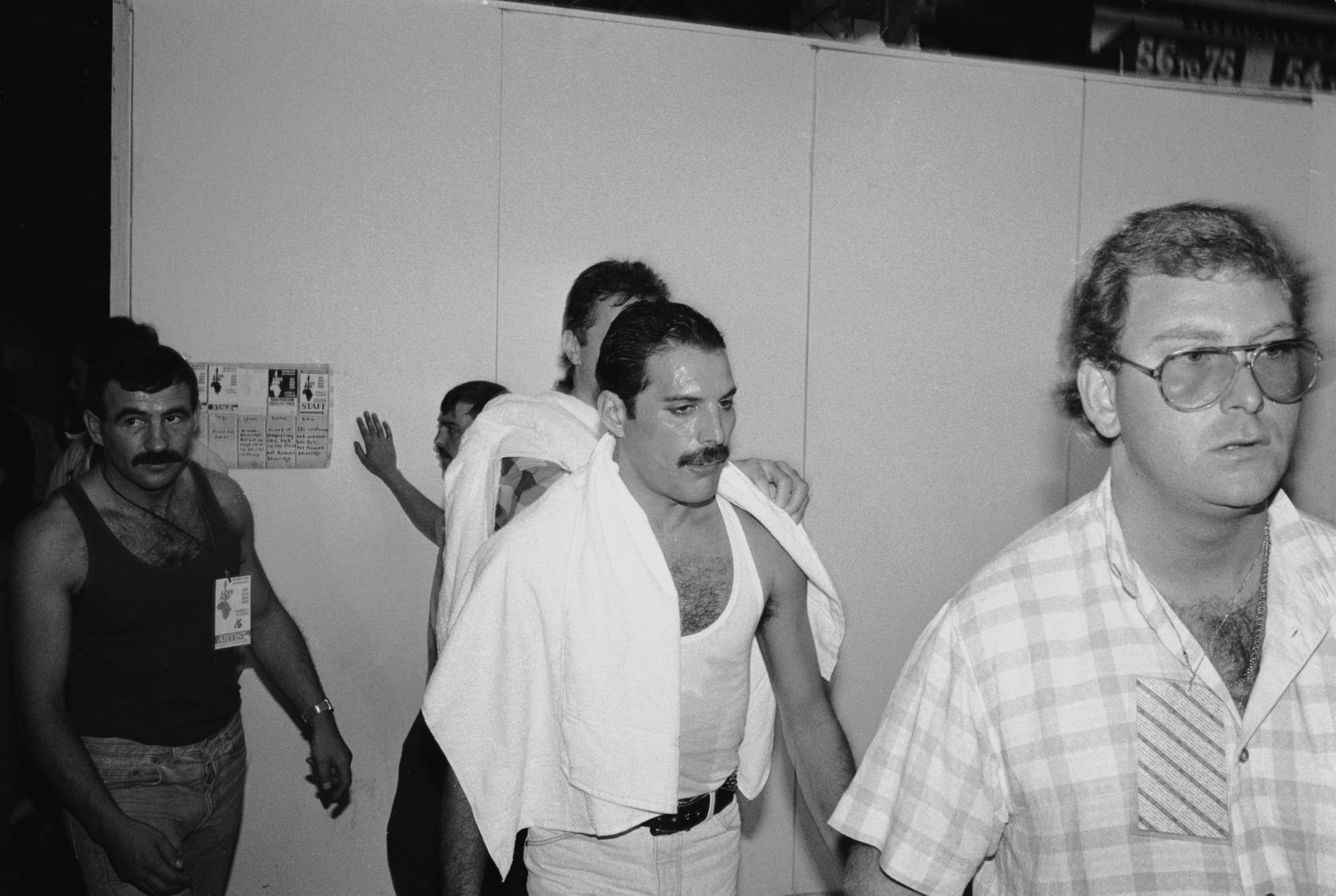 Hutton (back left) backstage with Mercury in 1985. Image Source: Getty / Dave Hogan / Hulton Archive
They were so close that Hutton hid the fact that he too had been diagnosed with AIDS for fear of upsetting his partner, who was already losing his battle with the disease. Hutton and Mercury were together until the singer's 1991 death. Afterward, Hutton wrote the 1994 memoir Mercury and Me chronicling their relationship.
From forming the band to creating music to his wild life off stage and his many loves, Mercury was a man like no other. If Bohemian Rhapsody can capture even part of his spirit, then viewers are going to be in for a ride.