Chandler Riggs Dad Reaction to Carl's Death on Walking Dead
Walking Dead Actor's Father Lashes Out After Character Death: "I Never Trusted AMC"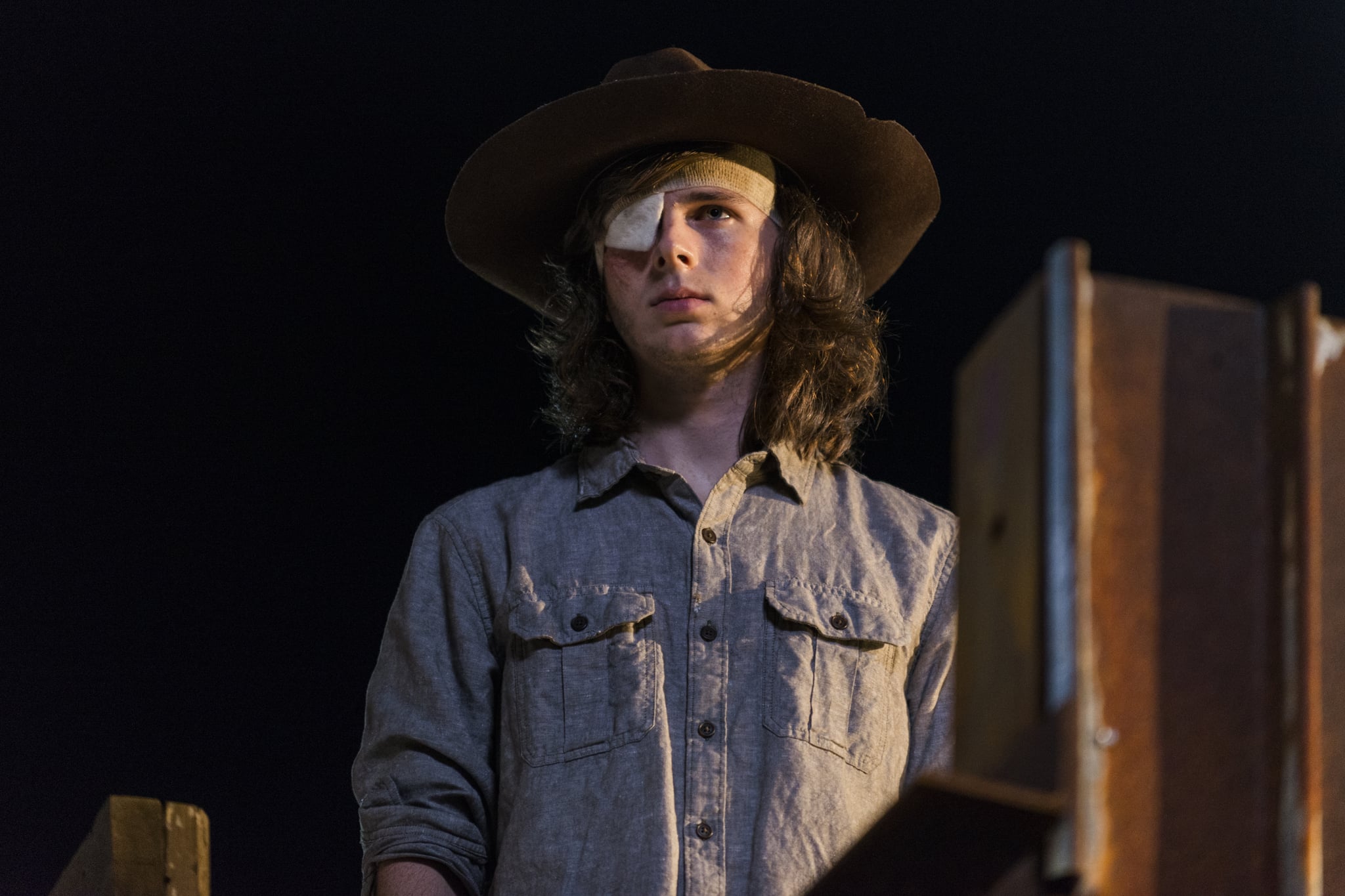 Warning: spoilers for The Walking Dead below!
The Walking Dead's most recent season eight episode, "How It's Gotta Be," delivers the tragic twist to end all twists in its final few minutes, and pretty much no one is happy about it. After a tense hour which sees Carl Grimes (Chandler Riggs) heroically attempting to save Alexandria from Negan's wrath, it's revealed that Rick's teenage son has been bitten by a walker. The bite is on his ribs and most certainly fatal, which left not only fans shocked and outraged, but also Riggs's father, William.
Yes, Carl has long been a fan favorite to hate on (whether in jest or for real), but he's also the only original series regular other than Andrew Lincoln (who plays Rick); we've quite literally seen him grow up before our eyes, and his exit is both a sad and confusing one. William Riggs took to his Facebook page in a now-deleted post following the midseason finale to shed some light (and spill some tea) on the situation, cluing his followers into what allegedly went down behind the scenes. Apparently it wasn't pretty.
"Watching [showrunner Scott] Gimple fire my son 2 weeks before his 18th birthday after telling him they wanted him for the next 3 years was disappointing," Riggs's dad wrote "I never trusted Gimple or AMC but Chandler did. I know how much it hurt him. But we do absolutely know how lucky we have been to be a part of it all and appreciate all the love from fans all these years!"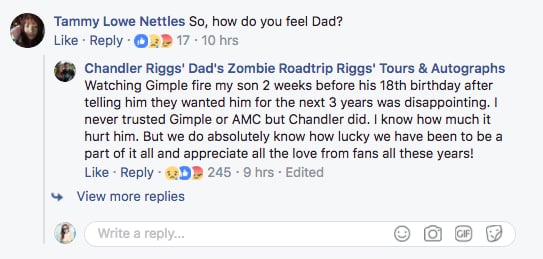 At the same time his father was dropping truth bombs on Facebook, Riggs opened up about his character's exit to The Hollywood Reporter. In addition to confirming that Carl is not long for this world ("Yes, Carl is going to die"), what he had to say about the reasoning behind Carl's death seems to corroborate his father's comment.
"I'm taking a gap year right now to focus on acting for a while. Leaving Walking Dead wasn't my decision. It was all story related. It made sense story-wise for it to happen for Rick and Michonne and all the other characters . . . I was planning on going to college until I found out. I found out when I was doing rehearsals for episode six back in June. It was quite the shocker for me, Andy and everyone because I don't think anyone saw it coming. It's definitely not a bad thing because it has been awesome being on the show but now I get to go and do a lot of other stuff that I haven't gotten to do before. Scott wanted to meet in person because it was such a big deal. We had just finished rehearsing for a scene in episode six and he wanted to meet with me and my mom and dad and talk about what's going to happen."
Riggs further added that Scott Gimple, The Walking Dead's showrunner, was "trying to figure out how to bridge the gap between Rick not wanting to kill Negan and Rick also really wanting to kill Negan, which he does right now [in the show's story]." This resulted in having Carl get bitten, which has even more of an impact on Rick since he's become "this really humanitarian figure and person who could see the good in people and see that people can change and not everyone out there is bad."
We'll just have to wait and see if Carl's death is truly the meaningful moment the show wants it to be when The Walking Dead returns from its Winter break on Feb. 25.