Chord Overstreet Interview June 2017
How Nina Dobrev Helped Chord Overstreet Get His Music on The Vampire Diaries Finale
Image Source: MEREDITH TRUAX
Chord Overstreet is well-known for his beloved role as Sam Evans — aka "Trouty Mouth" — on Glee, but now he's making a new name for himself by embarking on a solo music career. In 2015, he became the first artist to sign with Demi Lovato and Nick Jonas's label, Safehouse Records, and joined them for their Future Now Tour the following Summer. That August, he released his first single, "Homeland," but it's his song "Hold On" that has really put him on the map.
After appearing on The Vampire Diaries finale, the song blew up on the charts as people searched it on Shazaam and Spotify, something Chord in part owes to his friend and the show's star, Nina Dobrev. "I tend to send a lot of my music to my friends before I put it out to get their opinion on it because I always feel a little closer to it," he tells POPSUGAR. "And she responded and she was like, 'Hey, I just sent this to the creator of The Vampire Diaries. Can we put it on the show?' And I was like, 'Uh, yeah!'" Not only was it cool to have his song featured on such a prominent finale, but he was blown away by the response after. "It was cool because it was the first time something I had written, or had been creative on, reach so many people on a different level," he adds.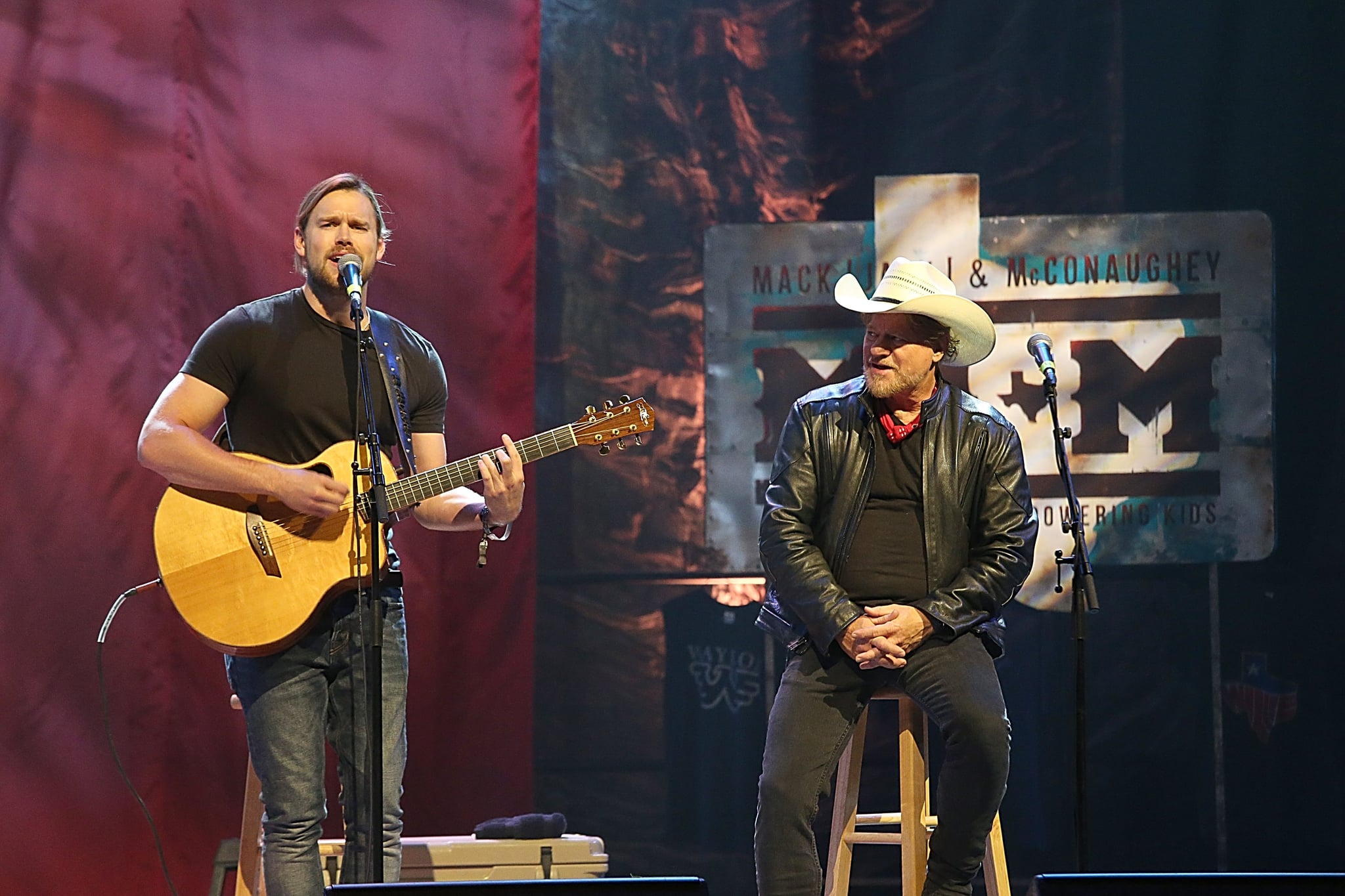 Image Source: Getty / Gary Miller
Although, his songwriting abilities shouldn't really come as a huge surprise — his father is country music singer and songwriter Paul Overstreet. In fact, Chord admits he caught the singing bug pretty early on when he was at one of his dad's shows. "The first show that I went to with my dad, I was like 3 years old and I couldn't stop staring at the stage and him performing. He would always introduce his kids at his concerts and there was one time when he was like, 'Hey, I want you guys to meet my son, Chord,' and I walked right past him out to the runway platform at the end of the stage and struck a guitar pose and everyone lost their minds."
He was 17 he when wrote his first song with his dad, and from that moment on, he couldn't put a guitar down. When Chord decided to pursue music as a career, he said his dad couldn't have been more supportive. Not only did he offer him encouragement, but he also offered him sound advice: always show up. "When you're working in a creative world, whether it's writing or performing, you never know who's going to be there, who it could affect, and what is going to come out of your creative process," Chord says. For example, he reveals that on one of the days his dad wasn't planning on going to work, he ended up writing Randy Travis's hit song "Forever and Ever, Amen," which would later earn him a Grammy for best country song.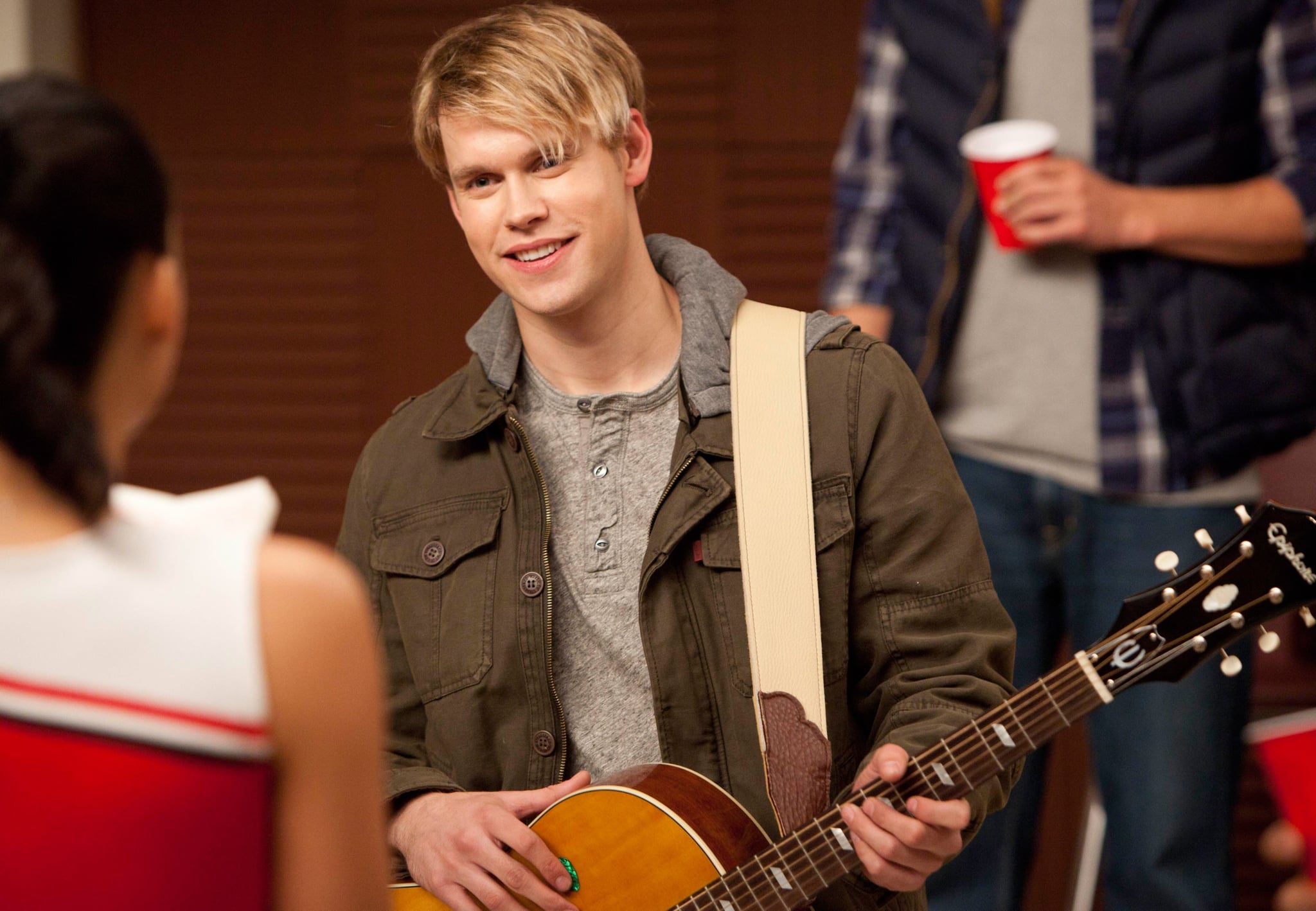 Image Source: Everett Collection
Even though Chord is currently busy touring and making new music (he says his next song, "Carried Away," has some real beachy vibes), he still looks back on his Glee days fondly and is still close with many of his costars. In fact, Lea Michele and Darren Criss were among the many concert-goers at his recent show in LA.
And yes, just like us, he still gets nostalgic hearing "Don't Stop Believing." Not only did he wear some pretty crazy costumes and perform some pretty extravagant numbers over the years, but he says his time on the show taught him that you can never work too hard. "When you're young, you think you can get by," he says. "And then once you really see people come in who have been doing it for years and how hard they work, it really raises your level of intensity. To see Emmy winners and Tony winners work in front of you, it was the best experience."