Christine Chubbuck True Story
The Tragic True Story of an On-Camera Suicide Will Stay With You Forever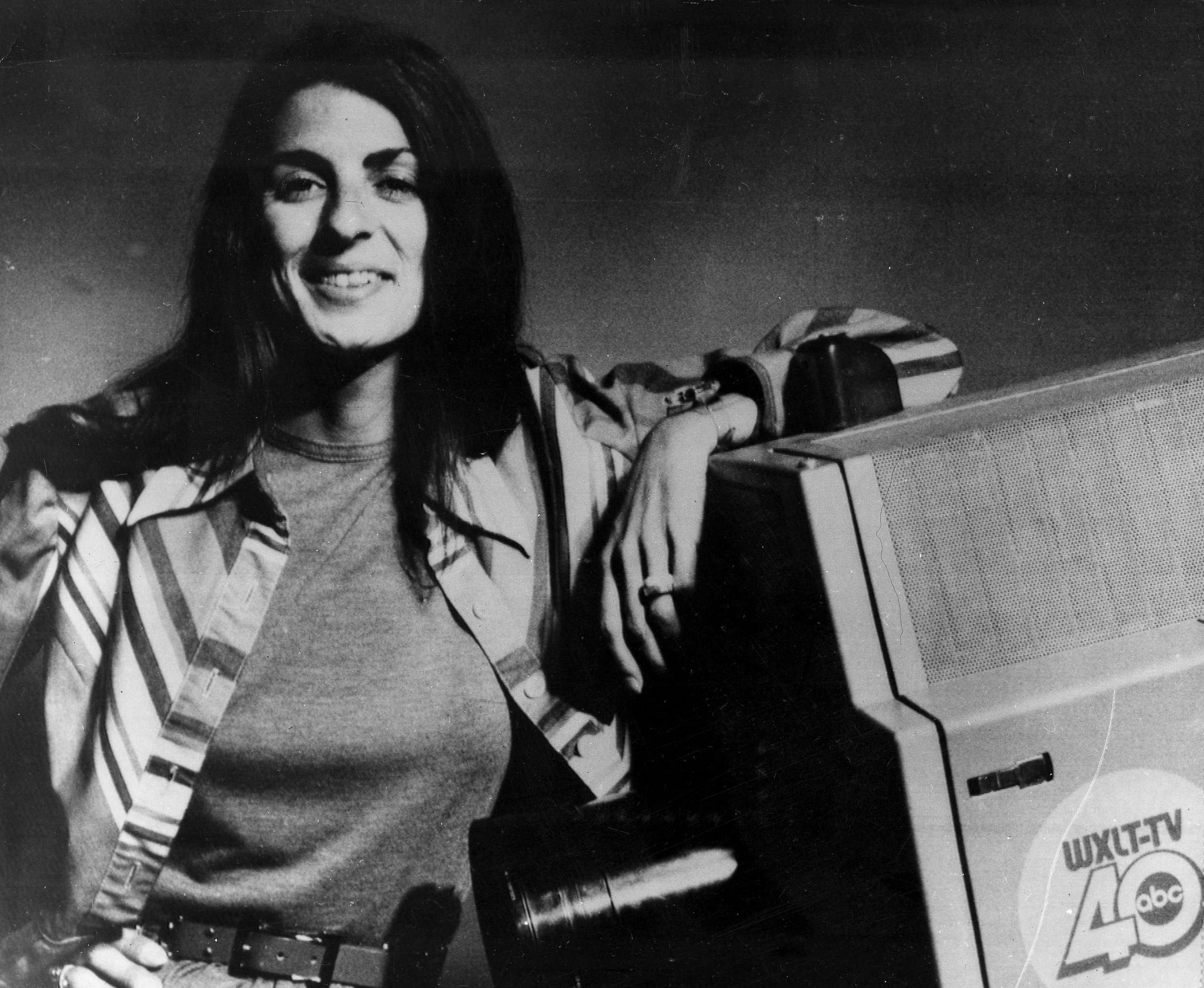 Image Source: AP Photo / Sarasota Journal / John Cloud
Two films about the life and death of television news anchor Christine Chubbuck premiered in 2016; the first, Christine, stars Rebecca Hall as Chubbuck and Dexter's Michael C. Hall as George Peter Ryan, Chubbuck's real-life co-worker at the station and the alleged object of her affections. The second, a documentary called Kate Plays Christine, follows actress Kate Lyn Sheil as she prepares to play Chubbuck in a biopic about her life. While both movies aimed to explain just why a 29-year-old journalist with her entire life ahead of her would commit suicide during a live news broadcast, the real story of Chubbuck's actions might leave you more rattled than you're ready for.
Christine Chubbuck was born in Hudson, OH, in 1944. She had two brothers, George and Tim. While attending the Laurel School For Girls in her Cleveland suburb of Shaker Heights, she started a tongue-in-cheek group called the "Dateless Wonder Club" for girls who didn't have dates on the weekends. Her low self-esteem, paired with a self-deprecating sense of humor about being unlucky in love, would pervade her adult life. She floated from school to school during her college years, majoring in theater arts for one year at Ohio State University, attending Endicott College in Beverly, MA, and earning a degree in broadcasting from Boston University in 1965.
She moved to her family's Summer cottage in Siesta Key, a barrier island off of Florida's southwestern coast, and joined the Sarasota ABC affiliate WXLT-TV (now WWSB) as a reporter, but was later given her own community affairs talk show called Suncoast Digest by station owner Bob Nelson. The show was described as featuring "local people and local activities." By all accounts, Chubbuck took her hosting role very seriously and frequently told her mother, Peg Chubbuck, how much she loved her job. But when she was interviewed after her daughter's death in 1974, Peg Chubbuck told The Washington Post, "She was the only person I ever knew who could walk into a room and every head would turn . . . yet nobody ever came over and asked for her phone number. [Christine] had nothing else in her social life. She was terribly, terribly, terribly depressed."
Christine Chubbuck was very close to her family, and described her mother and younger brother Greg as her closest friends. After her parents' divorce, Peg and Greg came to live in the Siesta Key home. When Greg left, her older brother Tim moved in. Peg Chubbuck described the arrangement to The Washington Post, saying, "Everybody thinks it's a little odd, we know that, but it's a nice arrangement for us. We all have our privacy." The article also reported that Chubbuck's bedroom looked "more like the room of a young girl than the room of a 30-year-old, 5'9" woman." In the days before her death, Chubbuck told her brother Greg that she was feeling suicidal: "I'm thinking about killing myself and I'm not exactly sure what I'm going to do." It wasn't the first time Chubbuck spoke of wanting to end her own life — she talked to her family at length about her depression and suicidal thoughts, and had even been seeing a psychiatrist in the weeks leading up to her death. Greg later said that he'd had the conversation with her "many times" over the years, adding, "I didn't think of it as an active thing. I thought of it as something she wanted to talk out."
"If you look at it on paper," Chubbuck's mother told The Washington Post, "her suicide was simply because her personal life was not enough."
Outside of her mother and brothers, Christine Chubbuck's social circle was small, if not nonexistent. She was friendly with just two of her co-workers at WXLT, stocks reporter George Peter Ryan and sports reporter Andrea Kirby. Chubbuck reportedly harbored a crush on Ryan that went unreciprocated; she baked him a cake for his birthday and badly wanted his attention romantically. After Chubbuck's death, Ryan told reporters that he too had struggled with depression and suicidal tendencies and tried to get Chubbuck to join his transactional analysis therapy group, but she "didn't believe anyone wanted to be her friend." He went on: "I was made aware that she had a crush on me. She never told me anything. I just know that I didn't want to get involved in that way." He thought she was "doing a man's job, only doing it better than a man," adding, "She was precise and efficient. There was nothing feminine about her."
Her only other friend, Andrea Kirby, told Washington Post writer Sally Quinn that Chubbuck "became a sniveling, self-pitying creature at the end and I really lost patience with her. I thought that if I got mad at her she would be able to pull herself out of it." She went on: "I think she killed herself to say, 'Hey, look at me,' to get attention, to be recognized." Not long before Chubbuck's death, Kirby was offered a job in Baltimore and was gearing up to leave Sarasota. This depressed Chubbuck, as did the fact that Kirby and Ryan were already seeing each other. "When Chris found out that George and I were going out," Kirby said, "that depressed her."
"She was the only person I ever knew who could walk into a room and every head would turn . . . yet nobody ever came over and asked for her phone number."
At the time of her death, Christine was nearly six weeks from turning 30. She lamented about the upcoming birthday to co-workers, because she was still a virgin and "had never been on more than two dates with a man." While Chubbuck dreamed of one day becoming "a housewife, mother, and good friend," as she wrote at age 15, the year before her suicide, she had her right ovary removed in an operation and had been told that if she did not become pregnant within two to three years, it was unlikely she would ever be able to conceive a child. Andrea Kirby said that Chubbuck "wanted marriage and children more than anything else." Though she may have had a hard time connecting with other adults, kids were a different story. Chubbuck volunteered at Sarasota Memorial Hospital, where she gave puppet shows to children with intellectual and developmental disabilities. She made the puppets herself, and occasionally incorporated them into her talk show. Chubbuck was not a huge TV star by any means, but Suncoast Digest was a modest success and she took lots of pride in making it the best it could be.
According to co-workers, Chubbuck was "diligent, hard-working, and competent." She wanted to be recognized.
Chubbuck's self-deprecating and critical sense of humor was off-putting to co-workers, including her boss, WXLT-TV station owner Robert Nelson. In the months leading up to her death, Chubbuck reportedly "hated" Nelson because she thought he seemed "unconcerned with the quality of the station." She felt that WXLT concentrated too much on "sensational" area news, like violent crime, accidents, and "blood and guts." She thought the station was "pandering" to advertisers by focusing on tasteless stories — a subject that the Christine trailer heavily hints at.
Chubbuck also resented Nelson for making station employees work long hours, including weekends, for low pay. On the Friday night before her death, Chubbuck got into an argument with news director Mike Simmons when her story was cut in favor of a violent shoot-out. Simmons told The Washington Post that Chubbuck "was very emotional," and would get "unusually upset" about those types of things: "She would, well, throw tantrums a lot." After Chubbuck's suicide, Robert Nelson boasted about the ratings boost her broadcast had given the station. He showed off press clippings to visitors and allegedly told one, "We got the whole front page of The Daily News."
Three weeks before her death, Chubbuck told Mike Simmons that she wanted to do a news piece on suicide, and he approved her suggestion. She visited the local sheriff's department to talk to an officer about the most effective methods of suicide. She was told that the "best" way to end one's own life was with a .38 caliber pistol, and that the gun should be pointed not at the temple, but at the lower back of the head. She then told Rob Smith, the night news editor, that she had bought a gun. She joked about killing herself on air, saying, "Well, I thought it would be a nifty idea if I went on the air live and just blew myself away." It was a comment that Smith later described to reporters as Chubbuck's "sick" attempt at humor. "I just changed the subject," he said. "That was just too sick a joke for me."
On the morning of Monday, July 15, 1974, Chubbuck came to work as normal, but she confused her co-workers by stating that she planned to read a newscast to open Suncoast Digest — something she had never done before. Typically, Chubbuck opened her show in an interview area, conducting a "rather informal" chat with guests. Not once had she read a prepared script to open her show, but she was so diligent, hard-working, and competent that everyone assumed she knew what she was doing. And she did know what she was doing.
Chubbuck quickly wrote her 10-minute news script at a typewriter and told the control room that she wanted them to run film of a shoot-out from that past weekend. She was said to be in "extraordinary good spirits." Her guest waited in the interview area while Chubbuck took a seat at the news desk. Under her chair, she placed a large bag full of her handmade puppets; she occasionally brought the bag with her if she was using the puppets during her broadcast or volunteering at the children's hospital after work. That day, the bag also contained a .38 caliber pistol.
Chubbuck read three pieces of national news before leading into a film piece about a local restaurant shooting. She waited for the film to roll, but nothing happened; the reel had jammed and camerawoman Jean Reed recalled Chubbuck's uncharacteristic reaction. "I looked up and said to her, 'Chris, the film's not going to roll,'" said Reed. "She just looked at me very levelly and said, 'It isn't going to roll.' Then she smiled as if she were terribly amused. Normally she would have been furious . . . but she just sat there calmly." What happened next perplexed, shocked, and horrified the WXLT station workers as well as television viewers.
Chubbuck shrugged off the malfunction and spoke into the camera: "In keeping with Channel 40's policy of bringing you the latest in 'blood and guts,' and in living color, you are going to see another first — attempted suicide." She then drew her revolver from under the desk and shot herself behind her right ear. Chubbuck then fell forward violently, and the technical director rapidly faded the broadcast to black. After Chubbuck shot herself, Reed ran over to the desk "fully expecting to see her lying on the floor doubled up with laughter." Tragically, she instead recalled Chubbuck "stretched out, blood running out of her nose and her mouth and her whole body twitching." Reed went on: "I said, 'My god, she's done it. She's shot herself.'"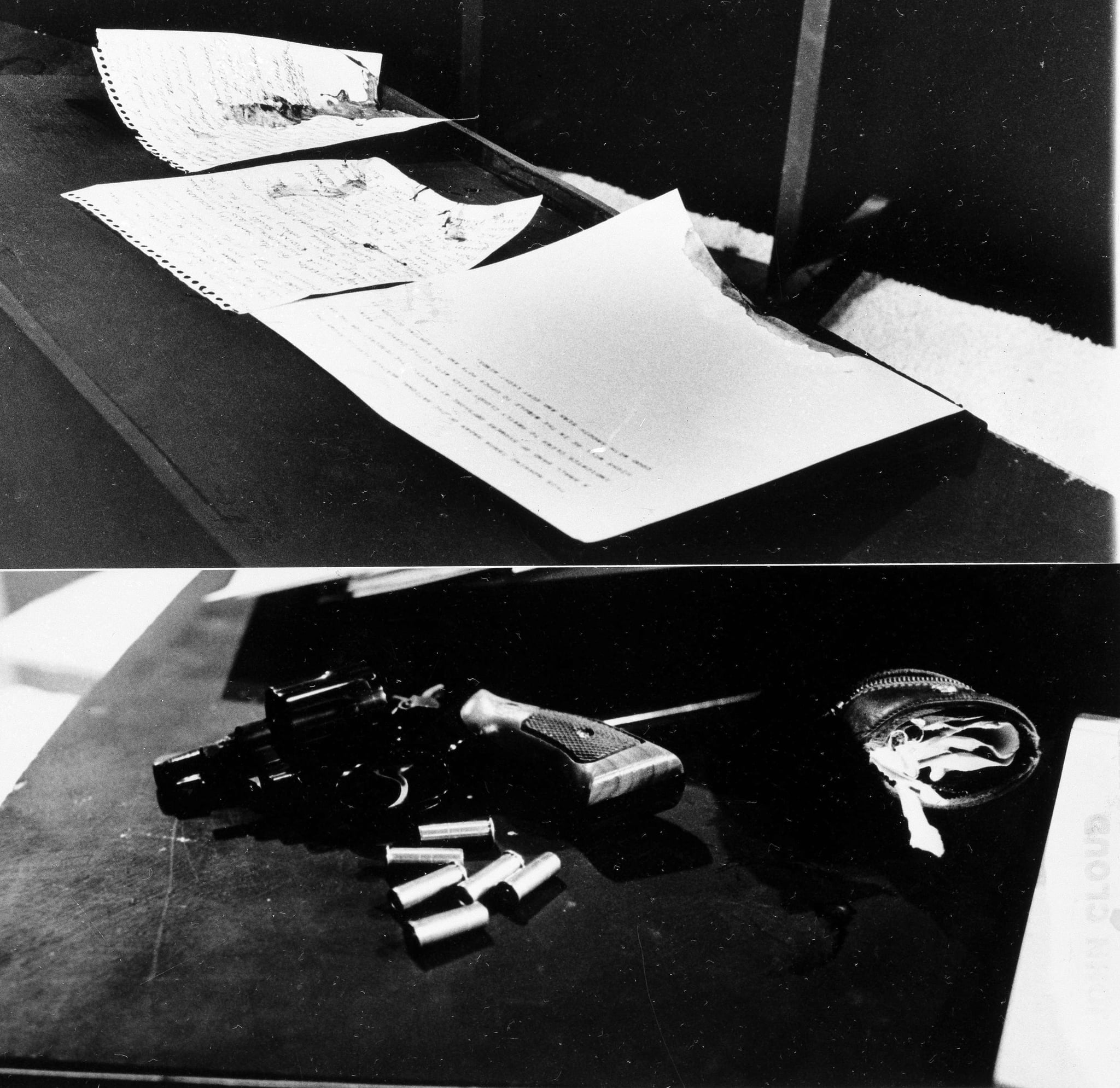 Pictured above: The blood-stained news script (which Chubbuck apparently read from before shooting herself on air) as well as her .38 caliber revolver and bullets.

The station quickly ran a public service announcement before airing a movie. Some viewers called the police in a panic, while others phoned WXLT to ask if the shooting had been staged. Chubbuck was rushed to the hospital, and while she didn't leave a suicide note, her co-workers found a blood-soaked news story on the desk — it was the story of her attempt to take her own life. Written by hand, Chubbuck described her suicide attempt. It included how she was taken to Sarasota Memorial Hospital, and it listed her in critical condition. She died hours later, amid the flurry of worldwide news stories emerging about her death: from NYC to Australia, headlines about a TV personality taking her own life on air blazed around the globe. It was the first time in history that someone had committed suicide on live television, and it was simultaneously frightening and fascinating.
Chubbuck's very public suicide was understandably traumatizing for those close to her. Her brothers, Greg and Tim Chubbuck, deduced that she wanted the footage of her death to be aired on major news networks "to draw attention to her life," and her mother Peg Chubbuck added, "She was saying, 'Look world, I've been here all along. How about a date Saturday night?' But her last act was the most selfish thing she ever did. She brought her death into other people's homes." However, WXLT evening news anchor Bob Keehn saw Chubbuck's actions a bit differently. "I think she was saying, 'Is this what you want folks, this blood and guts? Well, here it is. See how stupid and horrible it is. Is this what you really want?'"
"There was a haunting melody in Chris," her mother said. "It was her decision and she decided that it was all just too much for her . . . whether anybody else thought it wasn't, well, it was." Of Chubbuck's method of suicide, Peg Chubbuck opined: "I would have thought she would have swum out in the ocean as far as she could go. She was an extraordinarily strong swimmer. She could have gone three or four miles. The water was her friend. It could easily have been her final resting place."
Image Source: AP Photo / Sarasota Journal / John Cloud