Daniel Lissing Interview About Timeless
Daniel Lissing Teases That Timeless Will Stay "Pretty True" to Jesse James's Dark Side
Timeless is back from its Winter hiatus, and things are really heating up for the time travelers. After traveling to the Chicago World's Fair during the midseason premiere, the gang is set to take on one of America's biggest outlaws in "The Murder of Jesse James" on Jan. 23. POPSUGAR had a chance to sit down with guest star Daniel Lissing and he filled us in on what it was like portraying the dark character, how he bonded with Goran Visnjic on set, and the fun connection he has with former 90210 star, Matt Lanter. See what he had to say below.
POPSUGAR: What drew you to this role?
Daniel Lissing: Jesse James is such an American icon and an interesting historical figure. It was a no-brainer. Who doesn't want to play an outlaw from the Old West? He's such an interesting character. I was familiar with Jesse James before I got the audition for this role, so when it came in, I really worked hard on the audition, and when I booked the role, I knew I had a responsibility to be honest about the character and also have my own take. For me, it was a really fun challenge.
PS: Did you do anything in particular to prepare for the role?
DL: The only thing I really had to learn and practice was drawing my pistols, because Jesse James had two pistols. I spent a little bit of time with the gun belt on and I just drew and drew and drew as much as I possibly could so that on camera, and on the day, I didn't look like an amateur. Saying that, I haven't seen it yet, so I'm not sure if I pulled it off or not, but my fingers are crossed.
"He's really glorified in popular culture as a Robin Hood-type character, but in actuality he was quite a dark man."
PS: I know you're Australian, so was it hard to fake an American accent?
DL: No, not really. I've worked on my accent since I wanted to be an actor in my late 20s. I had worked on a standard American accent and I feel like I've gotten that down. I grew up watching these Western shows and movies, and I'm very familiar with Jesse James and the time period, and I just had fun with it, but I was very particular about certain words and certain phrasing that was true to the character and time.
PS: Did anything about the real-life Jesse James surprise you?
DL: I'm such a history buff anyway, so I knew a lot of his story. I liked what they did, because he's really glorified in popular culture as a Robin Hood-type character, but in actuality he was quite a dark man and very tormented from the Civil War and from this crazy militia gang. It was a really interesting take on the character. The writers on Timeless are phenomenal and they kept it pretty true to his darkness without glorifying him too much.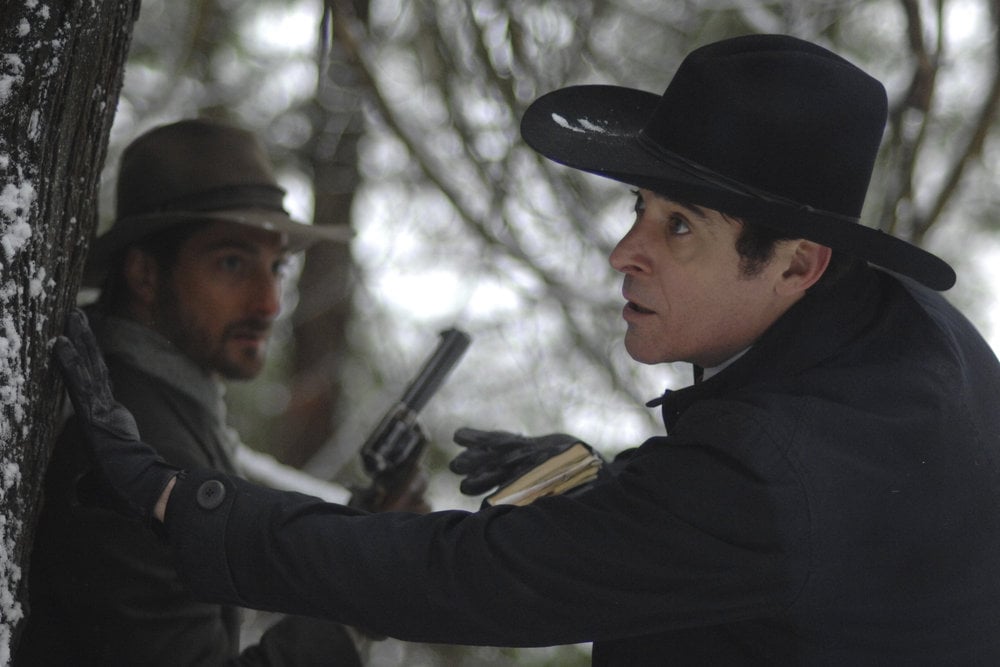 PS: I know Jesse James is teaming up with Flynn in this episode. How does your character further complicate things for the team?
DL: Look — number one, working with Goran [Visnjic] was just a dream come true. He's such a great guy and we're still in touch and get on very, very well. But his character, Flynn, is such an interesting character with so many, so many layers. So, my character is a little bit oblivious to his motives. He gets hired for a job from this mysterious guy named Flynn, wearing interesting shoes and carrying a weapon that I've never seen before. In this episode, he ends up finding someone that is important to his cause down the line, and Jesse helps him with that. But the dynamic between them is interesting. It's a little hostile, but also there's a level of respect there as well.
PS: Other than Goran, who was your favorite person to hang out with on set?
DL: There was another guest star that I really connected with, and he is one of the leads in Fear the Walking Dead, and that is Colman Domingo. Colman played a famous American lawman Bass Reeves. We got on very well because he and I were guest stars on the show coming in for one episode and so we had that, and he's hunting my character down as well. He's just a lovely man, like Goran, a true professional and really cares about the work. For me, they're the kind of people that I just love being around on set. Also, they just have this great body of work and bank of experience. As someone who's relatively new to the industry over here, I feed off that and learn off that in a great way. But it goes to say as well that Abigail [Spencer] and Matt [Lanter] and Malcolm [Barrett] and the director and the crew were just so welcoming and so lovely. I really just had a tremendous time working on Timeless.
"I don't look at Jesse James as the bad guy; I just look at him as misunderstood."
PS: You've also worked with a few of Matt's 90210 costars. Did you two bond over that while filming?
DL: That's right, totally. We actually met for the first time in the makeup trailer, and I was like "Hey buddy, this is funny. I'm making my way through the 90210 cast," because yes, I did a film with Jessica [Lowndes] and I'm on a show with Lori [Loughlin], and now a guest star with Matt. So that was a nice little coincidence.
PS: Speaking of When Calls the Heart, your character is so sweet on that show. Was it fun playing the bad guy for a change?
DL: Of course it was. As an actor, you want to be able to take on different roles and explore different sides of your own character, and so I've been playing Jack for four seasons on When Calls the Heart, and any time that I am not working on a Hallmark project, because the characters tend to be really nice characters, which I love to play as well, I try and shoot something or play someone that is just a little bit different. See, I don't look at Jesse James as the bad guy; I just look at him as misunderstood.