Is Diego Boneta Really Singing in the Luis Miguel Series?
Diego Boneta Completely Transformed Into Latin Icon Luis Miguel, and We Are Not Worthy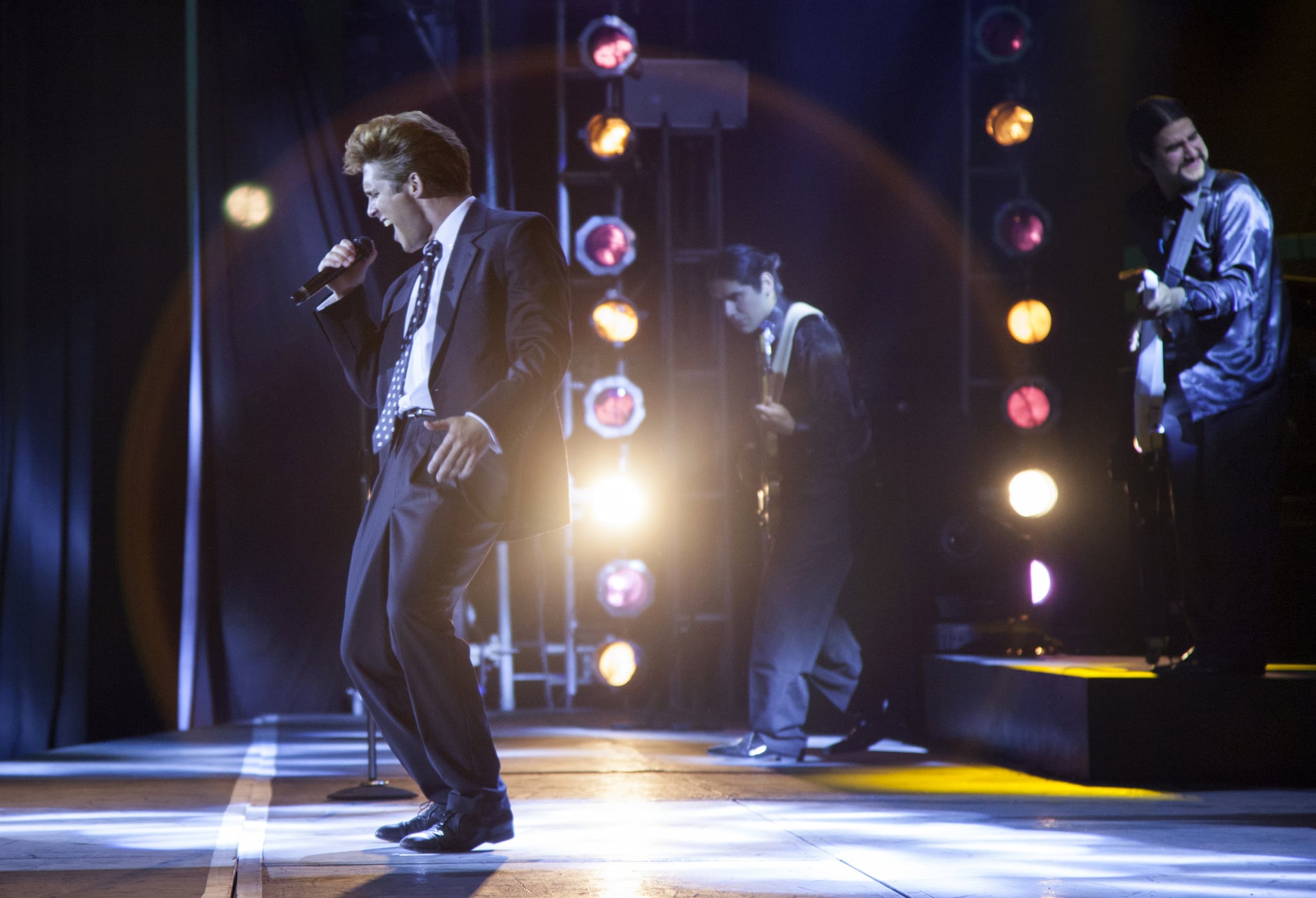 In a story that will likely sound familiar to many Latinx people, my mom used to blast Luis Miguel from the stereo like it was nobody's business when I was little. She would clean as she sang along to his greatest hits, like "Si Nos Dejan" and "Bésame Mucho." I fell in love with Luis Miguel and his music because of her, so when Telemundo announced the release of Luis Miguel La Serie starring Diego Boneta, I couldn't wait to watch it with her by my side.
When Boneta was born, Luis Miguel — often referred to as "El Sol de Mexico" (the Sun of Mexico) — was already selling out arenas across Latin America and on his way to becoming one of the most successful artists in Latin American history. Fast forward to 2018 and Boneta is bringing Luis Miguel's story to life on the small screen. Ahead of the show's April 22 premiere, I spoke to Boneta all about his transformation and what it was like to spend time with Luis Miguel in preparation for the series.
POPSUGAR: How did you prepare to play Luis Miguel?
Diego Boneta: It was a full year of prep. I've never had to prep for a role this much in my life. On every angle — physical, vocal, and acting. The prep was actually more intense then the shooting itself. I was with my acting coach in Spain, I was recording all the songs for the soundtrack with Luis Miguel's producer, I had to lose like 24 pounds, do the actual gap in my tooth for the role, I had to tan like crazy, I had to grow a mullet. It was an unbelievable experience! Being able to have a year to just prep, which is unheard of for any project, is what really made a difference.
POPSUGAR: You actually sing his songs in the series?
DB: Everything! Every picture, every song, every interview, everything is me, and the younger versions of him.
POPSUGAR: What was the experience of singing those iconic songs like?
DB: I had to sing for Rock of Ages. It was all '80s songs which was really hard, but singing Luis Miguel's songs was even harder than that because I had to sound like him. In Rock of Ages, I didn't have to sound like Steve Perry, but here I had to change my tone of voice to someone who is not me. That was a challenge. It was not only being able to sing his songs — he is an unbelievable singer, he's a prodigy — but it was being to sound like him that was tough.
POPSUGAR: What was your favorite song of his that you got to sing on the show? And did you have a favorite song of his growing up?
DB: I think my favorite song of his growing up was "Suave." I remember singing that growing up when I was a toddler. On the show, I really liked singing "No Me Platiques Mas," "La Incondicional," and "Tengo Todo Excepto a Ti." I think "Tengo Todo Excepto a Ti" was my favorite.
POPSUGAR: What was the hardest song for you to sing?
DB: I think the hardest song was "La Incondicional" because of all the ad libs at the end of the song. He belts high Cs and in "La Incondicional," he does it time after time after time.
POPSUGAR: Did you get to spend time with Luis Miguel to prepare for this role?
DB: Yes, that was part of the prep. You have no idea how helpful that was. Many times when you do something like this, you don't count on the person you are playing actually being alive. Being able to count on him and getting advice from him made a huge difference.
POPSUGAR: Is there any advice he gave you that you've carried with you even after the show ended?
DB: The best advice he gave me was to keep your private life private. To make it about your work. Luis Miguel is who he is because of the artist he is, not because of his life. Everyone wants to know about his life, but no one knows anything and he's still the biggest star.
POPSUGAR: What was is like for you not only as an actor, but as a Mexican, playing a Mexican icon?
DB: That was the best part of everything. This is not a stereotypical Latin show like Narcos or something. This is a story about the most famous Latin singer of all time, his success story, and all the scarifies he made. One of the first songs I ever sang on national television was actually one of his songs, 16 years ago, so for me, it's really come full circle. It's crazy! It's an amazing responsibility. It's a huge challenge, and a huge honor.
POPSUGAR: Did you ever have a pitch-me moment during the whole process?
DB: When I showed Luis Miguel a clip of a music video of his that we redid and just seeing his reaction to it. He hugged me afterwards and just said, "Dude, that's me!" And seeing that reaction made the whole experience.
POPSUGAR: What are you hoping people get out of watching the show?
DB:I've admired him as an artist my whole life, but now I admire him as a person. That is what I hope happens when people see the show, because no one knows him as a person. After the audience sees what he's gone through and all the sacrifices he's made, what happened, the chain of events, and how still he is who he is, I think people will really admire him as a person.