Eddie Redmayne in The Theory of Everything Review
The Best Things About Eddie Redmayne's Performance as Stephen Hawking
The Theory of Everything had people buzzing at the Toronto International Film Festival (and was one of our favorite movies), and everyone else will be able to see why when the movie comes out this week. Most of the praise for the film has been directed at star Eddie Redmayne's performance. Redmayne's roles in Les Misérables and My Week With Marilyn got the up-and-coming star some attention, but his leading role as Stephen Hawking is the one that's going to put him on the map. With critics already predicting a best actor nomination for Redmayne, we're breaking down why this performance is so excellent — and award-worthy.
His Physical Transformation
Real-life astrophysicist Hawking was diagnosed with motor neuron disease at 21 and only given two years to live. Of course, Hawking defied that life expectancy and is 72 today. Redmayne portrays Stephen from the time he was an able-bodied college student to Hawking's state now, in a wheelchair, unable to speak, and with little muscle control. In the film, we watch this degeneration gradually; first Redmayne walks with a cane but is still upright then is forced to use the wheelchair as he loses more and more control. He slurs his speech in the early years, slowly losing his ability to talk, until he's finally only using his face to communicate (Redmayne has said he'd read that Hawking's eyebrows were "incredibly expressive."). The actor also wore prosthetic teeth and ears, and combined with the contortions he's forced into in the wheelchair, the physical performance alone is mind blowing.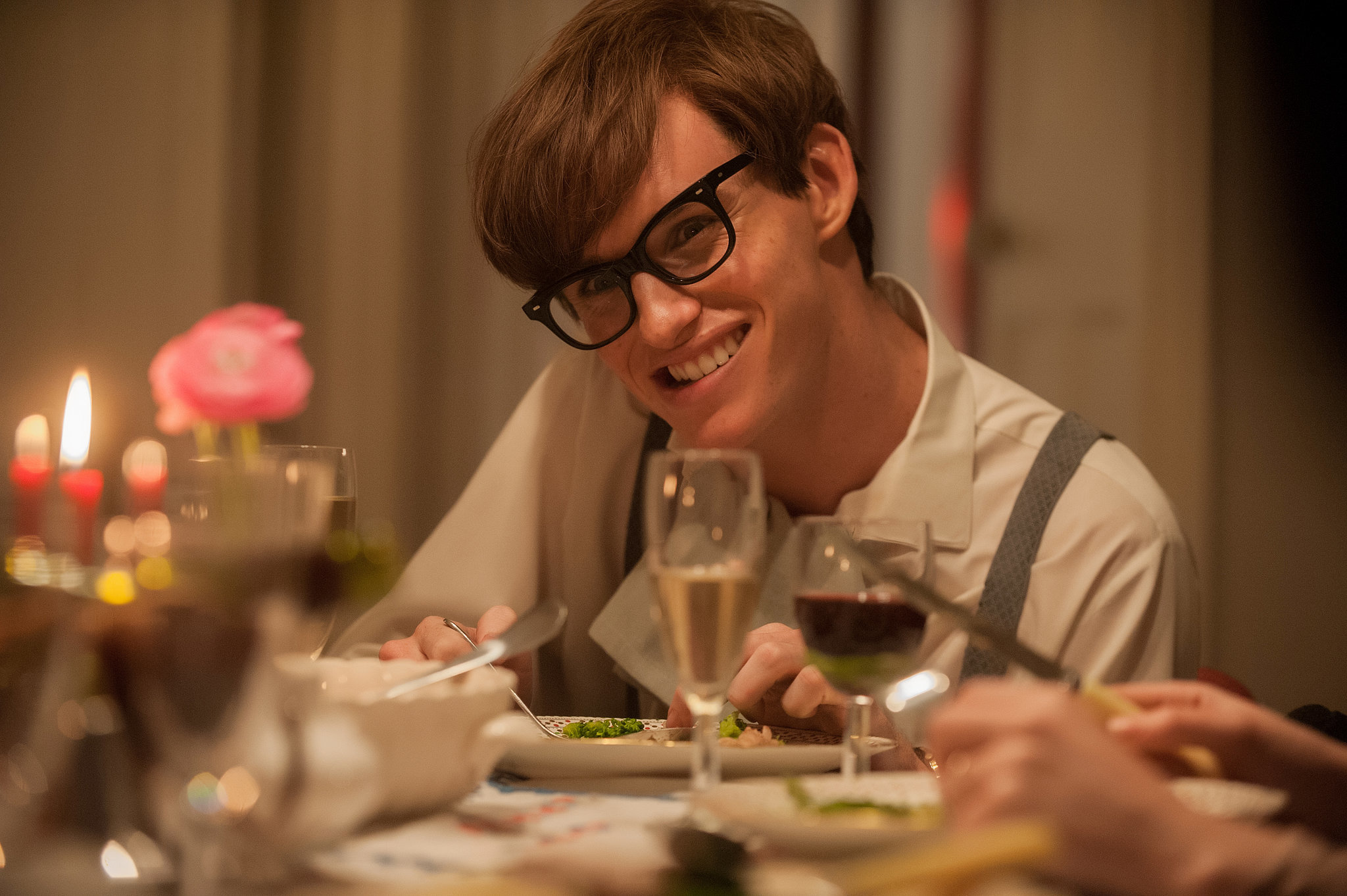 The Emotional Performance
The film is based on Jane Hawking's book Travelling to Infinity: My Life With Stephen, and while we do learn a great deal about his career, the movie is more of a portrait of Jane (Felicity Jones) and Stephen's relationship. Thus, we watch him deal with the frustration of his physical state while experiencing the joys of a loving marriage and the birth of his children. There's so much emotion here, and Redmayne commands your attention and empathy.
His Overall Triumph in Portraying a Real, Three-Dimensional Person
An unexpected aspect of Redmayne's performance is how charming he manages to be, even when (and sometimes especially) he can't move or speak. Of course, the implementation of a speech-generating device serves to preserve much of Stephen's sense of humor, while Redmayne's evocative expressions show you that there's still a whole person inside, despite his paralysis.