Emily Blunt and Meryl Streep Mary Poppins Quotes 2018
Emily Blunt Gushes About Working With "Inspiration" Meryl Streep in Mary Poppins Returns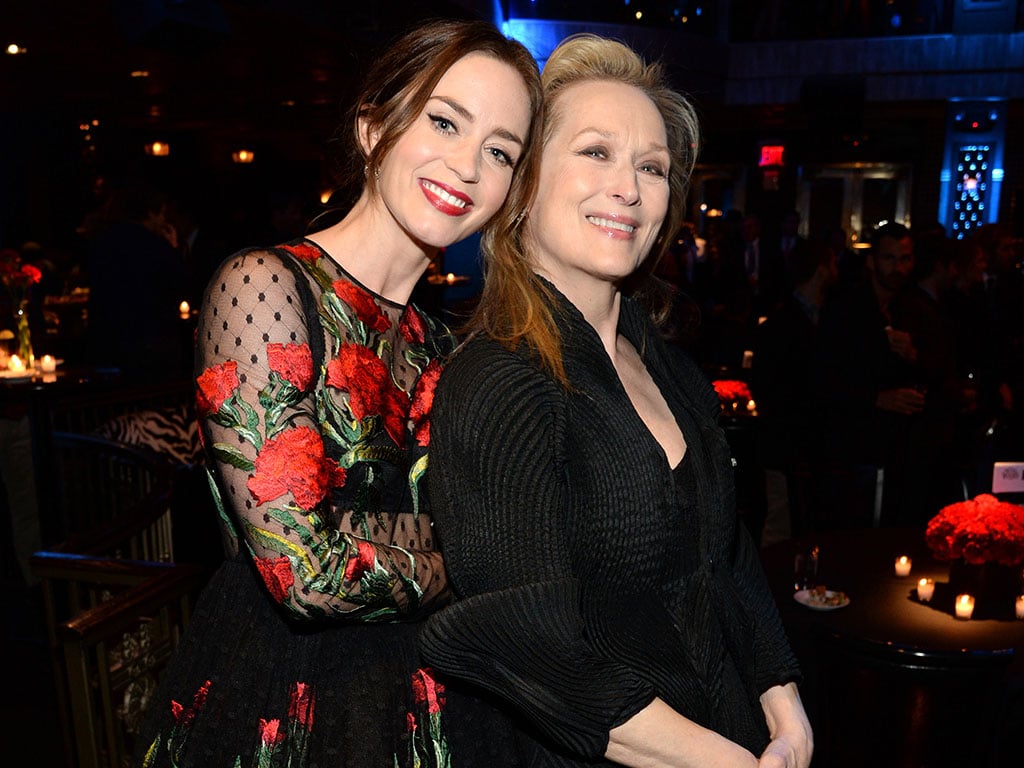 We all know that Mary Poppins Returns is going to be just as supercalifragilisticexpialidocious as the original — and not just because Emily Blunt has already wowed everyone as the magical nanny we all know and love. The sequel to the 1964 musical film also serves as a reunion for Blunt and Meryl Streep, two women who are known to bring more than a spoonful of sugar to the screen whenever they work together.
Mary Poppins Returns marks the third time Blunt and Streep have shared the silver screen. Their first film together was the 2006 megahit The Devil Wears Prada, in which Blunt played the assistant at her wits' end to Streep's iconically monstrous boss. The second was in 2014's Into the Woods, which saw Streep as the witch who cursed the womb of Blunt's peasant woman. Now, the two are bringing to life Mary Poppins and her "gravity-challenged" cousin Topsy, who have a less than idyllic relationship. If you're sensing a theme with their roles, you aren't the only one! In an interview with Entertainment Weekly, Blunt couldn't help but laugh while looking back on her relationship with Streep.
"It is a bit hilarious that we always play people who are contentious with one another," she said. "From Prada to the Witch and the Baker's Wife and now to cousins who drive each other insane. I did finally ask her, 'When are we gonna play lovers or something?!' She said, 'Dream on.'"
Personally, we would totally be down to see how the two tackle a romantic line (would they go classic rom-com or something dramatic?), but we'll take their adorable real-life friendship instead. It's amazing to think about how far the two have come since their Prada days, when Blunt was a relative newcomer and Streep the well-known megastar. Streep swears Blunt is the same person she was all those years ago, and that's totally a good thing because "she's divine!" Streep revealed that Mary Poppins Returns was written with Blunt in mind, saying the songs were written for her and praising the younger actress's work.
"It's so specific that I don't know who else could have done it the way [Blunt] does it," Streep added. "She's so smart, her wit informs everything she does. Even her tenderness is inflected with her smarts and her sense of humor and her, oh God, she just has a little curl of irony about her. She's just crackerjack smart and beautiful and she has the thing that you can't teach in the drama school, and that's charm. She has it. She's just charm."
I mean, swoon. Which is basically how Blunt reacted to the praise as well. "[Streep] has, from the moment I met her, really been such a pinnacle for me to look up to. And she is a confidante now. She's a friend," Blunt said. "I think that it's been terribly exciting getting to know her. She is somebody who is an inspiration I think to every actor. She's never discovered her whole bag of tricks, and that's all I want to do, is never to discover that."
Honestly, if I had a friend who talked about me the way these two do about each other, I would also jump at every chance to work with them! We totally stan this powerful, supportive friendship and will do so all the way to the theaters when Mary Poppins Returns comes out on Dec. 19.