Source: Courtesy: Lionsgate Entertainment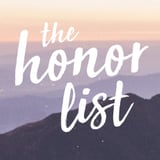 We've partnered with The Honor List to share how one fierce female director is taking Hollywood by storm, one film at a time. Get the movie on iTunes May 11 and on DVD on May 15!
This is the year of the empowered female filmmaker, and no movie exemplifies this more than The Honor List. A film partnership between Lionsgate's Studio L and POPSUGAR Films, The Honor List delves into the pivotal issues of body image, friendship, and sex that confront women today, themes that come to life under the careful direction of Elissa Down. Alongside her predominantly female cast and crew, Down is breaking gender barriers in Hollywood with her socially relevant work and keen insight into the psyche of modern women. Read our exclusive interview to learn how Down is championing the movement toward women in leadership roles within the film industry while making timeless cultural touchstones like The Honor List in the process. Be sure to check out the film on iTunes May 11 and DVD on May 15!